This FDA cleared device uses Photopneumatics™, a technology that purifies your pores from the inside out to deliver the best acne treatment possible. Isolaz is often effective on patients who do not respond to other acne treatments, including patients who have tried topical or oral acne medicines, or other lasers.
Isolaz Laser Quick Facts
Dual therapy for deep cleansing and effective acne treatment
Gentle, painless procedure
Benefits after just one treatment
No medication required
Using Isolaz Laser For Acne Treatment
Isolaz is the only acne laser treatment that combines vacuum impurity extraction and laser stimulation for their synergistic benefits. The vacuum helps to loosen and extract dirt, blackheads, and excess oil from deep within your pores. The specialized wavelength of light delivered to your skin helps to destroy acne-causing bacteria. This combined treatment process, called photopneumatic therapy, is unique to Isolaz. Additional benefits include a more even complexion and revitalized skin tone.1
Acne Treatment
A painless laser treatment for acne1
Isolaz is the only system that purifies your pores from the inside3, killing bacteria at the source
Isolaz combines vacuum and laser to help destroy acne-causing bacteria3
FDA-cleared to treat comedonal (blackheads and whiteheads), pustular, and cystic acne3
Clinical studies show rapid results within 24 to 48 hours, including reduced redness, reduction of skin discoloration, and rapid drying and flattening of the blemish1
People who have tried Isolaz have reported a visible reduction in pore size, and improved skin tone and texture for a radiant, healthier-looking complexion2
Isolaz pore-purification therapy helps jump-start treatments, helping your skin absorb medicines and moistures better, and is a great way to maintain results2
Recovery & Downtime: Avoid tanning and excess sun exposure
Numbing: None required
Cost: Discuss during a free consultation
Candidacy: All skin tones who suffer from stubborn acne that has not resolved with other treatments
Duration: Rapid, lasting results
Why We Love It: Painless results within 24 hours that last for weeks between treatments
Why Choose Reflections Center
For Isolaz Treatment
Isolaz can help you clear away bacteria and deeply cleanse your pores for radiant, smooth, clear skin. This is different than any other acne treatment you might be recommended elsewhere, including oral or topical medicines. It's not the same as laser light therapy either, but a wholly different approach to medically clearing out your pores.
Because this is a niche procedure and delicate device, only physicians who have trained extensively to use it should be trusted for the best results. And they really are amazing results, seeing improvements much faster than other acne treatments for all kinds of acne, from whiteheads to bad breakouts.
The physicians at Reflections offer a whole suite of tools specifically designed for acne removal and helping to keep your skin clear. No matter how bad or stubborn you think your acne is, we can create a custom treatment plan to help. With Izolaz, many patients can benefit from additional treatments due to the effect of clearing pores, making it easier for other medicines to be absorbed if needed. Our physicians recommend a tailored plan with Isolaz and/or additional treatments after carefully examining your skin type and taking your medical history, rather than just recommending the first treatment that comes to mind.
Frequently Asked Questions About Isolaz
What does it feel like?

Isolaz acne laser therapy is very comfortable. You will feel a gentle and warm sensation as your skin is drawn into the treatment tip. A very gentle light energy will be applied to the treatment area, immediately after which you will feel your skin being gently released back into normal position. Patients describe the sensation as being similar to that of a warm massage. No anesthetic or numbing creams are required.

Do I need to take time off from work or school to recuperate?

One reason many consider Isolaz to be the best acne treatment is that it is fast and there's no downtime post-procedure. You can resume normal activities and return to work immediately after the treatment. Tanning and sun exposure should be avoided before and after treatment.

How many treatments will I need?

For the best treatment, we generally recommend an initial series of four treatments, provided at one to two-week intervals. We then do two more treatments, spaced a month apart. A schedule for maintenance is then customized for you, based on the severity of your acne.

Can topical or oral medicines be used with Isolaz treatments?

We can further enhance results when topical or oral medicines are combined with Isolaz treatments. We can often simplify and decrease the number of medicines patients have been accustomed to take for their acne. This makes Isolaz an ideal treatment for teens and college students, who often struggle with following the strict regimens required for lasting results from prescription medications. Watch the video below to see how Isolaz helped one teenager win the battle against acne with Isolaz treatments in New Jersey at Reflections.

Can I use Isolaz to keep pores clean and open if I don't have acne?

Yes, Isolaz can be used by patients who do not suffer from acne. Isolaz is a deep pore cleansing treatment that is welcomed by many patients who previously had no options for this type of treatment. Better than facials that clear out pores, such as the HydraFacial, Isolaz suctions out pores in addition to killing bacteria, for true pore purification. This helps keeps pores clean, small, and removes any whiteheads and blackheads.

Can I combine isolaz with other acne or acne scar laser treatments?

We use Isolaz, in combination with Smoothbeam or Fraxel, for the added benefit of pore purification and acne reduction offered by the Isolaz.

Can isolaz be used in patients with darker skin?

Isolaz acne laser treatment is safe to use for all skin types. For patients with darker skin, we use a specialized tip designed to safely treat the skin and protect it from damage from the laser1.
Isolaz is a revolutionary treatment that combines a vacuuming action with a...
Read More
A clear, glowing complexion and a few natural enhancements can help you...
Read More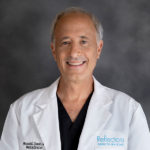 Dr. Mitchell Chasin founded Reflections Center for skin & body as a place where physicians specializing in cosmetic medicine could focus on helping empower patients to feel their most beautiful. Dr. Chasin believes strongly that the best cosmetic physicians are those who are dedicated to mastering their craft through continuing education and collaboration with the industry's top doctors.