Belotero Balance is an FDA-approved dermal filler that is injected into the skin to restore volume and minimize the appearance of facial wrinkles and folds1. It is made from hyaluronic acid, the volumizing and moisturizing component of the skin that we lose as we age. A great option for treating tiny creases on the face (such as the smile lines around the eyes and vertical lines above the lip). It's also a good choice for deeper wrinkles and lines on the face, as it delivers subtle, yet noticeable results.
Belotero is the best choice for very superficial (close to the surface) injections, or injections where the skin might be very thin, because unlike other hyaluronic acid fillers, Belotero does not create a Tyndall Effect. The Tyndall Effect is a blueish hue that many hyaluronic acid fillers can create when injected very close to the skin's surface1.
Belotero Quick Facts
Quick, painless injection treatments
No downtime – get right back to your day after treatment
Highly subtle but noticeable improvements
Complements other fillers and injectables
Frequently Asked Questions On Belotero Balance
How long does it take to see results and how long does the treatment effect last?

The results from a Belotero Balance treatment are immediate and last for six to eight months.

Is there downtime after Belotero?

You may notice slight swelling, redness, or bruising following the injections, but these effects are temporary and don't generally interfere with any activities. It is advisable to avoid sunbathing, exercise, alcohol, and cold outdoor activities for six hours after treatments.

What should I do prior to treatment?

Avoid taking St. John's Wort, high doses of Vitamin E, aspirin, Advil, Nuprin, and any other agents that can increase bruising for a one-week period before injections. If you are prone to cold sores we may want to institute antiviral therapy before injecting the lips.

What is the treatment like?

Belotero Balance is delivered into the skin through a very fine needle. For patients that desire it, a topical anesthetic can be used. For areas such as the lips, local anesthetic injections like those used by dentists are used to numb the treatment area.
Sources:
Lorenc, Z. Paul M.D.; Fagien, Steven M.D.; Flynn, Timothy C. M.D.; Waldorf, Heidi A. M.D.; Clinical Application and Assessment of Belotero: A Roundtable Discussion; Plastic & Reconstructive Surgery:October 2013 – Volume 132 – Issue 4S-2 – p 69S–76S doi: 10.1097/PRS.0b013e31829a0bfc
Click To Expand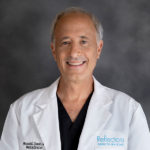 Dr. Mitchell Chasin built Reflections Center for skin & body as a place where physicians specializing in cosmetic medicine could focus on helping empower patients to feel their most beautiful. Dr. Chasin believes strongly that the best cosmetic physicians are those who are dedicated to mastering their craft through continuing education and collaboration with the industry's top doctors.