Restylane Lyft® (previously sold as Restylane Perlane) is an FDA-Approved dermal filler that offers bouncy, natural-looking lift and support for cheeks, noses, chins, hands, and a variety of other areas. Our skilled physician injectors offer Lyft injections at both of our New Jersey offices, in Livingston (near Short Hills) and in the Martinsville section of Bridgewater.
Lyft is a hyaluronic acid dermal filler used to replace or add volume. It's part of the Restylane family of dermal fillers, so you sometimes hear it called "Restylane Lyft." Lyft's unique cross-linked hyaluronic acid matrix provides lifting and support in the areas where it is injected. Lyft is most similar to Juvederm's Voluma in feel and result. However, unlike Voluma which tends to swell and absorb more water in the days following injection, the results you see with Lyft do not tend to change very much over time.
Restylane Lyft Quick Facts
$850 per Syringe (Financing Available for Bills Totalling $1000+)
Little to no downtime
Quick treatment
Perfect filler for Cheeks, Jowls, Jawline, Chin, Temples, & Hands
Injected by Doctors Always & Only at Reflections
What Does Restylane Lyft Treat?
Cheek Lifting & Augmentation
As we age, our upper cheeks lose their normal fat volume and deflate or flatten out. This creates sagging skin that droops downward and forward, creating deep smile lines, or nasolabial folds, and jowls. We can use Lyft to restore the volume in the upper cheek and lift the skin back up to a more youthful position, which in turn eliminates jowls and lines below.
Upper Lip Support & Lip Lines
The white upper portion of the lip often loses support as we age, and deep lip lines form. Restoring the structure and volume in the upper lip helps smooth away those wrinkles and create a more attractive frame for the pink portion of the lips.
Hollowed Temples
When our temples lose volume as either a normal part of the aging process or due to low body fat percentage, the best treatment option is to replace the lost volume with a dermal filler or fat transfer. There are only a couple dermal fillers that work well for this particular treatment area. Lyft and Voluma are our favorites for this area because they are hyaluronic-acid-based, meaning they offer instant and long-lasting results. The specific cross-linking of Lyft makes it the right consistency to create a natural-looking result for the temples, while also offering added longevity over other hyaluronic acid fillers.
Non-Surgical Nose Job
Lyft's thick, bouncy consistency makes it an ideal choice for non-surgical nose contouring. During this procedure, Lyft is injected into the nose to smooth out humps and bumps in the profile, correct v-tip deformity (most commonly caused by rhinoplasty complications), and/or widen the nose bridge.
Chin Augmentation
Often, a weak chin can be corrected with dermal filler injections, avoiding chin implant surgery. Lyft's firm and bouncy consistency make it a natural match to the tissues of the chin, and it's cross-linked structure make the results of this procedure long-lasting.
Patient Stories About Restylane Lyft
"He knows what he's doing, and has a cautious and sincere style. I love love the way I look."
View My Story
"I couldn't be more pleased with my "under the radar" change in my youthful look and quality of my skin which glows beautifully as long as I stay out of the sun! "
View My Story
"I have been going to Reflections for over 6 years now and I wouldn't think of seeing any one else but Dr. Chasin, he is amazing! "
View My Story
Why Choose Reflections For Restylane Lyft Injections?
In New Jersey, we're lucky to have some of the strictest laws and guidelines surrounding who can inject dermal fillers. These rules restrict injection to physician's assistants, ARNP's, and physicians. Unfortunately, this doesn't prevent an inexperienced provider from offering these injections. When it comes to safety and natural-looking results, experience and training matter most. Not only are our injectors all physicians, but they are cosmetics-only physicians, meaning they spend their entire workday every day doing cosmetic procedures, giving them the experience and skill to create the results you want in the safe environment you deserve.
Schedule your complimentary consultation with one of our skilled physician injectors to discuss Lyft, or any other procedure(s). Call us at (732) 356-1666 to reserve your appointment today!
Frequently Asked Questions
On Restylane Lyft
What is the cost for Restylane Lyft filler?

We charge by the syringe for our dermal fillers. The number of syringes can vary from 1 to 5+, depending upon the area being treated and the individual. Typically, patients have 1-3 syringes of Restylane Lyft, at a cost of $850 for the first syringe and $750 for each additional syringe injected in the same setting. The number of syringes varies by patient based volume needed to correct or tweak the area being treated. You will be given an individualized price quote for Restylane Lyft, and other procedures recommended, during your free consultation with one of our physician injectors.

Special Savings & Rewards Available For Restylane Lyft

Our practice participates with Aspire rewards, in addition to offering our own Reflections Rewards program. This makes Lyft even more affordable at our practice. Learn More about our Reward Plus Program here.

Will injections with Lyft hurt? What will it feel like?

Injections with Lyft don't hurt very much at all. This is because Lyft comes mixed with lidocaine, a numbing agent. So while you will feel the initial pin-prick of the injection, you're unlikely to feel much after that. The area will stay numb for a few hours following injection. Those who are concerned or particularly sensitive can request additional pre-injection numbing injections with lidocaine or can use ice prior to injection to numb the treatment area (avoiding the initial pin-prick of Lyft).

Will I need anesthesia or numbing?

Lyft comes pre-mixed with lidocaine, a numbing medicine. Most patients do not need additional numbing, or anesthetic. However, we do have lidocaine injections and ice packs available.

Will I bruise? What happens if I bruise?

Our practice takes every precaution to avoid bruising with dermal filler injections. We use Accuvein, a special light technology that allows our doctors to visualize your veins prior to injection, and we typically use blunt-tip cannulas for injecting Lyft. A blunt-tip cannula is a small tube with a blunt tip that can easily push through tissues and around blood vessels without harming them, to inject Lyft without using a needle. If you do end up with a bruise, we offer arnica to help the bruise resolve faster. We also offer complimentary laser treatments to help break up the bruise and clear it away faster. You can greatly reduce the risk of a bruise by avoiding blood thinning medications and food/drinks prior to injection. The most common blood thinners are Vitamin E, wine and alcohol, and blood thinning prescription medications. Do not stop any prescription medications without the consent of the prescribing physician.

How long until I see results from Lyft injections?

Lyft's full results are seen immediately. This is not always the case with dermal fillers and is not true of Voluma. Because Lyft's real results are visible as they are injected, this product allows for a level of precision very few other products can come close to. There will be some swelling from your injections which typically resolves in a few days to a week, which can obscure your results at first.

What is downtime and recovery like after injection?

You should expect some redness and mild swelling at the injection sites. This typically resolves within a few hours. Swelling can linger for a few days up to a week after injection. You can apply makeup over top of your injections to mask the redness before leaving our office, for complete discretion. There is no need to refrain from workouts or any other activity, with one exception: you should not rub vigorously or massage the injected area.

Are Lyft injections safe?

Lyft was previously known as Perlane. It was one of the very first dermal fillers to receive FDA approval for safety and efficacy, and has one of the longest histories of continuous and safe use, at over a decade of continuous use.

What's the difference between Lyft and Perlane?

These products are one and the same. Originally called Perlane, the product was rebranded as Lyft after receiving FDA appproval for cheek lifting injections.

How long does treatment take?

Usually, injections can be performed directly following your complimentary consultation with one of our cosmetic physicians. The entire injection process can take between 10 and 45 minutes, depending on the complexity and number of syringes used.

Should I have Lyft or Voluma injections?

We discourage patients from trying to discern the actual dermal filler to have injected. Here's why: there are nuances to each product that does truly make some products better-suited to particular treatments and/or cases. However, the best indicator of your result is the injector. Injectors each have their own ways of approaching treatments – little tricks they use or special techniques that they find work well for their injection style, and their familiarity and comfort with a product play a large role into what they can make that product do for you. For example, some physicians prefer Voluma because it swells as it attracts and holds onto more water with time, and that gives it more of a lift over time. But some physicians prefer that Lyft doesn't change over time, allowing them to be very precise in their injections. Each physician may prefer one of these products over another for the same treatment areas in different patients. It's very individualized. So we tell patients that for the best results, they should select an experienced and skilled provider, clearly communicate what result they hope to achieve, and then allow the physician to select the tools to achieve that goal.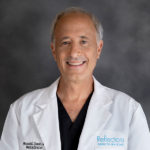 Dr. Mitchell Chasin built Reflections Center for skin & body as a place where physicians specializing in cosmetic medicine could focus on helping empower patients to feel their most beautiful. Dr. Chasin believes strongly that the best cosmetic physicians are those who are dedicated to mastering their craft through continuing education and collaboration with the industry's top doctors.