Vollure is the newest dermal filler in the Juvederm family, and it offers some of the most natural-looking, smooth results. Its unique cohesive gel formula features hyaluronic acid molecules of varying molecular weights linked together using VyCross® technology, creating a product that stretches and bounces for a naturally youthful look. Vollure offers natural, soft results that last 18 months or more.
Vollure is a new type of hyaluronic acid filler. Older products were traded off between firm products that lasted longer and thinner more watery products that could be used superficially but didn't last nearly as long. Vollure offers the best of both worlds: it's very thin and flows like water, but lasts over a year and a half.
Vollure Quick Facts
Results for over a year
Natural look and feel
Quick and easy injection session
Most Common Uses for Vollure Injections
Vollure is a new hyaluronic acid dermal filler from the Juvederm family of products. Hyaluronic acid fillers are the most popular for 2 reasons:
Hyaluronic acid is a molecule that naturally occurs within the skin and helps hold onto water. Our stores of this molecule naturally decrease as we age, so results from these fillers are naturally youthful-looking.
Hyaluronic acid fillers can be "reversed" using a chemical that metabolizes the product. New or anxious patients often feel comfortable knowing they can "undo" the results if they change their mind about the procedure.
Vollure's Vycross Technology
Vollure has a unique cohesive gel formulation that makes use of VyCross technology to link together hyaluronic acids of varying molecular weights. This gel is strong and flexible, allowing it to stretch and bend naturally without breaking. This is the reason this gel can stand up to areas of high movement without the short duration problems of previous filler options.

Voluma, Volbella, and Vollure make up the VyCross Family of fillers and make use of this same technology. Voluma is the firmest and bounciest of the three. Volbella is the smoothest and thinnest, offering no bounce. Vollure offers a nice mix of smoothness and a little lift, for a workhorse filler that's quickly become a favorite among our physician injectors.
Vollure Injections For Laugh Lines, Smile Lines, Nasolabial Folds
Vollure was developed as a longer-lasting alternative for smile lines. This area of the face is a high-movement area. Since movement is one of the factors that makes hyaluronic acid dermal fillers break down faster, this area has always been difficult to create long-lasting results for. Vollure is specially-formulated using VyCross technology to withstand movement. This unique formulation cross-links a variety of molecular-weight hyaluronic acid molecules to create a cohesive gel that stretches and bounces without breaking during movement. The result is a long-lasting result that moves naturally.
Recovery & Downtime: None
Numbing: Yes
Cost: $650 per syringe
Candidacy: Men and women with facial folds or those who want to augment their lips
Duration: 18 months or more
Why We Love It: Immediate natural-looking results
Patient Stories About Vollure
"No matter what I am having done, Dr. Ellern performs her work confidently and is always concerned for how I am feeling during the procedure."
View My Story
"Well, my experience was great, your assistant held my hand, it didn't hurt and I look great."
View My Story
"Now I can't wait to get up each morning and look at myself. It's a new me, but still me."
View My Story
Why Choose Reflections For Vollure Injections?
In New Jersey, we're lucky to have some of the strictest laws and guidelines surrounding who can inject dermal fillers. These rules restrict injection to physician's assistants, ARNPs, and physicians. Unfortunately, this doesn't prevent an inexperienced provider from offering these injections. When it comes to safety and natural-looking results, experience and training matter most. Not only are our injectors all physicians, but they are cosmetics-only physicians, meaning they spend their entire workday every day doing cosmetic procedures, giving them the experience and skill to create the results you want in the safe environment you deserve.
Schedule your complimentary consultation with one of our skilled physician injectors to discuss Vollure, or any other procedure(s). Call us at (732) 356-1666 to reserve your appointment today!
Frequently Asked Questions About Vollure
What will my results look like with Vollure?

Catherine had 1.4ml of Voluma in her cheeks, 2.9ml Vollure in her smile lines, and 2.2ml of Volbella in her lips and lip lines. Often, patients will need a variety of fillers used in several different areas to achieve a harmonious and naturally youthful result.

Vollure is unique among the hyaluronic acid dermal fillers in its longevity in high-movement areas. You should expect your results to last 18 months or longer. Results from hyaluronic acid fillers have been proven to be longest-lasting with the smallest amount of filler needed at future treatments when "full correction" is achieved at the first injection. In simpler terms, this means that having the full recommended amount of dermal filler injected to completely achieve your goal at the first appointment will help you save money and time in the long run, as you should require less filler at subsequent re-treatments. This often involves using several different types of fillers together to create a look that is balanced and in harmony.

What is pricing for Vollure?

Our practice prices dermal fillers by the syringe, with additional discounts given when 2 or more syringes are purchased at the same time. A single syringe starts at $650 and ranges upward depending on the brand and type used. Individual price quotes are given during the free consultation with the injecting physician.

Special Savings & Rewards Available for Vollure

Our practice participates with Allē (formerly Brilliant Distinctions) rewards, in addition to offering our own Reflections Rewards program. This makes Vollure even more affordable at our practice. Learn More about our Reward Plus Program here.

Will injections with Vollure hurt? What will it feel like?

Injections with Vollure don't hurt very much at all. This is because Vollure comes mixed with lidocaine, a numbing medicine. So while you will feel the initial pin-prick of the injection, you're unlikely to feel much after that. The area will stay numb for a few hours following injection. Those who are concerned or particularly sensitive can request additional pre-injection numbing injections with lidocaine or can use ice prior to injection to numb the treatment area (avoiding the initial pin-prick of Vollure).

Will I need anesthesia or numbing?

Vollure comes pre-mixed with lidocaine, a numbing medicine. Most patients do not need additional numbing, or anesthetic. However, we do have lidocaine injections and ice packs available.

Will I bruise? What happens if I bruise?

Our practice takes every precaution to avoid bruising with dermal filler injections. We use Accuvein, a special light technology that allows our doctors to visualize your veins prior to injection, and we use blunt-tip cannulas whenever possible to inject Vollure. A blunt-tip cannula is a small tube with a blunt tip that can easily push through tissues and around blood vessels without harming them, to inject Vollure without using a needle. This technique may not be ideal for some treatment areas, depending on the individual's anatomy. If you do end up with a bruise, we offer arnica to help the bruise resolve faster. We also offer complimentary laser treatments to help break up the bruise and clear it away faster. You can greatly reduce the risk of a bruise by avoiding blood thinning medications and food/drinks prior to injection. The most common blood thinners are Vitamin E, wine and alcohol, and blood thinning prescription medications. Do not stop any prescription medications without the consent of the prescribing physician.

What are the alternative treatment options if I choose not to have Vollure?

Alternative treatment options vary by concern being treated. You can view a full list of treatment options by symptom by clicking the treated areas titles above, which will direct you to a page that covers that particular concern in detail, as well as all treatment options and who is best-suited to each. Vollure is most similar to Restylane's Refyne and Defyne dermal fillers. However, depending on the individual's anatomy, our physician injectors may recommend other dermal fillers, such as Volbella, Juvederm Ultra XC, Bellafill, Belotero, Sculptra, Radiesse, or Restylane as a better match for the result you're looking to achieve. Our skill lies in matching each patient with the best possible treatment for their needs, to create a natural result.

How long until I see results from Vollure injections?

Vollure's full results are seen immediately. This is not always the case with dermal fillers and is not true of Voluma and Juvederm, which are hydrophilic, meaning they absorb and hold onto more water over time. Because Vollure's real results are visible as they are injected, this product allows for a level of precision very few other products can come close to. There will be some swelling from your injections which typically resolves in a few days to a week, which can obscure your results at first. Often, especially with lip injections, we have patients call us the day after their injections very worried. It is typical to have some swelling the day after. This will resolve within a few days, and patients usually find they are extremely happy with the end result after this swelling resides. Should you find you are not, Vollure can be 'reversed' using an enzyme injection.

What is downtime and recovery like after injection?

You should expect some redness and mild swelling at the injection sites. This typically resolves within a few hours. Swelling can linger for a few days up to a week after injection. You can apply makeup over top of your injections to mask the redness before leaving our office, for complete discretion. There is no need to refrain from workouts or any other activity, with one exception: you should not rub vigorously or massage the injected area.

Are Vollure injections safe?

Vollure has been approved by the FDA for its safety and efficacy. This means it has been studied in a variety of individuals to ensure it is safe and effective for all skin types and a variety of concerns. The FDA clinical studies were focused on the correction of moderate to severe facial wrinkles and folds, such as nasolabial folds in adults over the age of 21. So while it is technically "off-label" to inject other parts of the face, we consider this to be a safe use of this product because it is so similar to a handful of other hyaluronic acid fillers which have been used for years to inject throughout the face.

How long does Vollure treatment take?

Usually, injections can be performed directly following your complimentary consultation with one of our cosmetic physicians. The entire injection process can take between 10 and 45 minutes, depending on the complexity and number of syringes used.

Should I have Vollure or Refyne injections?

We discourage patients from trying to discern the actual dermal filler to have injected. Here's why: there are nuances to each product that does truly make some products better suited to particular treatments or cases. However, the best indicator of your result is the injector. Injectors each have their own ways of approaching treatments – little tricks they use or special techniques that they find work well for their injection style, and their familiarity and comfort with a product play a large role in what they can make that product do for you. So we tell patients that for the best results, they should select an experienced and skilled provider, clearly communicate what result they hope to achieve, and then allow the physician to select the tools to achieve that goal.

Can Vollure be used under eyes?

It can, but we don't recommend it for under the eyes. We prefer fillers that flow over cohesive gels like Vollure for this treatment area because fillers that aren't very soft and flowing will often appear lumpy under the thin skin below the eyes.

Can Vollure be used in cheeks?

Vollure has a thin consistency and is most effective when injected superficially. It is useful in areas with repetitive motion, such as the nasolabial folds. There are other more robust dermal fillers that are preferable for contouring cheeks such as Voluma, Restylane Lyft, and Restylane Contour.

Does Vollure stimulate collagen?

Yes, Vollure (& all Hyaluronic Acid dermal fillers) have been shown to stimulate collagen long-term. In addition to the initial water retention and contouring benefits, H.A. fillers do create neo-collagenesis (new collagen synthesis) over an extended period of time.

How long does swelling from Vollure last?

Depending upon the area injected, swelling from Vollure may last as short as 2 days and is usually resolved within 1 week.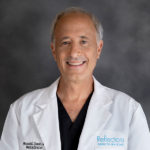 Dr. Mitchell Chasin founded Reflections Center for skin & body as a place where physicians specializing in cosmetic medicine could focus on helping empower patients to feel their most beautiful. Dr. Chasin believes strongly that the best cosmetic physicians are those who are dedicated to mastering their craft through continuing education and collaboration with the industry's top doctors.