S.A.F.E. Lipo, which stands for "Separation, Aspiration, and Fat Equalization", is a combination of techniques used during liposuction to create smooth results while eliminating many of the risky components of previous liposuction techniques and tools. This procedure is performed with MicroAire Power-Assisted Liposuction under tumescent local anesthesia, which offers the same safety benefits that laser liposuction does.
SAFE Lipo Quick Facts
Customizable results
Permanent fat removal
Minimal downtime
Before & After Photos of Lipo Performed Under Local Anesthesia
Our private surgical suite is stocked with SAFE Lipo, as well as all of the other best liposuction technologies, including Slim Lipo, Smartlipo with PrecisionTX, Vaser Lipo, and ThermiTight. You'll notice our pricing is by area, and not by technology used. Sometimes, we start a case and find we need to switch technologies to achieve the best result, or sometimes we know from the beginning that a blend of two technologies will work best. In either case, we do what's best for our patients, to create the best results we can for each individual.
What Areas Can Be Addressed With SAFE Lipo?
Safe Lipo can be used on any area of the body where someone desires a nicer contour:
What is SAFE Lipo?
SAFE Lipo Technique For Laser Liposuction
S.A.F.E. Liposuction refers to a special technique using Power-Assisted Liposuction for smooth results and minimal downtime. S.A.F.E. stands for Separation, Aspiration, and Fat Equalization. This describes the 3 steps in the process:
Infusion of dilute numbing solution with specialized instruments gently and effectively softens and loosens the fat, constricts the blood vessels to limit blood loss, and makes the treatment comfortable.
Next, gentle vibration is used to break up and separate the fat cells from the surrounding tissues. This keeps the damage to surrounding tissues to a minimum. The fat cells are then aspirated (suctioned out) using power-assisted liposuction (PAL).
Lastly, a Fat Equalization process shifts the remaining superficial fat cells around to create a smooth result. This minimizes the risks of dimples and ripples.1
Recovery & Downtime: 2-4 days before returning to work or light activity; 2 weeks before working out strenuously
Numbing: Oral medication, local anesthetic
Cost: $3,500-$6,000 per area (see pricing table below), price includes Surgery Center fee, Anesthesia, Follow-Ups, etc.
Candidacy: People at a stable, healthy weight who want a slimmer contour in a specific area or two
Duration: Results can last forever with a stable weight
Why We Love It: SAFE Lipo minimizes the risks of irregular-looking skin following effective fat removal
Patient Stories About SAFE Lipo Treatment
"I feel so good about myself, and feel so healthy and renewed. Thank you so much. I am so grateful to you for all you have done for me."
View My Story
"My confidence level is soaring, with guys, with work, with life. I owe so much to Dr. Chasin and Reflections. They gave me the gift of happiness. They are my friends for life."
View My Story
"I have NEVER felt so confident in my life and so excited to start this new chapter. Did the cost set me back a little? Yes. But you can't put a price tag on true happiness and it was worth every penny. "
View My Story
Why Choose Reflections Center
For SAFE Lipo?
First, you want to make sure your consultation is with a physician, rather than with an assistant or sales and marketing person. Seek care from a physician who is experienced in the various forms of liposuction to best determine if you are a good candidate for the procedure and to help you understand what kind of results you can expect.
Next, ask about the various forms of liposuction that physician specializes in – they should have multiple options for you, rather than a one-size-fits-all treatment that all their patients undergo. With SAFE Lipo, you should ask how often the physician performs the procedure; the less experience, the more skeptical you should be.
Finally, you should ask to see before-and-after photos of other SAFE Lipo patients and ask about their experiences both before, during, and after their surgery. How long did their results last? Were they happy or did they come back for a revision or complementary treatment of some kind? Make sure to pay special attention to the people who have had treatments in your desired area and those who look most like you and your desired result. If these photos don't represent your ideal goal, share that with the doctor, who should be able to recommend something else.
Second, ask about experience. Experience and past results are the best indicators of what type of results that doctor can offer you. Dr.s Mitchell Chasin and Wix-Harris have over a decade of collective experience with liposuction and have thousands of happy patients. Their extensive experience with several different liposuction techniques and technologies allows them to select the right liposuction procedure for each individual patient.
What will my SAFE Lipo Procedure Cost?
At Reflections, we provide liposuction pricing by the number of areas treated and the complexity of the procedure, which is why we provide approximate pricing ranges.

When comparing prices with other facilities, please be sure to clarify "area" – many practices count the lower abdomen, upper abdomen, chest wall, and waist as 4 different areas, each adding to the final cost. In our practice, this is considered the "abdomen" and works to the patient's advantage. Your first compression garment, as well as pre-op and follow-up examinations provided at our office, are all included in the surgical fee. Surgical fees include all anesthesia and operating room expenses, too.
| | |
| --- | --- |
| Area | Pricing |
| Arms (Upper) | $3,500 – 4,500 |
| Bra Fat / Upper Back | $3,500 – 5,000 |
| Full Back | $5,000 – 6,000 |
| Inner Thighs | $3,500 – 4,500 |
| Outer Thighs | $3,500 – 4,500 |
| Inner & Outer Thighs | $5,500 – 6,500 |
| Chin & Neck | $3,500 – 5,000 |
| Abdomen (Belly – Upper and Lower) | $5,000 – 6,000 |
| Abdomen, Love Handles, and Lower Back | $5,500 – 6,500 |
Frequently Asked Questions About SAFE Lipo
Who is an ideal candidate for SAFE Lipo?

Ideal candidates for SAFE Lipo are generally healthy and close to their goal weight, with a BMI below 30.

We will perform liposuction on patients with a BMI as high as 34, though, when we are able to agree upon realistic expectations for results. Liposuction should never be considered an alternative to a healthy lifestyle, but it is often a catalyst for eating better and exercising.
Your consultation will include a medical history and physical examination by your treating physician. This allows us to screen and measure your true health and offer our medical expertise on what results you can reasonably expect. If we don't think you will be happy with the results of treatment, we pride ourselves on being honest with you and recommending other courses of care.

Can I finance my procedure?

What should I expect on surgery day?

You will have a consultation appointment first, where you will meet with your treating physician and discuss what you can expect to achieve with liposuction. Next, you'll have a pre-operative appointment where we'll review your health and what to expect before, during, and after the surgery. This way by the time we get to surgery day, you're familiar and comfortable with the process.

On the actual surgery day, we'll start with taking "before" photos and marking out the treatment plan for your body. You will be given some relaxing medication by mouth and numbing fluid will be placed underneath the skin. After that, you shouldn't feel much more than touch or pressure. You'll be awake throughout the procedure. Most patients chat with the doctor and staff or jam out to their favorite music. The procedure can take 1-3 hours, depending on the individual. After your procedure, we'll show you to your post-op resting room and offer you some snacks. You'll put on your garment and head home with a friend or loved one.

We built our practice around the patient's experience, so you can expect a fully private and comfortable experience on the day of your procedure. We have a very private surgical suite, complete with your own private bathroom and pre- and post-op resting rooms. We also have a private exit that will allow you to step out of our office and right into the waiting car.

What is the recovery and downtime like? When can I go back to work? Working out?

You should expect an easy and short recovery. Typically, patients have surgery on a Thursday or Friday and are back to work by Monday or Tuesday.

You should feel soreness, similar to the feeling after a tough workout, but be up and walking around beginning the day of surgery. Low or moderate-intensity cardio workouts can be resumed after 1 week. high-intensity workouts and heavy weight-lifting, such as CrossFit, should be avoided for a few weeks.

Every patient will experience some swelling. Typically swelling peaks on day 2 and is significantly improved by the end of the first week. Residual swelling dissipates over weeks to months, but patients are back to their normal routine during the early part of this period. Bruising may occur, but we expect it to be significantly less than you would see with traditional liposuction.

Patients are given a compression garment to wear following surgery. Typically we instruct patients to wear the garment for 24 hours during the first week or two, and the recommendation for the duration of this garment is made after this point. It is not uncommon to move to a Spanx shortly thereafter, often after one additional week of 12 hours of garment wear per day.

How does SAFE Lipo compare to laser lipo and other types of Liposuction?

The main advantages of Safe Lipo are smoother results and quicker and easier recovery. This is due to specific techniques used during the procedure and specialized equipment. Furthermore, because Safe Lipo can be performed while awake using local anesthesia, patients are able to avoid the risks and costs related to general anesthesia. We believe that accuracy is enhanced due to our ability to freely move patients during the treatment, including standing them up before we finish to ensure precision results. During the consultation, our physicians may otherwise recommend alternative treatments such as Smart Lipo, Slim Lipo, tummy tuck, or even one of the noninvasive body contouring technologies, such as Cool Sculpting or Sculpsure. Sometimes our doctors will recommend blending a few technologies together on the same treatment day to enhance outcomes.

How does laser lipo work?

Most people today are struggling with extra fat in certain parts of the body despite being physically fit otherwise. Laser lipo helps to lose the excessive fat without having to undergo an invasive surgery. The procedure uses laser for fat removal like tumescent liposuction. This means that you will enjoy better results and lesser time for healing. Laser energy is introduced into the fat in order to loosen it so that it is removed easily with suction. Other than softening of the fat for easy removal, laser also stimulates the production of collagen. Collagen is the main structural protein of your skin and its production slows down with age. Laser lipo results then include skin tightening and skin enhancement as well.

The unique procedure used by laser lipo offers several benefits to the patients:

Reduction of fat in the treatment site is easily achieved with laser lipo. Once the fat is effectively broken down, your laser lipo results are achieved immediately and they only get better with time.
As compared to traditional liposuction, there isn't much discomfort with the laser lipo. A mild anesthesia is given to minimize any mild discomfort you may face.
The laser tipped probe allows fat removal in a way that it looks natural, allowing for faster recovery and better results.
Since laser lipo is minimally invasive, it reduces any risks of infection after your procedure.

If you are frustrated with trying to target problem areas using diet and exercise, you may have heard of the many surgical as well as minimally invasive procedures available today.

How much is laser lipo?

Laser liposuction is used to melt the fat from stubborn areas on your body and then a connected suction removes the fatty liquid. The procedure is less invasive than the traditional method as well as gentler and safer since it uses local anesthesia and smaller instruments. You can use laser lipo for sculpting areas like the bra fat, upper arms, chin, abdomen, waist, flanks, hips, and thighs. Another benefit of the procedure is the laser energy which when delivered to the treated areas stimulates the natural production of collagen. This leads to skin tightening and a reduction in sagging skin.

When you book your laser liposuction consultation, laser lipo cost is calculated dependent on the number of areas that are to be treated. Your charges will also depend on the complexity of the required procedure. On average, you will pay about $3500 to $4500 for the upper arms; and about $5500 to $6500 for the abdomen and love handles. This surgical fee also includes the anesthesia fee, charges for the operating room, follow-up appointments, and the first compression garment. In case you are in need of financing, consultation is the best time to discuss it with your surgeon's office. Other than credit cards, most clinics also partner with healthcare financing service providers making your cosmetic procedure affordable even when they are not covered by insurance.
Sources:
Wall, Simeon H.M.D., Lee, Michael R. M.D.; Separation, Aspiration, and Fat Equalization: SAFE Liposuction Concepts for Comprehensive Body Contouring; Journal of Plastic and Reconstructive Surgery: December 2016
Click To Expand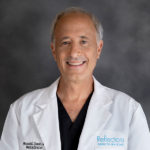 Dr. Mitchell Chasin built Reflections Center for skin & body as a place where physicians specializing in cosmetic medicine could focus on helping empower patients to feel their most beautiful. Dr. Chasin believes strongly that the best cosmetic physicians are those who are dedicated to mastering their craft through continuing education and collaboration with the industry's top doctors.