Eskata is not currently available from the manufacturer due to supply chain issues that started during the pandemic and have not yet been resolved. The treatment is one we still believe in, but cannot offer until supply changes.
Eskata is the first treatment of its kind to use concentrated hydrogen peroxide in a unique application to completely remove large, dark age spots (also called Seborrheic Keratosis). Reflections is proud to be among the first in the nation to offer this easy treatment, saving patients from the discomfort and downtime of previous treatment options, which included surgical removal and aggressive lasering.
Eskata Topical Cream Quick Facts
Little to no downtime
No numbing needed
Results seen 3 weeks later, finalized at 3 weeks after last treatment
How Does Eskata Topical SK Removal Cream Work?
Eskata Topical Cream For Seborrheic Keratosis Removal
Eskata is a brand-new treatment for removing seborrheic keratosis, using a special pen applicator to apply highly concentrated hydrogen peroxide to the skin. The special formulation is carefully applied to just the area of dark discoloration 4 times, about a minute apart, during each treatment session. This topical hydrogen peroxide treatment for seborrheic keratosis was approved by the FDA for safety and efficacy in December 20171, and has become available in select offices starting in Spring 2018.
We will first mark and take photos of the areas to be treated, and then clean those areas with an alcohol wipe. Next, we'll activate the treatment pen. Then we'll carefully use the pen to apply the Eskata treatment serum to your Sk's, wait a minute, and repeat for a total of 4 times. Then you'll be done.
Recovery & Downtime: Little to none
Numbing: Not needed
Cost: Schedule a consultation
Candidates: Patients with seborrheic keratosis lesions
Duration: Long-term
When to See Results: After 3 weeks
Why Choose Reflections Center For Eskata Topical Treatment
Reflections Center is New Jersey's premier center for cosmetic medicine. We bring together a team of cosmetic physicians who are some of the most highly specialized in their respective fields so that our patients have access to the very best in cosmetic care, no matter their concerns. We are one of the first practices to offer Eskata in North America and are very experienced in removing SKs by other methods.
At Reflections, you'll always receive treatment from a certified medical doctor, never an aesthetician, nurse, or physician's assistant. We offer a wide selection of skincare treatments and technologies so that we can treat patients using the specific means necessary. During a consultation, we'll be completely honest about what results you can expect and will never push products or treatments you don't need.
Schedule A Consultation Today
We warmly welcome you to our offices for a complimentary, no-obligation consultation with one of our cosmetic physicians. Contact us today to schedule, or fill out your information online to begin the consultation process.
Frequently Asked Questions About Eskata Topical Cream
Will eskata hurt? Will I need numbing or anesthesia?

Patients have reported feeling a mild stinging or itching sensation during the treatment, but no pain. So we don't need to use any numbing or anesthesia during this treatment.

Will there be downtime after eskata? Will I need to take time off from work for this?

There's no downtime with Eskata. Nothing about this treatment should prevent you from going right back to work or working out.

What is the recovery like? What should I expect immediately following my treatment?

Some patients in the clinical trial experienced mild to moderate swelling, redness, itching, and stinging. Some patients experienced mild crusting. This generally clears up pretty quickly but can last up to a week for some patients. Patients with reactions are recommended to wear a band-aid after treatment to protect the spot from irritation and speed up the healing process. Please contact our office if you have been treated by our team and are experiencing symptoms after your treatment. Most patients experienced either very mild or no noticeable reaction. You shouldn't expect to have real downtime with this treatment.

Will I need more than 1 treatment session?

Some patients need 2 sessions, and somewhat uncommonly, patients have needed 3 sessions to see full clearance of their SK's.

Is eskata a way to remove seborrheic keratosis at home?

No, Eskata can only be administered by a healthcare professional in a medical setting. It should not be used in a home setting, or by an untrained professional.

Is hydrogen peroxide safe for skin? How safe is eskata?

Eskata is clinically proven to be safe and effective for removing SK's. It should not be applied to other areas. It is not absorbed systematically during treatment and poses very few risks for complication or side effects.

How can I make the most of my eskata treatments?

Protecting your skin before and after your treatments from sun exposure is the best way to ensure you not only get the results you desire, but significantly reduce any risks.

Are there any risks of complication or side effects with eskata?

Patients commonly see redness at the treatment site immediately following treatment which fades within 1-2 days, and are recommended to protect their treated areas from sun exposure for at least 2 weeks following treatment. This helps allow the skin to heal and recover and reduces the risk of side effects. Some patients have reported skin sensitivity at the treatment site, but this has been fairly mild and not required pain medications. We typically recommend patients wear a cloth bandaid over any sensitive areas because this will protect them from clothing rubbing or accidental bumps, as well as sun exposure.

What alternative treatment options do I have?

Eskata is the newest way to treat Sk's. Other treatment options have traditionally included surgical removal (excision), liquid nitrogen (freezing it off), curettage (scraping it off, often with electrical controlled burning), and lasering it off. When patients want to remove SK's without using Eskata, we typically recommend wither CO2 laser, TCA cross with curettage, or a Q-Switched laser. This depends on the patient – what size, number, and darkness of lesions we're treating, and the patient's risk for pigmentation changes with each treatment.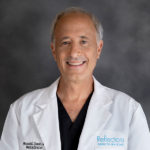 Dr. Mitchell Chasin founded Reflections Center for skin & body as a place where physicians specializing in cosmetic medicine could focus on helping empower patients to feel their most beautiful. Dr. Chasin believes strongly that the best cosmetic physicians are those who are dedicated to mastering their craft through continuing education and collaboration with the industry's top doctors.