Unlike some other skin tightening treatments, most patients only need one session of ePrime to achieve visible improvements in facial volume and skin tone. It is usually an option for individuals who are not yet considered candidates for more invasive facial rejuvenation procedures such as a facelift or neck lift. Instead of delivering energy through the skin to the deeper layers where it's needed, ePrime employs a set of radiofrequency micro-needles to bypass your skin's outermost layers and deliver energy to precisely the right area. This means that more energy can be delivered to better stimulate the deep dermis to produce more collagen, hyaluronic acid, and elastin. These are the main components that give skin its supple, elastic quality.
Evolastin ePrime Quick Facts
State-of-the-art non-invasive (no needles, no surgery) skin tightening treatment
Stimulates collagen, elastin, and hyaluronic acid to make skin fuller, smoother, and tighter
Exclusive Reflections' technique gives you all of the benefits, but just a fraction of the downtime
Takes a single treatment and the results are long-lasting
How Does Evolastin ePrime Work?
Evolastin (ePrime) For Laser Skin Tightening
ePrime creates controlled wound healing via the same fractionated approach used with certain lasers such as Fraxel technology. Radiofrequency energy creates tiny wounds in the deepest layer of your skin, leaving each wound surrounded by untreated skin, which spurs the body to repair the treated areas by stimulating the production of collagen, elastin, and hyaluronic acid. The result is smoother, fuller, and tighter skin.
Your physician will apply local anesthesia to the treatment area. Then super thin micro-needles will deliver the radiofrequency energy to the deep layers of your skin. There may be minimal bleeding when these needles first puncture your skin, but this typically resolves by the time the procedure is completed. Your ePrime procedure can take anywhere from 45 to 75 minutes based on the size and scope of the treatment area.
ePrime uses a high-tech intelligent feedback system to carefully control and individualize the skin heating process to avoid overheating the skin and causing injury. This system is the reason that the treated area can be numbed. ePrime does not depend on patient feedback for temperature adjustments.
Recovery & Downtime: Little to none
Numbing: Yes
Cost: $3,000 to $5,000
Candidacy: Heathy individuals looking to improve skin look and feel
Duration: Long-term
Why We Love It: Stimulates collagen, elastin, and hyaluronic acid to make skin fuller, smoother, and tighter
Why Choose Reflections Center for Evolastin ePrime Laser Resurfacing?
At Reflections, we are constantly researching the latest techniques and medical innovations to offer our patients all the newest and best treatment options. We understand that each patient's needs are different based on many factors such as age, skin condition, and quality of the skin. This is why we offer treatments such as ePrime, which are suitable for patients not yet ready for or are not good candidates for surgical options like a facelift.
With today's cutting-edge technologies, patients can now achieve outstanding anti-aging results without the invasiveness of surgery and prolonged downtime. Both men and women seek out Reflections for the latest treatment options and natural-looking results.
Our team of skincare physicians and specialists is dedicated to providing professional and individualized care to each of our patients. Please contact Reflections Center today to learn more about Evolastin ePrime Laser Resurfacing and how it may benefit you. You can schedule a free consultation with one of our physicians who will answer any questions you might have and help you determine the best treatment plan for your unique concerns.
Frequently Asked Questions About Evolastin ePrime
Is ePrime right for me?

ePrime may be an effective treatment for sagging skin under the jowls or chin, wrinkles or fine lines around the mouth and cheek, and facial skin laxity. ePrime can be used safely and effectively on all skin types.

The best way to determine if you are a candidate for ePrime is to schedule a consultation with one of Reflections' doctors who has experience with all facial rejuvenation procedures. He or she will make specific treatment recommendations after a thorough examination of your skin tone and quality and a frank discussion about your aesthetic goals and treatment expectations.

How much does ePrime cost?

In general, ePrime costs between $3,000 and $5,000. Costs vary based on the extent of the procedure and how much of the face is treated.

What should I expect after ePrime treatment?

You may experience some minor redness, swelling or bruising, all of which can be covered with camouflage makeup the following day. Bruising usually subsides within 10 days.

Aftercare instructions include applying antimicrobial ointments to the treated area. Cold compresses can help reduce any residual swelling. The full cosmetic results of your ePrime procedure will be evident in about six to eight weeks and last for 18 months or more. The results appear gradually as your natural collagen, elastin and hyaluronic acid supply regenerate.

Is there downtime?

There is minimal downtime. You can drive yourself back home or back to the office immediately after your ePrime treatment.

How many treatments will I need?

You will likely need just one treatment with ePrime, which sets it apart from a host of other noninvasive skin care treatments, which require multiple treatment sessions.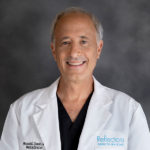 Dr. Mitchell Chasin built Reflections Center for skin & body as a place where physicians specializing in cosmetic medicine could focus on helping empower patients to feel their most beautiful. Dr. Chasin believes strongly that the best cosmetic physicians are those who are dedicated to mastering their craft through continuing education and collaboration with the industry's top doctors.