MicroRejuve℠ with hyaluronic acid is a microneedling treatment that uses tiny 24-karat gold needles to apply hyaluronic acid and Botox just below the skin's surface for long-lasting results. No facial or serum comes close to the results you can expect with MicroRejuve.
MicroRejuve Quick Facts
Little to no downtime
Results that improve over the following weeks and months
Deep stimulation and infusion of hyaluronic acid
Rich hydration that smooths out wrinkles throughout the face
What is MicroRejuve Treatment?
MicroRejuve with Hyaluronic Acid

MicroRejuve is a superficial microneedling procedure that deposits low-molecular-weight hyaluronic acid and Botox into the top layers of the skin, to create a smooth texture with reduced pore size. MicroRejuve always produces a natural appearing outcome, without any of the tell-tale signs of being injected. It can be used to:
Reduce fine lines and wrinkles
Shrink large pores
Create a soft, smooth skin texture
Reduce redness
Plump thin skin – especially around the eyes, which have very few treatment options to address crepey skin
Recovery & Downtime: None required
Numbing: None required
Cost: $750 per session
Candidacy: Those who want enhanced results from microneedling for smoother, more volumized skin
Duration: Up to 6 months
Why We Love It: Combines multiple treatments in a single session with no downtime
Frequently Asked Questions About MicroRejuve
How many Microrejuve treatments will I need?

Most patients see great results from just 1 treatment that will last up to 6 months. Occasionally, when skin is very dry and wrinkled, we will recommend 2 treatments.

How much does MicroRejuve cost?

MicroRejuve is a cost effective option because it combines several different treatment modalities in one session. We currently charge $750 for each session of MicroRejuve, which includes the cost of the hyaluronic acid (dermal filler), Botox, and microneedling.

How does it compare to other types of microneedling and MicroBotox?

While MicroRejuve uses the same high-quality FDA-approved hyaluronic acid dermal fillers that we inject to plump lips, lift cheeks, and fill in deep lines, you shouldn't expect to see the same kind of changes as you would with those applications. When these fillers are injected deeper into the tissues below the skin, they can restore volume. However, with MicroRejuve, we're placing the hyaluronic acid in very small microdroplets throughout the skin of the entire face to smooth the actual skin layer. If you want to restore or add volume in your face in addition to improving skin quality, then dermal filler injections can be performed at the same time as MicroRejuve.

How is this different than having hyaluronic acid dermal fillers injected in my face?

Botox can be safely used to treat a variety of concerns including frown lines, horizontal forehead lines, and crow's feet. With MicroRejuve, we're injecting Botox in very small quantities throughout the face to improve fine lines, contract pores, and decrease redness. It will not relax muscles to prevent wrinkles the way that Botox injected into the forehead and crow's feet does. MicroRejuve is more of a rejuvenation technique than our traditional fillers or Botox. If you're looking to relax wrinkles in addition to improving skin quality, Botox injections can be performed at the same time as MicroRejuve.

Does MicroRejuve hurt or require downtime?

MicroRejuve is a very comfortable procedure that is performed without the need for any type of anesthesia or numbing. We expect patients to be able to return to normal activities right after the treatment.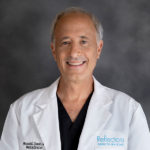 Dr. Mitchell Chasin founded Reflections Center for skin & body as a place where physicians specializing in cosmetic medicine could focus on helping empower patients to feel their most beautiful. Dr. Chasin believes strongly that the best cosmetic physicians are those who are dedicated to mastering their craft through continuing education and collaboration with the industry's top doctors.