The PiQo4 laser is a picosecond laser, much like the PicoSure and PicoWay lasers. However, the PiQo4 laser is the first of it's kind – the only FDA-approved picosecond laser to offer 4 wavelengths, and much more powerful than any other laser on the market (we had to get an electrician to specially wire our office for this laser because it needs so much more power than any other laser we own – and we own over 50 lasers). The most important part to us is that it's much more effective (taking about 40% fewer treatments to achieve the same result), and yet it's safe on all skin tones. No matter the color of your skin, or the color of the tattoo or discoloration you want to be removed, the PiQo4 delivers fast, effective, and safe treatments.
PiQo4 Laser Quick Facts
Can treat tattoos of all colors on all skin types and tones
Assists in repair of acne scars and surgical scars
Can be used for age spots, birthmarks, skin discolorations, etc.
Repair sun damage, wrinkles, and brown spots
Most Common Uses for PiQo4 Laser — And Why You Won't Find This Laser Available Everywhere
The PiQo4 offers an amazing range of settings – including spot size, fluence (energy), wavelength blend, and pulse duration. Together, these settings can be used to safely and effectively treat any skin tone for a variety of concerns, but to do so requires an in-depth understanding of lasers. This is not a basic system with presets – there are no training wheels on this laser. And because it's so high-powered, most doctors who aren't able to use this platform safely and effectively aren't adding it to their practice's offerings. That's why you won't find too many practices with this laser.
The NaturaLase PiQo 4 High-Powered Laser
The NaturaLase PiQo4 laser is the highest-powered laser currently approved for use by the FDA. It is an Nd:Y AG 1064 Q-Switched Laser with four wavelengths of light available in a wide range of settings to treat unwanted tattoos, skin discolorations, and general skin resurfacing concerns. This laser has quickly earned world renown for its ability to remove even the trickiest of tattoo inks on all skin types in far fewer treatments than anything else on the market.
Only a skilled laser specialist who understands the physics of cosmetic lasers can really use the PiQo4 safely, and to its full advantages. The PiQo4 laser can be used to treat a variety of concerns, including:
Tattoos of all colors on all skin types and tones
Acne scars and surgical scars
Cafe-au-lait birthmarks
Age spots and skin discolorations
Lentigines (liver spots)
General skin tone and brightness
Fine lines and wrinkles
Sun damage and brown spots
Recovery & Downtime: None required, depending on treatment
Numbing: Topical anesthetic optional
Cost: Varies by treatment – discuss during consultation
Candidacy: Anyone with skin concerns from tattoo removal to birthmarks or wrinkles
Duration: Permanent tattoo removal; other treatments vary
Why We Love It: More power means fewer treatment sessions for the same results as other skin lasers
PiQo4 For Laser Tattoo Removal
Reflections has been a leader in tattoo removal for over 10 years now. Dr. Chasin is one of the world's foremost authorities on the subject, often teaching other physicians and working hand-in-hand with the product development teams at top laser manufacturers, to ensure new laser technologies are not being made to provide the most effective treatments, but being used by physicians in the most effective and safe ways possible. The PiQo4 was the first truly significant breakthrough in tattoo removal technology in at least 5 years.
In the beginning, tattoo removal was very limited. The lasers available were really only good at removing designs made of dark blue, black, or green ink on those with lighter complexions (skin type I-III). Then, new lasers came on to the market that made it easier to target red tones and treat patients with a wider range of skin tones, but treating darker skin tones often meant turning down the laser's power settings, which meant less effective treatments, and a more expensive and lengthy process overall for those patients. What's different about PiQo4 is that we can treat every single color of tattoo ink on every single skin type (1-6), without turning down the energy – in fact, we're using much more aggressive energy settings on everyone with this laser.
The PiQo4 also offers us the ability to treat with both nanosecond and picosecond pulse durations. This means in a single session, we can make more progress on completely removing a tattoo, while still using those higher power settings.
In studies, the PiQo4 has shown to require up to 40% fewer treatment sessions than competitors1. That doesn't mean it's the only laser we use – we often mix the PiQo4 with our other tattoo removal lasers, including Fraxel and Ruby, but we do see our patients needing far fewer treatments now that we have the PiQo4 doing a lot of the heavy lifting.
Recovery & Downtime: Avoid sun exposure and keep the area moisturized
Numbing: Topical anesthetic optional
Cost: Discuss during a free consultation
Candidacy: People with tattoos who do not have active infections
Duration: Permanent reduction or removal of tattoos
Why We Love It: Save time and money with a tattoo removal laser that works for all skin types
PicoFractional Skin Rejuvenation Treatment
PiQo4 has been developing a fractional skin rejuvenation treatment for the past year or so, and we've been helping them test and fine-tune this application. Our medical assistant Kelly was one of the first to test this new treatment, and she experienced significant results for clearing away some old acne scars. Now that the treatment has been fine-tuned and is available to the public, we're happy to say we see several advantages that make this unique skin rejuvenation a great addition to our collection of skin resurfacing technologies.
Advantages of PiQo4 Skin Rejuvenation, in comparison to other popular skin resurfacing lasers, like Fraxel:
Safe for all skin tones, even at its highest settings. Skin types 3-6 (Asian, Middle Eastern, Indian, Mediterranean, Hispanic, Native American, African, and ethnicities with similar olive, brown, or dark skin tones) have a risk of skin pigmentation change inherent in any treatment that heats the top layers of the skin. PiQo4 converts its laser energy into acoustic sound wave energy in the PicoFractional treatment, removing this risk completely.
No downtime. With the PiQo4, mild redness lasts about an hour or two after treatment, as compared to several days to weeks with Fraxel and Co2 lasers.
Fractional treatment zones mean faster results. All non-ablative fractional skin rejuvenation procedures offer a greatly reduced recovery because they only treat a fraction of the skin with each session. However, traditionally there was a trade-off in the efficacy of these treatments in order to achieve this shortened downtime. The PiQo4 doesn't require us to reduce the power or effectiveness of its treatments, so patients get that shorter recovery and much faster results, and the results we can achieve in a single treatment are profound.
Recovery & Downtime: None required
Numbing: Topical anesthetic available
Cost: Varies by area and treatment type – discuss during a free consultation
Candidacy: Anyone with pigmentation concerns, fine lines and wrinkles, or general skin texture issues
Duration: 6-9 months
Why We Love It: First laser fractional treatment that's truly safe for all skin types
Patient Stories About PiQo4 Laser
"Today, she's completely freckle-free and loving it!"
View My Story
"It was just something I didn't want to have any longer. When I put on a bathing suit it was kind of an eyesore."
View My Story
Why Choose Reflections Center For the PiQo4 Laser
PiQo4 is an intensely powerful and versatile device for many benefits, but knowing both how to use it well and whether it's actually the best device or procedure for your specific concerns is more important than the device itself. During a consultation with our cosmetic physicians (not nurses or assistants), you'll discuss your concerns and have an examination before moving forward with any potential treatment. This ensures you don't waste money on ineffective or overly intense treatments.
Our doctors are results-oriented and Reflections has designed our whole office and treatment methods around making patients as comfortable and confident as possible. If you have negative side effects or complications, we can offer complimentary follow-up treatments to help get you back to looking healthy and feeling good about your treatment.
The Widest Available Selection of Lasers
Our practice continues to house New Jersey's largest collection of the most effective, cutting-edge laser and cosmetic procedure devices. PiQo4 is not the right laser for all patients or all situations. In fact, we believe there is no one laser or tool that can ever be the best at everything – each person and situation is unique, and our recommendations will vary accordingly.
Frequently Asked Questions About PiQo4
Is the PiQo4 laser right for you?

The PiQo4 laser is typically a good option for most patients. It is not recommended that you have treatment while pregnant or directly before or after tanning.

We require you to wait 2 weeks after tanning and ask that you protect your skin from prolonged sun exposure for 2 weeks after treatment. Being tan, which can last months or years after sun exposure, does not mean you can't be treated by the PiQo4 for either tattoo removal or skin rejuvenation.

What is the treatment like?

Tattoo removal treatment with the PiQo4 laser is extremely quick, usually lasting no more than 1-2 minutes. However, for some patients, the tattoo removal process can be painful. We offer two types of numbing to tattoo removal patients, to ensure the treatment is comfortable. It's always your choice as a patient to decide what, if any, numbing you'd like to use.

The PicoFractional treatment usually takes around 10-15 minutes to complete the entire face. In this mode, the laser still shoots extremely short-duration pulses, but it also makes use of a scanning technology to ensure it's not treating over the same area and is properly spacing apart the fractions of treated skin, for optimal results. Patients tend not to need numbing during this treatment, but it is available for those who want it.

What are the recovery and results of Piqo4?

After your tattoo removal treatment, it is normal to have white frosting over the tattoo. Your tattoo may also feel warm and swollen and the skin may be red and inflamed, much like after a sunburn. Our doctors will instruct you to care for your treated tattoo just like you would a new tattoo – protect it from the sun, don't pick at it, and generally keep the skin clean and moisturized.

After a PiQo4 treatment, your skin may be slightly red for up to an hour or two. Afterward, you should not experience any side effects or downtime. You can cover this redness with makeup immediately following treatment, and you can return to normal activities and skincare routines right away.

Does treatment size matter for PiQo4?

Another perk of the system is the range of treatment sizes. The spot size of the laser treatment area is ranged from two millimeters to fifteen millimeters, which is a far wider range than other picosecond lasers, including PicoWay and PicoSure. In fact, the PiQo4 offers the largest uniform spot size available on any laser used for cosmetic treatments – almost 4 times larger than that of the closest competitor. Studies have shown that treatment with a larger spot size and lower fluence (one of the other adjustable settings on this laser) significantly decreases the chances of adverse reactions.

A larger spot size allows for deeper penetration into the skin's layers and better treatment of pigment and ink.

What does each wavelength work best for?

Here's what each wavelength works best for:

1064nm is ideal for removing black and dark blue tattoo inks and dark pigmented lesions on the skin, such as moles and seborrheic keratosis
532 nm is ideal for removing red tattoo ink, pigmented lesions, and vascular lesions, including red acne scars, broken capillaries, etc.
585 nm is ideal for removing sky blue and yellow tattoo inks, some of the more difficult to remove lighter tones of tattoo ink
650 nm is ideal for removing both light and dark green and some tones of yellow tattoo inks

How does Piqo4 handle different skin tones?

Getting rid of that dark ink first allows us to be more aggressive in treating the lighter tones because we can be confident that the dark ink isn't going to be in there reacting negatively to the wavelengths that are needed to remove lighter inks. This is one of the more common reasons for complications we see from other offices. Because dark ink attracts light (laser energy) more readily, if you don't remove it first (or you don't realize it's there and start by treating the lighter colors first), scarring can occur. Scarring on a tattoo is a big problem because once scar tissue encapsulates the ink, you're going to have a very hard time removing it, and continued improper laser treatments will just create more scarring.

While it may seem like the 1064 wavelength doesn't remove that many colors, it's actually the wavelength we use the most, because nearly all tattoos have shading of some sort, which means there is some black or dark pigmented ink either mixed in with the other ink or laid deeper below it.

Why does having 4 wavelengths and adjustable spot size matter?

The industry standard (on nearly every laser available) is 1-2 wavelengths. A few have 3, like the new Smartlipo Triplex, but even 3 is pretty rare. The PiQo4 is the only one so far with 4. We could have bought all 4 wavelengths on separate lasers, but having these 4 wavelengths on this system, with its adjustable spot size, energy, and pulse durations (speed and pulse pattern settings) gives us these wavelengths in a far superior platform than other lasers offer. Patients can expect up to 40% fewer treatments with the PiQo4 because of its unique spot size and high power settings – regardless of skin tone.

The Naturlase PiQo4 laser is an Nd:Y AG 1064 Q-Switched Laser with four wavelengths of light: 1064 nm (nanometers), 532nm, 650 nm, and 585 nm. This color wheel shows you the tattoo ink colors each wavelength is best at removing.

What is the cost of Piqo4?

Tattoo removal at our offices is priced by the size of the tattoo. This pricing model allows our physicians to adjust the treatments and utilize our full range of tattoo removal lasers to their best advantage. Almost every patient will need 4-6 treatments to remove their tattoo completely, and often the process will include 2-4 different lasers, so most patients purchase a package of treatments to take advantage of the cost savings we offer on packages.

With the PiQo4, we have had a few patients who were able to completely remove their tattoo without using up all of the treatments they had purchased. In that case, patients can choose from 2 options: use the value of these unused treatments towards another treatment at our practice, or be refunded. This has been somewhat of a rare occurrence, but we're just as happy as our patients when it does happen! This patient was refunded when her treatment didn't take as many sessions as she had purchased.

PicoFractional laser skin rejuvenation is priced based on the area treated. For example, a larger area, such as full face rejuvenation, would be more expensive than a spot treatment, such as acne scars on the cheeks.

Will I need to have numbing or anesthesia?

You will not need any anesthesia for this treatment. Most PiQo4 patients find the treatment doesn't warrant numbing, though it can be used. Tattoo removal patients have 2 numbing options available to them: numbing injections and topical numbing cream. Numbing injections make the process extremely comfortable, but the numbing lasts for a few hours, and can only be used on a limited area safely. For that reason, it's not possible to use numbing injections for large treatment areas, such as a full sleeve or full back piece. But it is a good option for medium to small-sized tattoos, and especially those in very sensitive areas, like the face and hands. We also offer topical numbing cream, for those who want to avoid needles or for those with large treatment areas (there is a limit to how large of an area we can use this cream on, too, but we typically don't see it become a limiting problem with tattoo removal).

Can black tattoos be fully removed?

Yes, black tattoos can be fully removed – and are best-removed by a 1064nm laser. The PiQo4 is the world's highest-powered 1064 wavelength laser, and its picosecond and nanosecond technology allow for fast and safe removal of black ink from all skin types.

What is PiQo4?

PiQo4 is a 1064nm wavelength laser (1064 best targets black and very dark ink – including all shading in tattoos) that can fire in a picosecond laser pulse duration (1 trillionth of a second). The other popular picosecond lasers are PicoWay and PicoSure – these have different wavelengths and thus target different colors, but the interesting thing about picosecond lasers is that they break up ink for faster removal than older technology, and because of the short pulse duration, they are much safer for skin of color.

Does PiQo4 Laser hurt?

Yes, you can expect to feel discomfort and pain with the PiQo4 laser. We can greatly decrease this by numbing the area prior to treatment. And just like how the pain of getting a tattoo stops the moment the machine stops, the same occurs with this laser – its pain that's very quick and temporary (as the removal sessions are much, much faster than the tattooing itself).

What is the best laser to remove tattoo ink?

Most tattoos that have more than 1 color are going to require treatment with more than 1 laser system, as most laser systems have only a single wavelength and each wavelength targets a specific color. However, we use the PiQo4 on nearly all tattoos as black ink is used in shading and exists in nearly all tattoos, and PiQo4 is the fastest and safest laser for removing black on all skin types.

What is PiQo4 Laser?

PiQo4 laser is a picosecond and nanosecond laser with a 1064nm wavelength that can be used to remove black tattoos, freckles, and other dark spots on all skin types safely and quickly. It is the world's highest-powered cosmetic laser and comes with few presets (and is one of the most expensive lasers you can buy), so you typically don't see them in every medspa or plastic surgery center, because they're not for novice laser techs. This laser is amazingly effective, and that makes it dangerous in the hands of someone who's not a laser specialist. However, since only cosmetic physicians with years of laser training use this laser at our practice, you can be assured of its safe and effective use at our offices.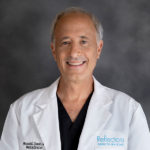 Dr. Mitchell Chasin founded Reflections Center for skin & body as a place where physicians specializing in cosmetic medicine could focus on helping empower patients to feel their most beautiful. Dr. Chasin believes strongly that the best cosmetic physicians are those who are dedicated to mastering their craft through continuing education and collaboration with the industry's top doctors.