Sun damage, fine lines, or acne scars can make you look older than you are. If you are ready to look younger, fresher, and revitalized, Reflections offers skin revitalization devices that will restore your skin to its former radiance.
Skin care at Reflections is medically based, with proven results our patients love, and that gets noticed. Our aestheticians work directly with our experienced physicians to customize a treatment plan that addresses your needs. Aesthetic services are a great way to maintain the fabulous results of our leading-edge laser treatments.
Skin Revitalization Quick Facts
Performed by Medical Aesthetician Under Physician Supervision
Available in Our New Jersey Offices
Pricing Ranges from $160 to $300 Per Treatment (with Reduced Rate Packages Available)
Less-Invasive Treatments Than Physicians Provide
The Best Aesthetician Skin Treatments for Results You Can See & Feel
Our professional aestheticians have been carefully chosen for their extensive experience. Because every patient is unique, we will evaluate your skin and recommend a customized treatment plan.
Dermapen
$300 per Treatment or Series of 4 for $1080
Dermapen is an exciting new micro-needling tool that is FDA-Approved (proven safe and effective) to improve the appearance of fine lines, skin texture, scars, and skin tone. A tiny set of needles at the end of a pen-like handpiece is passed over the skin, comfortably creating thousands of micro-treatment spots in the skin. This stimulates the body's natural collagen renewal response and over a number of weeks or months, a smoother, more supple and more even skin tone emerges.
Aestheticians are allowed to perform a more superficial version of these treatment (and thus the cost is different) versus registered nurses versus physicians in New Jersey. Our doctors are happy to meet with you during a free consultation to evaluate whether our aestheticians can provide the level of treatment you'll need to achieve your goals.
Learn More
DermaFrac™
$195 per Treatment or Series of 6 for $1050
DermaFrac™ is an anti-aging therapy that combines micro-needling with the simultaneous delivery of treatment serums in a painless, no-downtime treatment. DermaFrac stimulates collagen regeneration while allowing result-specific serums to penetrate more deeply into facial tissue. DermaFrac requires no anesthesia and is a lower-cost alternative to laser therapy.
DermaSweep
$175 per Treatment or Series of 6 for $925
DermaSweep uses a vacuum pump to gently lift the skin surface as a specially designed treatment brush "sweeps away" dead skin cells. This results in a mild peel that polishes the skin to leave it fresh and invigorated. This treatment is painless and requires no downtime.
Often we combine DermaSweep with Intense Pulsed Light treatments (IPL) for more comprehensive results. DermaSweep is also used to maintain the results seen with Fraxel, eTwo, or Clear + Brilliant laser treatments.
Sapphire 3 Photo Abrasion
$160 per Treatment or Series of 6 for $850
Sapphire 3 Photo Abrasion, an excellent alternative to microdermabrasion, is the ultimate combination in noninvasive skin therapies, using unique wet and dry exfoliation, lymphatic drainage, vitamin infusion, and blue and red LED light therapy. A handpiece vibrates while it slowly passes across the skin's surface to effectively and comfortably ablate the outermost layers of the skin. The level of exfoliation is customized to your needs and comfort level. This process results in improved skin texture, tone, and appearance.
Next, a slow-moving pressure head removes toxins and waste and improves circulation. Red monochromatic light aids in the stimulation of cells, stimulates collagen synthesis and gently tones and lifts the skin. Blue LED therapy has additional healing and calming effects.
Learn More
Microdermabrasion
Microdermabrasion is a gentle skin resurfacing treatment that can rejuvenate and restore the natural glow to the skin, without the need for downtime.  This technology has become a standard of care in aesthetics due to its predictable and safe results.
Tiny rough grains or crystals (aluminum oxide, sodium chloride or sodium bicarbonate) and suction are applied to the face to buff away the surface layer of the skin, home to many minor skin imperfections like fine wrinkle lines and blemishes.
When the outermost layer of skin is removed or broken up, the body rushes to replace the lost skin cells with new and healthy ones. The skin's surface looks and feels smoother, and creams and lotions become more effective because they can penetrate the skin more easily.
Learn More
Why Choose Reflections Center For Your Aesthetician Skin Treatments
Our goal at Reflections is to leave you not just looking better, but feeling better too. With the help of our professional medical aestheticians, you'll feel rejuvenated, and be transformed both inside and out.
We know from our experience that seeing a transformed complexion affects more than just your skin, but also your mindset, confidence, and even energy level. With our aesthetician skin treatments, we provide exactly what you need for your constraints, whether it be budget, downtime, or skin type. Our RF microneedling, LED light therapies, dermabrasion tools, and more have all been proven to be effective, safe, and efficient means for rejuvenating your skin for a radiant-looking appearance.
Tested Tools for Proven Results
We don't just buy one manufacturer's aesthetic platform and then stick with it for every possible patient's treatment needs. Instead, we research, purchase, and test many different non-surgical devices and aesthetic treatment protocols to see what really works the best both for our patients and our team of physicians. This ensures you get a truly customized treatment with the right device, not just the right setting, for your specific skin type and goals from non-invasive skincare rejuvenation.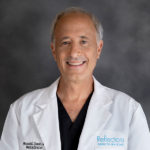 Dr. Mitchell Chasin founded Reflections Center for skin & body as a place where physicians specializing in cosmetic medicine could focus on helping empower patients to feel their most beautiful. Dr. Chasin believes strongly that the best cosmetic physicians are those who are dedicated to mastering their craft through continuing education and collaboration with the industry's top doctors.