Sometimes a quick pick-me-up is all you need to feel and look your best. At Reflections, we have a wide array of customized facials to help restore your skin to its former radiance. Today is a great day to come to Reflections to relax, unwind and take some much-needed "me time."
Our approach to skincare is medically based and delivers proven results. Because every patient is unique, our highly skilled aestheticians work directly with our physicians to customize a treatment plan that addresses your needs.  Our aesthetic services can help every type of skin and are effective on their own or as a way to maintain the results of any of our leading-edge laser treatments.
Customized Facial Quick Facts
Prices range from $50 to $130, depending upon your customized selections
Both 30-minute and 60-minute facials available
Performed by medical aesthetician under physician supervision
Works with your other treatments, skin care, & prescriptions
Today's Best Options for Customized Facials
Customized facials are an essential part of an effective skin care regimen. These are not the fluffy facials you'll find in a salon or a spa; they are results-oriented treatments developed to nourish the skin, counteract signs of aging, and combat acne and other skin conditions.
Below you'll find a list of some of the most common types of facial treatments our aestheticians perform:
Therapeutic Signature Facial
Our Therapeutic Signature Facial includes skin analysis, exfoliation, and light extractions to stimulate cell renewal for a healthy complexion.
Deep Pore Cosmedical Facial
Our Deep Pore Cosmedical Facial is medically based and specifically formulated to treat acne and oil-prone skin types. Emphasis is placed on the extraction of impurities and reduction of congested skin.
Environmental Control Facial
Our Environmental Control Facial was developed especially for delicate and sensitive skin. This facial offers the most advanced skincare protection and repair through the use of calming techniques and anti-inflammatory botanicals.
Multivitamin Power Facial
Our Multivitamin Power Facial uses a blend of hydroxy acids and skin normalizing vitamin A (Retinol) to thoroughly remove dulling surface debris while stimulating cell renewal. It reduces premature aging and sun damage.
Collagen Facial
Our Collagen Facial helps to diminish fine lines and replenish cells on the surface of the skin by using the moisturizing and firming qualities of collagen.
Back Facial
Our Back Facial is a results-oriented treatment for one of the most neglected areas of the body. Back acne is treated with cleansing, exfoliation, and purification. An extended back massage is included.
Why Choose Reflections
for Customized Facials?
Our goal at Reflections is to leave you not just looking better, but also feeling better too. With the help of our professional aestheticians, you'll feel rejuvenated and be transformed both inside and out. We know from our experience that seeing a transformed complexion affects more than just your skin, but also your mindset, confidence, and even energy level. With our custom facials, we provide exactly what you need for your constraints, whether it be budget, downtime, or skin type.
At Reflections, we offer facials for every skin type and problem. Our aestheticians will be happy to perform a complimentary consultation and recommend the perfect facial for you during a consultation at one of our New Jersey office locations.
Years of Experience and A World-Renowned Reputation
We can point to not only the years of collective experience our cosmetic physicians have in addition to the rigorous continuous training they undergo to stay at the top of their game, but also the prestige of being asked to train the country's and the world's best cosmetic physicians. People recognize Reflections and our doctors as authorities in customized facials and treatments like injectables as well.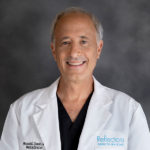 Dr. Mitchell Chasin built Reflections Center for skin & body as a place where physicians specializing in cosmetic medicine could focus on helping empower patients to feel their most beautiful. Dr. Chasin believes strongly that the best cosmetic physicians are those who are dedicated to mastering their craft through continuing education and collaboration with the industry's top doctors.