Microdermabrasion is a general term for the application of tiny rough grains or crystals (aluminum oxide, sodium chloride or sodium bicarbonate) and suction to buff away the surface layer of the skin. This technology has become a standard of care in aesthetics due to its predictable and safe results. The skill of the operator and the specifics of the device being used effect the outcomes.
Microdermabrasion Quick Facts
Fixes sun or age spots, fine lines, & more
Mild textural abnormalities
Clogged and enlarged pores
Acne, blackheads, and whiteheads
Preventative, anti-aging effects
What are the Best Treatments for Microdermabrasion?
Sun or age spots and other
superficial pigment problems
Mild textural abnormalities
Clogged and enlarged pores
Acne, blackheads, and whiteheads
Preventative, anti-aging effects
How Microdermabrasion Works
Your skin is made up of two main layers, the epidermis and the dermis. The epidermis is the layer closest to the outside world. It's a set of skin cells on top of another layer of cells that are in the process of maturing. The top layer is called the "stratum corneum." The stratum corneum mostly acts as a barrier between the environment and the lower skin layers. It keeps all but the smallest molecules from getting through. When you put lotions or creams on your skin, some of the moisture passes through the stratum corneum, but some ingredients can't penetrate it. This layer is home to many minor skin imperfections like fine wrinkle lines and blemishes. All of the action in microdermabrasion takes place at the level of the stratum corneum.
If you remove or break up the stratum corneum, the body rushes to replace the lost skin cells with new and healthy ones below. With the statum corneum gone, the skin's surface looks and feels smoother, while some of the skin's visible imperfections like fine lines and sun damage are removed. And without the stratum corneum acting as a barrier, topical products can now penetrate the skin more easily and be effective.
Why Choose Reflections Center For Microdermabrasion
Our medical aestheticians have decades of experience working under the supervision of our cosmetic physicians, allowing them to bring a uniquely scientific and results-focused approach to their treatments. Not only do they have access to the best-in-class technologies for creating these results, but they are in constant feedback with our doctors about how to marry their work with the more extensive treatments our doctors provide, and at-home skincare and prescription medications, for a level of care you won't find anywhere else.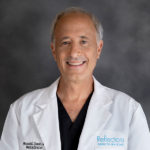 Dr. Mitchell Chasin built Reflections Center for skin & body as a place where physicians specializing in cosmetic medicine could focus on helping empower patients to feel their most beautiful. Dr. Chasin believes strongly that the best cosmetic physicians are those who are dedicated to mastering their craft through continuing education and collaboration with the industry's top doctors.