Concentrated Platelet Therapy is part of a new type of medical practice, called Regenerative Medicine, which makes use of the signaling systems in your body to turn the body back to a more youthful functional state. In the case of concentrated platelet therapy, we're making use of the healing factors in your blood (the same factors that work to heal a cut or scab up a wound) combined with the potential of your own blood to grow new cells (to heal and eventually close small wounds) and we're concentrating that down into a serum that's the very best possible tool to help your body accelerate healing and results from cosmetic procedures, like lasers and surgery, and also to grow new skin, hair, and other tissues.
Concentrated Platelet Therapy Quick Facts
Reduce fine lines, wrinkles, and facial scars
Restore hair growth
Long-lasting results
Safe for almost all patients
Today's Best Concentrated Platelet Treatments
Concentrated Platelet Therapy is a way of isolating and concentrating the parts of your own blood that contain healing and growth factors. It is most commonly used in injections, but not always. It is also applied topically over the skin after lasers and microneedling.
Hair Restoration: Growing Back Your Own Hair, Naturally With Concentrated Platelets
Concentrated Platelet Therapy can also be used to grow new, thicker hair for patients experiencing hair loss and thinning. The science has now shown us that not only does hair grow back in greater density, but the individual hairs are thicker and stronger.
For this use case, we are typically both applying the platelet serum over top of microneedling done on the scalp, but also injecting the platelet serum into the scalp. For this protocol we recommend a series of treatments over several months, with results starting to appear a couple of months into the process. Some patients need a more aggressive treatment, or prefer to have fewer sessions, and in that case, we recommend adding in other forms of regenerative treatments (the kind of treatments that alter the signals within your body and get it to act like a younger you). In either case, at-home maintenance is very important to keep your new hair healthy – and your doctors at Reflections will walk you through exactly what they recommend for you, whether that's a specific shampoo, some supplements, or prescription medications.
After treatment, you can expect your scalp to be red and bloody. You cannot wash your hair until the next day (or 12 hours later), so you'll want to take that evening off from work and social engagements, workouts, etc.
Recovery & Downtime: 12 hours
Numbing: Injections, Wears off in a few hours (like after a cavity)
Cost: $900+ depending upon the other treatments added in to that session
Candidacy: Only for areas with thin hair, not complete baldness
Maintenance: At-home care daily plus yearly maintenance treatment
Why We Love It: It's made hair transplant surgery, which wasn't a great procedure in terms of reliability of results or scarring, pretty much obsolete
Skin Rejuvenation: Texture, Fine Lines & Wrinkles, Crepey Skin


Concentrated Platelet Therapy applied topically after microneedling or lasers helps to create thicker, smoother skin, reducing fine lines and wrinkles and improving skin tone and quality – and also reduces the intensity and duration of downtime following treatments with lasers, microneedling, and even in some surgical procedures.

During this treatment, we not only concentrate the platelets, but also make use of the plasma, or PPP Serum.

The PPP Serum is topically applied over top of skin that's been lasered, microneedled, or otherwise damaged, and/or it is injected into the treated areas at the same depth as the thermal injury. This serum includes the part of the blood that works to close up cuts and heal itself, so it's helpful to provide these cells right where they're needed. This is what helps with reducing the downtime and recovery period.
Recovery & Downtime: 12 hours, while channels close
Numbing: Injections, Wears off in a few hours (like after a cavity)
Cost: $900+ depending upon the other treatments added in to that session
Candidacy: Anyone having a laser or microneedling treatment
Maintenance: At-home skincare, sun avoidance, and yearly maintenance of 1 treatment
Why We Love It: It boosts the results while reducing the downtime, letting us be aggressive and get amazing results much faster
Acne Scars, Surgery Scars, & Other Scars

Scars, no matter the cause, are tricky to treat, because in order to repair them, you've got to put the body back through a healing process – and most of the time, bad scarring is a combination of inherent traits of the individual and circumstances during the healing process. If it turns out that the person is just a very bad scarrer, then you may have very limited ability to improve the scars. But by using Concentrated Platelet Therapy, we are helping your body to get as much of the right conditions to heal favorably as possible.
When we're trying scars, we're most often using a laser or microneedling of some sort to break up the existing scar tissue. And then Concentrated Platelet Therapy and PPP plasma serum are used immediately after, to deliver the growth and healing factors from your blood to the scar site.
Recovery & Downtime: 12 hours, while channels close
Numbing: Injections, Wears off in a few hours (like after a cavity)
Cost: $900+ depending upon the other treatments added in to that session
Candidacy: Anyone having a laser or microneedling treatment
Maintenance: At-home skincare, sun avoidance, and keeping skin clear of acne
Why We Love It: It boosts the results while reducing the downtime, letting us be aggressive and get amazing results much faster
Patient Stories About Concentrated Platelet Injections
"I left with tears of happiness and hugged everyone and the nurses at least twice. If you are in deep thought of wondering if this place is right for you, worry no more. "
View My Story
"Kendall says Microneedling with Concentrated Platelet Therapy made such a difference her aesthetician and friends noticed her results - namely her smaller pores and refined skin texture."
View My Story
"I have multiple types of scars on my face-adult acne with ice pick scars and tethering scars....He performed this one month ago and my results are show-stopping - I now have soft, smooth skin and it's only been 5 weeks. I will continue to get more improvements over the next 8 months...."
View My Story
Why Choose Reflections for
Concentrated Platelet Injections
Reflections has always prided itself on being a cutting-edge practice committed to providing scientifically proven and medically sound treatments that offer real results. That's why we're so happy to be able to provide our patients with access to world-class regenerative aesthetic treatments like PRP and PPP. PRP can be used for so many skin rejuvenation and medical procedures and we love this versatility. We think you'll be amazed at how well this treatment works to boost the results of your procedure, as well as how quickly and easily you recover.
Free Consultations at Reflections Center
It is always important to receive treatment from certified physicians and you always will at Reflections Center. We also offer complimentary consultations so that you can discuss your concerns and goals with one of our physicians and then determine the best treatment plan customized to your needs. We will never push you to receive a treatment you do not want and we have many options for each skin condition or medical concern to help you find a treatment plan you are comfortable with.
Frequently Asked Questions On Concentrated Platelet Injections
What does it feel like? Will it hurt?

Treatment begins with a blood draw from your arm, just as if you were having blood drawn for labs at your primary care doctor's office. A slight needle prick may be felt during the process. Then, your blood will be placed in a centrifuge, which will separate your blood platelets from your blood plasma. This will be seperated into PRP and PPP, and placed into a syringe to be injected into the treatment area and/or applied over top of sites of microdamage (i.e. skin that's been lasered or microneedled). Typically, we do numb the treatment site, so you should not expect to feel the actual treatment injections or applications.

Is there downtime or recovery After PRP?

By itself, PRP causes little to no downtime. We always pair PRP and PPP with another treatment to maximize the treatments effectiveness, so the downtime is related to that other procedure. We find that downtime actually reduces when we add PRP to the process. We'll cover this in more detail during your consultation.

How long will results last?

PRP and PPP are your own cells, working to build and heal your cells and tissues so the results are going to be natural and long lasting. In some ways you can expect the procedure's results will be permanent, although still subject to the normal aging process over time, just like the rest of your cells.

Am I a candidate for PRP?

Both men and women who are looking for a natural alternative to skin rejuvenation can often benefit from PRP. If you are looking to soften fines lines, wrinkles, and scars, or correct uneven skin texture or volume loss, PRP may be able to help. Women who are pregnant should not receive this treatment. Those with autoimmune conditions, cancer, or are on anti-coagulation treatment are also not candidates.

How much does PRP cost?

PRP and/or PPP is $400 as an add-on to other skin care treatments.

How is PRP best applied after a treatment with laser or RF Microneedling

One way ensures the PRP is available directly within the areas of injury (in the actual channels of injury), but as these channels close very quickly, there is some discussion in the medical community as to whether this is effective enough. If the channels have already closed when the PRP is applied over top, then the PRP just sits on top of the skin and isn't all that helpful. This is why you'll sometimes see providers apply the PRP first and then Microneedle over top, pushing the platelets down into the skin. But a more effective way to ensure the PRP gets to the right depth in the skin, without damaging the PRP, is to inject it into the skin. So, we always inject it, and sometimes we also apply it topically directly after treatment with a laser or microneedling device.

What is a PRP facial?

PRP stands for Platelet-Rich Plasma. PRP is an isolated and concentrated component of blood. It has been found that PRP contains healing and growth factors that can be used for skin rejuvenation procedures such as a PRP facial or better known as the "vampire facial". The growth factors found in the platelet-rich plasma contain more growth factors that naturally occur in the skin and body, stimulating the growth of new cells for rejuvenated skin. The growth of new cells helps to create thicker, smoother skin that reduces fine lines and wrinkles while improving the tone and quality of the skin.

A "vampire facial" or a PRP facial is a procedure that combines platelet-rich plasma with microneedling via dermapen. This combination allows the patient to get the best of both treatments in an accelerated way. The micro injuries caused by microneedling help to kickstart the healing process of the skin but also allows the platelet-rich plasma applied topically during the facial to be absorbed deeper into the skin for maximum cell regeneration.

What does PRP stand for?

Platelet-Rich Plasma (PRP) is a concentrated version of a patient's blood that isolates the platelets or growth factors in the plasma to enhance and boost the results of cosmetic treatments. To extract this concentrated formula, a patients blood is taken and then spun in a container that separates the plasma from the rest of the blood.

Both men and women who are looking for a natural alternative to skin rejuvenation without the use of synthetic fillers and ingredients can turn to PRP for regenerative results. If you are looking to smooth fine lines, wrinkles, and soften scars, PRP may be able to help. It is recommended that women who are pregnant should not receive this treatment, as well as those with autoimmune diseases, cancer, or, are on anticoagulation treatment should avoid this type of treatment.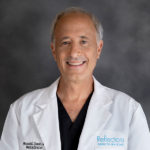 Dr. Mitchell Chasin founded Reflections Center for skin & body as a place where physicians specializing in cosmetic medicine could focus on helping empower patients to feel their most beautiful. Dr. Chasin believes strongly that the best cosmetic physicians are those who are dedicated to mastering their craft through continuing education and collaboration with the industry's top doctors.