Fat transfer is changing the way plastic surgeons augment and enhance the body. Rather than throwing away the fat after liposuction, fat transfer, or liposculpture, they use that fat to sculpt and contour the body. This fat can be transferred anywhere on the face or body.
This page focuses on HVP Fat Transfer, a technique for fat transfer to the body. We use different techniques for the face, which you can read about on our facial fat transfer page.
HVP Fat Transfer Quick Facts
HVP is a closed system fat transfer technique for great safety and predictability
Can be used for any large volume fat transfer, which usually means body fat transfer, not face
Can be used under local or general anesthesia by our plastic surgeon
Today's Best Options for HVP Fat Transfer
Patients most commonly request we use their excess fat from liposuction for the following fat transfer procedures:
Brazilian Butt Lift (BBL)
Brazilians have long been envied for their round, perky backsides. So it's no surprise that Brazil created the definitive procedure for creating a rounder, perkier butt. Brazilian Butt Lift (BBL) is liposuction with fat transfer to the buttocks. This is the safest, most effective way to augment the butt.
Learn More
Colombian Hip Fat Transfer For "Hip Dips"
Part of having an hourglass figure is having curvy, round hips that are proportionate to the curves of the upper body. In Colombia, curvy round hips are particularly prized. Fat transfer can be used to correct "hip dips", enhance or augment the hips, and create the curves you desire.
C-Section Scar Revision
Many patients with scars from c-sections, appendectomies, or other surgeries end up with deep indented scars that create weird contours on their bodies. The most common request we get involving c-section scars is to improve the look of the shelf-like protrusion above the scar. This is a frustrating area for women because the fat here is usually trapped within scar tissue and nearly impossible to lose through diet and exercise. Our favorite approach to revising these scars involves liposuction of the surrounding area, subcision to break up that scar tissue, and then fat transfer below and around the scar to create a smooth contour.
Learn More
Fat Transfer Under Local Anesthesia vs General Anesthesia
We offer fat transfer under local anesthesia because of all of the advantages it offers both our surgical team and our patients. Offering fat transfer under local anesthesia allows us to bypass the risks, costs, and discomfort of general anesthesia. Using local anesthesia allows for a safe, gentle procedure, and also reduces the intensity and length of recovery, as well as improving the results we're able to achieve.
Higher Fat Survival Rates
The injected numbing medication decreases blood flow in the area being treated – this means there is less bruising and trauma, as well as less blood in the fat that's extracted. Since pure fat (without blood cells) has been shown to increase the percentage of fat that survives the grafting process, this helps to create a better result because what we graft during the procedure is a more accurate representation of the final result.
Easier, Shorter, Faster Recovery
Also, because there's less bruising and trauma, your recovery is less difficult and shorter than with more aggressive techniques. Furthermore, general anesthesia includes medications that cross the blood-brain barrier, requiring your body to perform a large-scale detox as you come off general anesthesia. This typically results in nausea, dizziness, fogginess, and general malaise. This is taxing on the body and increases total recovery time since your body has to juggle this detox as well as recovery from the procedure.
Better, More Accurate Results
Finally, local anesthesia allows us to create the most accurate results during your procedure. Your body looks very different laying down than standing. When you're under general anesthesia, the physician can only see you laying flat on your stomach or on your back. This gives your figure a different look than standing up. Using local anesthesia, we're able to stand patients up towards the end of their procedure and check their results from every angle before putting the finishing touches on the result. Because the patient is awake, they can have input in the final touches, as well. This is what allows us to ensure we're getting the best possible result for each individual patient.
Increased Safety
You can bypass that risk by avoiding general anesthesia altogether, and for many patients, this just makes more sense.
There are several concerns with general anesthesia's safety, and although we have made great strides in the safety of general anesthesia in the past few decades, it still does increase overall risks for serious complications from surgery. In general, for young, healthy patients, general anesthesia is not a high risk provided there is proper administration and supervision during and after the procedure. However, what we've found (and what's been reported in nearly all deaths caused by general anesthesia) is that supervision, especially in the hours following surgery, is not always adequate. That is to say when the plastic surgery community sees deaths from general anesthesia, it is usually found to be caused by a lack of proper supervision, usually in an outpatient setting.
In older patients or patients with health concerns, local anesthesia is truly the only option for elective surgery. Many plastic surgeons will turn away these patients because they know general anesthesia is simply not safe enough for these patients. We've successfully performed hundreds of procedures on patients in their 70s, 80s, and even 90s. This gentle anesthesia makes cosmetic procedures available to all.
Why Choose Reflections Center For HVP Fat Transfer
Reflections is proud to be one of the very few practices in New Jersey to offer liposuction and fat transfer under local anesthesia. We pride ourselves in having created a private, comfortable, and relaxing experience for patients. Our practice has invested heavily in the technologies and tools that not only provide a safer surgical experience but also allow our doctors to consistently create the very best results for our patients.
Tailored Treatment Protocols for Comfortable Care
Dr. Mitchell Chasin has been performing liposuction under local anesthesia for over a decade. Having seen how many patients felt uneasy about general anesthesia and long, intense recovery periods after fat transfer surgeries, he knew offering fat transfer under local anesthesia would make this procedure more accessible for many patients with busy lives.
This desire to provide minimally invasive liposuction has driven the tools and techniques we employ and train others with to ensure the best-looking results from fat transfer and liposuction. What you get at Reflections is nothing but the best based on our decades of the collective experience and what we've heard from patients throughout the years.
Frequently Asked Questions About HVP Fat Transfer
How does fat transfer work?

Fat cells are harvested from the body using MicroAire Power-Assisted Liposuction (PAL), which gently vibrates to break up the fat cells without damaging them. Fat is suctioned into a canister. This canister is also vibrating to stimulate filtration of the fat, removing numbing fluid and blood cells, and creating concentrated golden fat. Fluids and blood left in the fat can lead to poor healing and poor fat survival, so this system helps us create the optimal pure fat grafts that last the longest and survive at the highest rates1. Once filtered, the fat is re-injected using a system that carefully monitors the pressure of the area being injected. Injecting too many fat cells into a given area will create crushing pressure, which will kill the fat cells. So this system of fat transfer gives us the best results with the highest percentage of fat survival.

What is autologous fat transfer?

"Autologous" means coming from your own body. "Fat transfer" is the process of liposuctioning, or removing, fat from the body and then reinjecting it to other parts of the body. This is sometimes called "liposculpture" or "fat grafting."

What is HVP fat transfer?

HVP stands for "high-volume precision" and is a branded way of performing fat transfer. This system is a closed system, keeping the fat safe from possible exposure to bacteria in the air. The HVP system also offers better filtration and concentration of fat, which has been shown in clinical studies to create better fat survival rates in fat transfer. Finally, the HVP re-injection system is the only system to allow the doctor to measure the pressure in the area they are injecting the fat into. This is important, as cramming too many fat cells into the area will cause them to squish each other and die. When you see doctors who have fat squirting out where it has been injected, it is because they have injected too much fat. Death of the fat cells leads to seromas and hematomas, serious complications that can create terrible deformities as they heal.

Is numbing or anesthesia used for fat transfer treatments?

Yes – we use an injected numbing medication, very similar to what your dentist uses for filling cavities. In addition, most patients elect to receive medication that relaxes them during the procedure.
Looking to keep every possible ounce of fat after your fat transfer for BBL or...
Read More
By now, it's no secret that Emsculpt® can achieve some amazing things. This...
Read More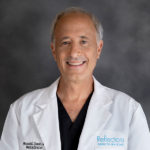 Dr. Mitchell Chasin founded Reflections Center for skin & body as a place where physicians specializing in cosmetic medicine could focus on helping empower patients to feel their most beautiful. Dr. Chasin believes strongly that the best cosmetic physicians are those who are dedicated to mastering their craft through continuing education and collaboration with the industry's top doctors.