Be Ready for Anything with Treatments That Get Sweat Under Control!
Reflections offers only the most effective way to treat embarrassing, excessive sweating – Botox. On this page, you'll learn what causes hyperhidrosis (excessive sweating), as well as the treatment options that have been scientifically studied and approved for their effectiveness and safety by the FDA, and the unique insights we've gained in treating this condition for over 2 decades: which treatments are worth the money and time, and which aren't.
Top Asked Questions For Excessive Sweating
Can I have Botox injected in my hands or feet for sweating?

You can, but most people do not tolerate this procedure (it's quite uncomfortable and requires many injections in these sensitive areas). Our doctors would perform it for a patient who is determined. Botox injected to reduce sweating (hyperhidrosis) requires small droplets injected in dozens or more individual injections. We do have a specialized needle system for injection that injects precise amounts through several needles per injection to make the treatment faster, but even with that, it's the very rare patient with a very severe excessive sweating issue who will tolerate this procedure, especially given that the results are not permanent (Botox's effects wear off within 3-6 months for hyperhidrosis).
Scroll to more FAQs on this topic
Excessive, uncontrollable underarm sweating (also called axillary hyperhidrosis) can affect your daily routine, your confidence, and even your love life. If this sounds familiar to you, you are not alone. An estimated 8 million Americans suffer from excessive sweating2, and there may be even more, as many people do not report this condition to their doctors because they think there is no treatment that will solve this disruptive and often embarrassing problem.
Why Do I Sweat So Much?
Hyperhidrosis happens when you sweat in excess of what your body needs to regulate its temperature.  It can be unpredictable and may come on regardless of your mood or the weather. It seems to run in families, and for most people begins during puberty. Most excessive sweating happens in the underarm area, but it can also happen in other places, like the hands, feet, scalp, groin, etc.
The severity of hyperhidrosis is measured on a scale from one to four, based upon how much the patient feels the condition interferes with daily life.  Here's how the levels are defined:
Level 1: My sweating is never noticeable and never interferes with my daily activities.
Level 2: My sweating is tolerable but sometimes interferes with my daily activities.
Level 3: My sweating is barely tolerable and frequently interferes with my daily activities.
Level 4: My sweating is intolerable and always interferes with my daily activities.
One-third of people with hyperhidrosis define their severity as a level four, saying the condition is intolerable. Both levels three and four are considered to be "severe" cases of hyperhidrosis. If this describes you, our physicians are eager to help.
The Most Effective Treatments Available
Botox injections are the only treatment we currently provide or recommend for hyperhidrosis because it is consistently effective in terms of sweat reduction levels and effectiveness across all patients. Unfortunately, the hyped treatments like Miradry, Ultherapy, and Axilase worked really well in only some patients – and it was very hard to predict which ones – so you'd do this invasive procedure, spend quite a bit of money, and potentially have a result that didn't last, or even no results whatsoever. We stopped offering those because it felt like a risk we couldn't ask patients to make, financially or emotionally (we saw how negatively it impacted patients to wait months for a result that never came).
Compare Hyperhidrosis Treatments
In 2004, the FDA approved Botox for use in treating for axillary (underarm) hyperhidrosis.
For many patients, it is an excellent option. During treatment, up to 20 small doses of BOTOX are injected in a grid pattern in the armpit. This comfortable treatment takes just minutes to complete, and the success rate is outstanding. The treatment does a wonderful job of controlling excessive sweating.* Results are usually seen in two to four days and last for four to seven months1, at which time the procedure must be repeated.*
Read More
Why Choose Reflections for Hyperhidrosis?
Because every patient is unique, the team at Reflections will work closely with you to design the most effective treatment plan possible. Most patients have tried prescription antiperspirants and oral medications by the time they come to us, yet their symptoms persist. However, if you have not, our doctors can discuss how prescriptions can play a role in your treatment. Our treatments get to the heart of your problem by actually targeting the overactive glands and bringing them under control.
It's pretty rare these days to have a doctor sit down with you, discuss your concerns with real empathy, explore all of the possible medical causes, and create a plan that also takes into account how you feel, the life you live, your budget, and your cosmetic outcomes. That's what makes Reflections so different.
Change Your Life
We understand that excessive sweating can make it difficult to do the things you want to do. Talk to us about your situation. The Reflections team will help you put excessive sweating behind you and help you face the world with confidence!
Contact us today at (732) 356-1666 to schedule your consultation for hyperhidrosis treatment!
Schedule Your Free Consultation
With One Of Our Physicians
Schedule Now
Frequently Asked Questions About Hyperhidrosis & Treatments for Sweating
How do you make hyperhidrosis go away?

The most reliable and consistent way is with Botox injections. We have tried every technology and treatment that's available for this, and many do work, but only for select patients (and without reliable forecasting of which patients will get good results) – including Miradry, Ultherapy, Axilase, and Laser Lipo.
So we only offer Botox now, and it's only injected by our physician injectors, to ensure you get a safe and effective treatment, reliably. We do still own all of the other technologies we just cannot in good conscience recommend the risk to patients that they spend so much money, endure downtime and recovery, and only then potentially get results.

How much does Botox for sweating cost?

Effective May 2022, our price for this treatment is $1,100. This is a significant savings over purchasing the 100 units by vial because this treatment is different than Botox injections used to create a cosmetic result, and therefore Botox purchased at this rate is only to be used for this treatment.
Sources:
GLOGAU, R. G. (1998), Botulinum A Neurotoxin for Axillary Hyperhidrosis No Sweat Botox. Dermatologic Surgery, 24: 817–819. doi: 10.1111/j.1524-4725.1998.tb04257.
Kami Owen, MSN, FNP-BC; Excessive Sweating: Are Patients Suffering Unnecessarily?; The Journal for Nurse Practitioners; Volume 12, Issue 1, January 2016, Pages 35–40
Jacob, C. MD; Treatment of Hyperhidrosis with Microwave Technology; Seminars in Cutaneous Medicine and Surgery; March 2013
Dee Anna Glaser, MD; Timur A. Galperin, DO; Managing Hyperhidrosis : Emerging Therapies; Dermatologic Clinics; Volume 32, Issue 4, October 2014, Pages 549–553
BOTOX® Prescribing Information, January 2016.
Solish N, Bertucci V, Dansereau A, et al. A comprehensive approach to the recognition, diagnosis, and severity-based treatment of focal hyperhidrosis: recommendations of the Canadian Hyperhidrosis Advisory Committee. Dermatol Surg. 2007;33(8):908-923.
American Academy of Dermatology (AAD). Hyperhidrosis: Diagnosis and treatment. AAD website.
International Hyperhidrosis Society. OnabotulinumtoxinA Injections (BOTOX®). International Hyperhidrosis Society website. Updated 2014.
Click To Expand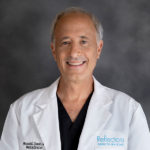 Dr. Mitchell Chasin founded Reflections Center for skin & body as a place where physicians specializing in cosmetic medicine could focus on helping empower patients to feel their most beautiful. Dr. Chasin believes strongly that the best cosmetic physicians are those who are dedicated to mastering their craft through continuing education and collaboration with the industry's top doctors.