We so often notice crow's feet, "11 lines", or the volume lost in our lips or cheeks, but when was the last time you looked at your temples?
The thing is, hollow temples usually have more to do with overall body fat or genetics than age – even though sunken-in temples make you look older. As we lose body fat, we lose facial fat – and that could be from dieting down or training for something like a marathon. In particular, athletes like distance runners and cyclists often have very low body fat overall, including on their faces.
Top Asked Questions About Facial Volume Loss
What are temple hollows?

Temple hollows are the concave appearance of the sides of the forehead, above the ears and into the hair line. This is a normal part of a facial contour, but can also occur due to a dramatic illness, significant weight loss, or very low body fat percentage.

What causes temples to hollow?

Sunken temples are caused by an overall lack of facial fat, and can be made worse in patients with genetic predisposition to bone loss in that area and lack of good skin quality as well. Everyone will eventually lose the fat in that area, but some people lose it faster than others. Hollows will also be made more visible as skin quality decreases with age, smoking, sun exposure, and loss of estrogen.

Are sunken temples normal?

Yes, sunken temples and hollows in the sides of the forehead are very normal as we age. They can also appear much earlier in life, or become much more pronounced, for some people.
Scroll to more FAQs on this topic
What Causes Temple Hollowing?
We lose facial fat as we age, and that's what we typically associate with hollowed temples – a gaunt or hollowed appearance. But our bones, muscles, and skin can also play a part in this concern. We all lose bone density as we age, and in women this occurs faster after menopause or in cases of osteoporosis. Women tend to lose fat and muscle volume in the forehead as they age, whereas men tend to have muscles that become larger with age. But both can lead to an undesirable appearance of the temples. Finally, skin quality can make any area of indentation on the face appear less attractive, and the temples are no exception. Skin quality wanes as collagen naturally decreases with every decade, and it falls precipitously from decreased estrogen levels and sun exposure. The majority of the concern of sunken temples, though, can be corrected by replacing the lost fat volume, which is typically done with a hyaluronic acid dermal filler.
Our Favorite Treatments For Temple Hollowing
Dermal fillers, especially Juvederm Voluma and Restylane Lyft, can easily replace lost volume in the temples. This location is particularly well-suited to dermal filler injection, and our experience is that fillers placed here last far longer than typical, creating a very long-lasting result.
Why Choose Reflections For Temple Hollowing Treatment
The temples are a tricky area to inject, with many important blood vessels and nerves, so it's crucial that only an experienced physician inject dermal fillers into this area. Our team of physician injectors at Reflections have received specialized training and have received awards from the manufacturers of Voluma and Restylane Lyft for their skill and experience as injectors.
Our board-certified plastic surgeon and a team of cosmetic and laser physicians bring a unique blend of skills and experiences to create a customized treatment plan that will meet your goals. Our team takes the time to discuss your individual aesthetic goals and takes into account your unique facial anatomy to create a personalized treatment plan to help you achieve the desired results.
Ready to talk temples? Call Reflections Center today at (973) 740-2444 to book a complimentary consultation with Dr. Chasin. Our skilled and friendly team will be happy to answer any questions that you may have.
Frequently Asked Questions About Temple Hollowness
Will filler in temples lift eyes, eyelids, or brows at all?

Yes, it is very common to see a brow lift after having temple fillers. Though you shouldn't expect an improvement for hooded eyes where the excess skin in the eyelid is the primary cause (because that tends to be due to loss of volume in the eyelid and loss of elasticity in that eyelid skin, which cannot be influenced too much by an area so far away as the temples).

Does temple filler move? When can it move?

There are different techniques to inject temple filler. The safest approach is injecting temple filler deeply close to the bone. With this technique it is rare for the temple filler to migrate. Migration occurs commonly with superficial injections, which are not indicated for this area, as they are more dangerous.

Temple filler can move if it is injected too superficially. The patient may notice a lump of filler which can move (migrate) over time.

What can I do for hollow temples?

Choices of treatment for hollow temples include Hyaluronic Acid fillers such as Juvederm, Volbella or Restylane. Additionally, a bio-stimulatory filler such as Sculptra may be used.

The other options for temple hollows, which are not recommended by our physicians, are fat transfer or Radiesse. The reason these are not recommended is that they are not reversible. In the event that there was a nodule, or you didn't want them, they cannot be removed.

Are temple fillers safe? What makes this injection risky and how can you minimize the risks?

Temple fillers should only be injected by an experienced physician. It is not an area to be treated by non-physician practitioners such as physician assistants or nurses due to the risk of severe complications, when not injected properly. Knowledge of patient anatomy and experience is essential to a safe and effective result.
The risk of a poor injection technique is intravascular occlusion, which means it was injected into a blood vessel. This can lead to severe complications in the skin as well as visual defects. The safest plane to inject temple filler is near the bone where blood vessels do not exist. In addition, we try to inject from an exact location on the skin where blood vessels are less likely to be.

How long do temple fillers last?

Temple fillers generally last between 1-2 years and in some cases longer.

Does sleeping on your side ruin fillers in your temples? Does sleeping on your side ruin fillers anywhere else on your face?

Sleeping on your side will not ruin the fillers placed in your temples, but it can flatten out dermal fillers (as well as the natural fat) on cheeks, especially shortly after your treatment. Sleeping on your side shortly after having cheek filler can not only cause the filler to depress, but can also cause it to migrate (move) to other areas.

Are temple fillers painful?

Temple fillers are extremely comfortable, provided the physician injector is highly experienced and uses the proper technique.

Which fillers can you use in your temples? Which ones are absolute no-go's and why?

Although many different fillers can be used in the temples, the "ideal" fillers are Voluma, Restylane Lyft, and Juvederm ultra plus. It is not advised to use Radiesse as a temple filler due to the fact that any potential complication cannot be reversed.

Do temple fillers make you look younger?

Temple fillers help improve the proportions of the face and notably help a patient to look more youthful and attractive. Furthermore, the effect from temple filler is "under the radar", meaning people will notice you look better, but not what happened!

Can Botox cause sunken temples?

No, Botox is not implicated with sunken temples. Aesthetically over-injection of cheeks can sometimes make temples look hollow even if they are not, but Botox isn't causing the fat or muscle in the temples to prematurely wane.
Schedule Your Free Consultation
With One Of Our Physicians
Schedule Now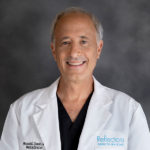 Dr. Mitchell Chasin built Reflections Center for skin & body as a place where physicians specializing in cosmetic medicine could focus on helping empower patients to feel their most beautiful. Dr. Chasin believes strongly that the best cosmetic physicians are those who are dedicated to mastering their craft through continuing education and collaboration with the industry's top doctors.