Top Asked Questions About Smile Lines
What are nasolabial folds or smile lines?

Nasolabial fold is the medical term for smile lines, the lines that extend from the nose to the corners of the mouth. These lines form from repeated facial expressions, loss of natural volume which shifts in the fat pads in the cheeks, and weakness in certain facial structures. Everyone has these lines, but for some people these lines are deeper than others.

What are laugh lines?

Laugh lines are another name for smile lines or nasolabial folds (the medical term for parenthesis lines around your mouth caused by smiling). The image above shows which lines are laugh lines vs. nasojugal groove (mid-cheek lines) and marionette lines (corners of mouth to chin).

At what age do smile lines appear?

Generally, you'll see fine lines in the nasolabial fold around 25-35. These deepen into always-visible lines around age 35-45, and wrinkles or folds that deepen into jowls are typical by 45-55.

Everyone ages at their own rate – and the severity of your smile lines is going to be negatively impacted by:

How frequently and deeply you smile
How quickly your cheeks lose volume(this can be dramatically impacted by weight-loss or overall low body fat, and distance runners often experience faster-than-normal cheek deflation)
Sun exposure and damage
Skin type & genetics
Smoking
Scroll to more FAQs on this topic
What Causes These Wrinkles?
Nasolabial folds are caused by repeated smiling or laughing, as well as natural aging changes in the face. As we age, we lose natural fat pad volume across the "cheekbones," or upper cheek area. As this fat disappears and our cheeks flatten, the skin on our faces droops downward and forward. This makes smile lines much deeper. Simultaneously, our skin loses elasticity and becomes thinner and weaker with age – this happens all over, but to a great degree where folds and wrinkles occur.
Once you understand the underlying causes of deep laugh lines, it's easy to understand why our physicians offer a variety of treatments to target the underlying root causes of these concerns.
Repeated Smiling
Will weaken the skin and form lines, and those weak points will worsen into wrinkles and folds over time
Deflated Cheeks
Which are a normal part of aging, will create excess skin, which slides down the face, folding over the smile line and creating jowls
Loss of Skin Elasticity and Strength
Occurs throughout the face as we age and collagen production slows down – this contributes to the skin's weakness and inability to "bounce back" from repeated motions like smiling.
Our Favorite Treatments For Nasolabial Folds
Dermal fillers are the most common treatment used to get rid of both small laugh lines and deep folds around the mouth. Fillers for smile lines are usually the most cost-effective and can be used to both spot-treat and create comprehensive change. We use both hyaluronic acid fillers for smile lines and fillers that are biostimulatory (meaning they stimulate your body to grow new tissues). Dermal fillers can be used to restore volume in the cheeks, under the eyes, and around the lips to give your skin a smooth, youthful appearance.
Read More
Thread Lifts can also be used to lift the cheek to improve smile lines. Using FDA-approved surgical threads, including MINT Threads, Nova PDO Threads, or Silhouette Soft Instalift threads, a non-surgical facelift can be achieved. Your physician will gently lift the skin in the midface using the threads, reducing the nasolabial folds. Threads dissolve over time, but the results of a thread lift are long-lasting because the treatment boosts your natural collagen production, creating firmer, more elastic, and more youthful-looking skin and a lifted effect.
Read More
You don't have to give up smiling to prevent smile lines. There are proven treatments that will help you strengthen the collagen support of your skin and keep it looking young and healthy, even if you're a big smiler.
Our Patients' Smile Lines Treatment Stories
"He knows what he's doing, and has a cautious and sincere style. I love love the way I look."
View My Story
"If I had somebody tell me that they were afraid of how they looked I would definitely send them to Reflections."
View My Story
"You wouldn't know I had anything done. That was your promise, and you certainly kept it!"
View My Story
Finding a Doctor You Can Trust to Help You Look Naturally Youthful
Smile lines are an area that is commonly over-treated, leading to an unnatural, distorted look. This is the number one concern we hear from patients, and we're equally concerned with creating a youthful look that's so natural, no one will be able to know that anything was done.
Our treatments for smile lines are provided exclusively by cosmetic physicians, who each individually have at least 5 years of experience performing these services. Reflections has been awarded as Diamond Level injectors by Allergan and we have received the Galderma Presidential Award each year since it's creation. Galderma is the company responsible for some of our favorite dermal fillers like Restylane and Sculptra. You can rest assured that you will achieve fantastic results when you treat your laugh and smile lines at Reflections Center.
Free Consultations at Reflections Center
To schedule a complimentary consultation to discuss your smile lines, please call our office at (732) 356-1666. You will have the opportunity to speak with a cosmetic physician and discuss your ideal look to develop a customized treatment plan.
Frequently Asked Questions About Laugh Lines
What are laugh lines caused by?

Laugh lines are caused by the repetitive motion of smiling! Many people find these endearing, as they indicate a happy life. But for those who want theirs lessened or removed, treatments are available.

How do you treat nasolabial folds without fillers?

Thread Lifts or a skin tightening treatment like Sofwave or Ulthera are the best treatments for smile lines that don't involve fillers. Fat transfer and facelift surgery would be 2 other options that work well, if plastic surgery is something you're open to exploring.

How do you get rid of smile lines naturally?

What do you mean by naturally? If you consider growing your own collagen naturally then we recommend either hyperdilute Radiesse, Sculptra, Sofwave, or Ultherapy. If you mean without treatments of any kind, you may consider trying to stop smiling (dont laugh! – this will truly work if youre very young and only have very fine lines or no lines in the skin at rest).

Can you get rid of laugh lines?

Yes! You can get rid of the lines, folds, and wrinkles – but you will always naturally have an indentation in the face as it transitions from cheek to lip. Check out our before and after photos above if you want to see what we're talking about.

How do I get rid of smile lines?

Fillers, Thread Lifts, Non-Surgical Skin Tightening treatments (Ultherapy, Sofwave, Thermage, Exillis Ultra), and Plastic Surgery (facelift or fat transfer filling) are all options to eliminate smile lines.

How do you get rid of smile lines fast?

Smile lines filler and thread lifts can make your smile lines disappear overnight – no, really, they work immediately, and you can be ready to show off your results the very next day!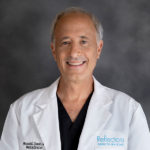 Dr. Mitchell Chasin built Reflections Center for skin & body as a place where physicians specializing in cosmetic medicine could focus on helping empower patients to feel their most beautiful. Dr. Chasin believes strongly that the best cosmetic physicians are those who are dedicated to mastering their craft through continuing education and collaboration with the industry's top doctors.