Ear treatment and earlobe repair are two treatment options that can make a surprisingly positive impact for many people. Otoplasty is a surgical procedure to improve the shape, position, or proportion of the ear. This procedure is a great option for treating protruding ears, or overly large ears. Earlobe repair is performed to repair torn or damaged earlobes, which often is caused by wearing heavy jewelry or injury.
The size and shape of the ears can make an overall large impact on the proportions of the overall face. Our physicians at Reflections provide natural-looking results to help you look and feel your best. To learn more, please contact the Reflections Center today to schedule a consultation appointment.
Earlobes & Ear Treatment Quick Facts
Can correct the shape, size, and projection of the ears.
Can correct torn or sagging earlobes.
Natural-looking results.
Today's Best Treatments for Ears & Earlobes
If you feel self-conscious about your protruding ears or find yourself constantly trying to cover sagging earlobes, then you may be a great candidate for one of these ear treatments! We offer two types of ear surgeries and an injectable treatment to match your comfort level and cosmetic needs.
Otoplasty (Ear Pinning)
Our board-certified plastic surgeon performs otoplasty, or cosmetic ear surgery, to correct the shape, size, and projection from the head of the ears. Incisions are made behind the ear and the cartilage is carefully removed and reshaped to create a natural-looking contour. The ear will then be stitched to the side of the patient's head to pull it back and improve the projection of the ear. We offer otoplasty to adults and children who are at least five years old.
Ear Surgery (Otoplasty) Information
Surgical Earlobe Repair
Earlobe repair will reshape earlobes that have been torn or stretched by trauma, heavy jewelry, or gauging. If your earlobes have been torn, they can be quickly stitched up. If your earlobes are stretched, excess skin and tissue will be removed to shorten your earlobe and make it smaller. This is a minor surgical procedure that can be performed under local anesthesia at our office.
Surgical Earlobe Repair Information
Earlobe Repair Using Fillers
Dermal fillers such as Restylane and Juvederm can be used to repair stretched or sagging ear lobes and prevent the stretching from happening. When a small amount of filler is injected into the ear lobe, your ear's volume and natural shape is restored. By plumping the earlobe and surrounding ear tissue, the appearance of a sagging earlobe virtually disappears.
Earlobe Filler & Injections
Why Choose Reflections for Earlobe & Ear Concerns?
Many people living with overly large ears or ears that stick out experience self-consciousness, and children with this condition can even experience teasing by their peers. Thankfully, there is a procedure known as otoplasty that can permanently correct the size and position of the ears for a boost in confidence.
Or, perhaps you have experienced a tear in your earlobe due to prolonged wear of heavy earrings, or an accident that caused damage to the earlobe. Earlobe repair is a quick and effective option to help restore your earlobe to its natural look. You can even re-pierce the ear once the earlobe has healed.
Reflections Center is home to some of the best cosmetic physicians and plastic surgeons in America. Together, they offer a comprehensive range of all of the best surgical and non-surgical treatments, including obscure injectable procedures like ear lobe filler. At Reflections, our team of skilled physicians and skincare specialists is dedicated to providing you with the best possible care. We aim to produce beautiful, natural-looking results that you can be proud of.
To learn more about earlobe and ear concerns, contact Reflections Center today. Your first step will be to schedule a free consultation appointment with one of our skilled physicians. Not only will you find our offices inviting and our doctors comforting, but you'll be amazed at what we're able to achieve!
Treatments We Don't Offer for Ears
Reconstructive Services For Inner Ear
We do not offer inner ear reconstruction since this is a more complex ear surgery that requires the expertise of an ENT (ear nose and throat doctor). Inner ear reconstruction is a surgical procedure done to rebuild the interior structure of the ear (such as the eardrum or small ear bones) after trauma or cancer surgery. It can also be done to correct a birth defect or disorder and improve hearing. Since this is not a cosmetic procedure, it is covered by insurance.
Read More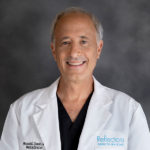 Dr. Mitchell Chasin built Reflections Center for skin & body as a place where physicians specializing in cosmetic medicine could focus on helping empower patients to feel their most beautiful. Dr. Chasin believes strongly that the best cosmetic physicians are those who are dedicated to mastering their craft through continuing education and collaboration with the industry's top doctors.