The jowls and jawline are areas of the face that often show signs of aging first. From drooping skin and fat to a general look of heaviness, the jowls distort the face shape and distract from the natural beauty and balance of your face. At Reflections, we are able to help you achieve the tight, defined jawline you desire with an array of cutting-edge treatment options, each tailored to your individual concerns and goals.
Please Note: This page is about correcting what aging has changed in your face. If you are looking to learn about how you can tweak what your mama gave you (in the jawline department), please visit our page about Jawline Contouring & Definition.
Top Asked Questions About Jowls & Jawlines
How do you get rid of jowls?

Treating jowls to remove them completely requires that you do all of these things: 1. Restore lost volume in the cheek above (this is the source of the extra loose skin that creates jowls - not skin laxity - for the most part). This is usually done with dermal fillers. 2. Eliminate the fat in the jowl (if there is any - this is something that occurs in a later stage of jowling). Kybella injections work wonderfully for this. 3. Restore any lost volume along the jawbone (we lose 50% of our jawbone mass by the age of 50) and in the prejowl sulcus - by filling in the areas of deficit in front of and behind the jowl, we give that area a chance to not stand out as out-of-alignment. 4. Resurface the skin and stimulate collagen, to remove those series of fine lines that appear in the jowls - this can be done with lasers, biostimulatory filler injections, or microneedling. 5. Lift any remaining loose skin - this can be done surgically or with a thread lift.

Is there a non surgical way to tighten jowls?

Yes! Thread lifts, Kybella, and Fillers are the best non-surgical treatments for the jowls.

What causes jowls?

Jowls are caused by: Step 1: Fat in our cheeks starts to disappear in our 30's and skin slips down the face toward the jawline, and forward toward our mouth (it starts to accumulate outside the smile lines, which are a natural connection of skin to fascia, and will become the point at which most skin and fat accumulates behind, creating jowls). Step 2: Fat slowly starts to lose its connection points within the cheek and slips downward and forward. Step 3: Left alone, that fat weighs on skin that's already starting to lose a lot of its elasticity due to natural aging processes. The skin starts to break down and sag more, causing fat to become more noticeable as it droops below the natural jawline. Step 4: Muscles and ligaments in the face start to loosen and bones have now started to resorb. There is less and less support, allowing jowls to descend further and skin to become crepey and thin. We can intervene at any step in this process and make meaningful changes, but the most cost-effective changes with the least invasive measures are made early on in the process. Weight fluctuations and hormonal changes can accelerate this process.
Scroll to more FAQs on this topic
What Causes Jawline Looseness?
To tighten and tone your jawline, first, we'll need to determine the underlying structural causes. Many patients may try to determine the cause for their sagging jawline, without much luck. At Reflections, we offer consultations and evaluations where one of our board-certified cosmetic physicians will determine the cause of your jawline concerns and create an effective treatment plan for you. The face is made up of bone, muscle, fat, and skin, for the most part, and so we start by determining which of these tissues need to be addressed in order to create the results you desire.
Fat
Fat naturally diminishes in our face as we age. We all start to experience this change in our 30's, but for some it's not as visible until a decade or two of fat loss has occurred. For those with lower overall body fat or who experience dramatic weight loss or an illness, this can be quite noticeable much earlier in life.
One of the first signs of aging is loss of natural fat pads in the high cheek area (also referred to as the "cheekbone"). When the fat pads above start to shrink, as part of the natural aging process or due to significant weight loss, the skin slides down the face. The end result is excess skin along the jawline. This forms visible lines in the face, which point out this underlying change.
Fat volume loss is best treated with Hyaluronic Acid fillers or Fat Transfer.
Loose Skin (or Lack of Definition)
What we often attribute to skin laxity or looseness is most commonly seen starting in the mid to late 30s or very early 40s, and is actually the effect of decreased fat volume behind the skin.
However, as we continue further into the aging process, what fat does remain loses its suspension points and begins to slide down the face, too. The weight of this fat stretches out the skin, causing it to eventually lose its elasticity or ability to bounce back if we were to lift back up the fat pads.
This is compounded by the effect of aging on collagen and elastin, which we lose at a rate of 10% per decade after 20. For women, a loss of estrogen dramatically speeds up this process as we go through menopause. Losing collagen and elastin makes the skin weaker and thinner.
The degree of damage to the skin and speed at which it occurs is very individual.
The best treatments for loose skin are those that stimulate and restore collagen and elastin, which include non-invasive skin tightening / firming procedures (Ulthera, Sofwave, ThermiTight) and Threads. Lasers & RF Microneedling create more superficial changes to the skin and aren't as useful for firming, lifting, or tightening.
Muscle Sagging
Muscle sagging occurs much later than laxity to the skin and fat, usually becoming a problem in the mid-40s to 50s. Muscle laxity can only be corrected through surgical tightening of the muscles. For this reason, when muscles become too weak or lax to support the fat and skin properly, a surgical procedure like a facelift becomes the only way to create a stellar, natural-appearing result.
Finally, when TMJ or jaw clenching is corrected using Botox to relax these muscles, you can create a laxity problem in the skin of that area. If the temporalis jaw muscle has been allowed to over-develop for years, the added volume can stretch the skin out, making it loose when the underlying volume is reduced.
Bone Loss Also Affects Visible Age
Bone loss in the face becomes noticeable with advanced aging, typically beyond 60 years of age. At this time, the only cosmetic remedy for bone loss is to replace the bone's missing volume with dermal fillers placed very deeply, just around the bone itself.
Radiesse and Voluma are our favorites for this, because of their very firm texture.
What Can I Do About My Jowls/ Jawline Sag?
Silhouette Instalift provides instant lifting and definition for the jawline. It's one of our most popular procedures because it offers almost no downtime with instant, dramatic results. Click the image to learn more.
While this is typically just a skin issue, sometimes small amounts of fat or muscle laxity can cause a sagging jawline. If you relax overactive jawline muscles with Botox to create a slimmer jawline or to treat TMJ, this can create laxity because it reduces volume. We find this is easily treated by supporting the skin with certain kinds of injectables – typically PDO Mesh or a stiff dermal filler like Restylane Defyne or Radiesse, which will create the kind of structure the skin needs. Sometimes a nonsurgical skin tightening treatment can be helpful to create a "shrink wrap" effect on the skin in these areas.
Kybella is a unique injectable treatment that has been shown to both reduce fat in the jowls and cause skin tightening. It's one of the most affordable, easy, and meaningful treatments for patients with mild jowling, and can be combined with other treatments when jowls have become more pronounced, for a more complete treatment of the jawline.
For instant lifting and definition, Nova PDO Threads, Mint Threads and Silhouette Instalift offer an innovative solution. These injectable, dissolving threads create instant lift and definition along the jawline, and stimulate collagen production as they dissolve over time.
Skin tightening treatments such as Ultherapy, ThermiTight, Exilis Ultra, Thermage, and GentleYAG, RF Microneedling, Evolastin, and Fraxel Re:Pair can tighten loose and sagging jawline skin and jowls. These cutting-edge technologies work to remodel collagen in the skin, tightening and restoring strength and bounce within the skin, for a more youthful appearance.
ThermiTight helped this patient in her 50's tighten and define her jawline, without surgery. Results are shown at 2 months post-treatment but will be at their best at 6 months post-treatment. ThermiTight works well for skin laxity and very small amounts of excess fat. Click the image to visit the ThermiTight page to learn more.
Read More
Jowls occur when fat shifts, pulling skin down and forward. Sometimes muscles are involved, especially in those beyond the age of 50. At Reflections, we offer multiple treatment options to correct sagging jowls.
Jawline fillers or fat transfer can help to fill in areas of lost volume. While dermal fillers, often made with hyaluronic acid, work by binding water molecules to add fullness under the skin, fat transfer moves fat from other areas of the body to the areas of fat loss (in this case, the jowls).
Non-surgical skin tightening treatments at Reflections include Ultherapy, ThermiTight, Exilis Ultra, Thermage, and GentleYAG, Evolastin, and Fraxel Re:Pair. These FDA-approved options employ the use of lasers to stimulate collagen and tighten the skin for a rejuvenated appearance.
A mini facelift is a surgical option to restore a youthful jawline with a shorter scar line and less downtime. This procedure restores muscle, fat, and skin to a more lifted position for a rejuvenated appearance. The NvLift is a comprehensive rejuvenation procedure for face and neck that uses small multidirectional corrections using layered support stitch, which are dissolvable stitches. Both of these procedures are performed under local anesthesia for decreased downtime, risks, and recovery period.
Read More
""I tried out ThermiTight, the new laser that they said would help tighten the skin under my neck and jowls. I don't have a lot of wrinkles under my neck just hanging skin that I really hate. So I had the procedure two weeks ago and I like the results a lot!""
View My Story
""I feel very refreshed. I feel like it wasn't an extreme look, but it feels and looks softer, smoother. I just feel really good.""
View My Story
"I tried Botox and Fillers for the first time, at age 45, and I love how I look! It was still me, but it was just a more refreshed look. I don't look tired; and my eyes don't look droopy or exhausted anymore."
View My Story
Why Choose Reflections For Jowls/Jawline Sag?
We are a team of highly sought-after experts in non-surgical and surgical anti-aging. Each of our doctors brings a unique skill set and years of experience, so that together we are able to offer the region's widest array of cosmetic treatments. Because each patient's needs are different, this allows us to pair each patient with the most ideal technologies, performed by a physician expert.
Founder & Medical Director of Reflections, Board Certified Physician
Top Cosmetic Physician known for creating advanced anti-aging plans to combat all the signs of aging, over time, with natural-looking results, minimal downtime, and cost-effective treatment plans.
Dr. Chasin is renowned for his multi-treatment approach to anti-aging, which puts an emphasis on creating subtle, natural-looking tweaks that restore a youthful look without giving a "done" look. His patients enjoy his long-term approach which slowly turns back the hands of time, and leaves them looking younger and more vibrant over time (the so-called "Benjamin Button Effect").
Board Certified Physician Surgical skin tightening specialist
Her extensive experience as a general surgeon and work in the plastic surgery department has helped her to develop excellent technical skills.
She is the doctor to see for Threads or ThermiTight, both of which are surgery-adjacent procedures that offer great results without the scarring or downtime of a facelift.
Beyond her skill, patients most enjoy that Dr. Wix-Harris is as dedicated, or more, to getting them an amazing result as they themselves are. They enjoy being able to trust her to recommend treatments that are worth their investment, and to say no to anything she thinks won't be worthwhile for them.
Board Certified Physician Injectable and non-invasive skin tightening specialist
Dr. Michelle Ellern's skillful hands, artful techniques, and warm and caring personality make her a wonderful cosmetic physician. Her nurturing style of care draws patients to her, and immediately sets them at ease; but it's the natural, artistic results they experience that keep patients returning to her care.
Board Certified Plastic Surgeon with Over 26 Years of Experience
Dr. Fodero is as warm and kind as any plastic surgeon you've ever met, but he also brings to his practice a foundation of training at the nation's #1 plastic surgery residency and decades of experience at Morristown Medical, NJ's Top Hospital.
When it comes to sagging jawlines and jowls, Dr. Fodero offers facelift procedures and fat transfer for the face, performed under either general or local anesthesia, depending upon the patient's needs.
Age, Genetics, & Lifestyle Play a Role in Jawline Sagging & Jowls
As You Age, Your Jawline & Jowls Will Get Worse
Time stops for no one. Everyone will experience sagging jowls and jawline laxity as they age. Natural aging processes affect all three types of tissues in the face: fat, muscle, and skin, at varying rates and in different ways. For that reason, our team of Cosmetic Physicians focuses on identifying your unique aging pattern, and how it has affected each of these layers of the face, so that we can correct the changes right where they have occurred and create the most natural-looking and long-lasting results.
Your Genetics May Make Your Jawline Weaker, Squarer, or Looser Than You'd Like
You may be genetically predisposed to a looser jawline, squarer jawline, or weaker jawline than you'd like. The shape of the jawline plays a key role in facial balance and the overall masculine or feminine appearance of the face. So when it is out of proportion or incongruent to the other facial features, it is noticeable to most people. We offer a variety of treatments, both surgical and nonsurgical, which can enhance, define, and alter the overall shape of the jawline, including jawline slimming, squaring, and defining.
How You Live Affects the Way You Look & Age
Sun damage and sleep/repetitive motions can cause jowls or laxity along the jawline; however, this is much less likely to be the culprit than genetics or age. Clenching of the jaw or TMJ, though, creates a noticeably larger and more square jawline that many patients do not like. Not to mention that these conditions cause jaw pain and create an anxiety-related feedback loop and can cause serious damage to the health of the gums and teeth.
Frequently Asked Questions About Jowls / Jawline Sag
Will I lose my jowls if I lose weight?

If you get down to a very low amount of body fat, it may be possible to lose the fat out of your jowls. At this point you would likely be unhappy with how gaunt your face looks overall. However, losing weight will not fix skin sagging issues, which is usually at least part of the equation by 50, if not sooner.
Kybella is a great injectable option for jowls because it dissolves the fat in the jowls and encourages skin to retract. It's much easier than dieting down to the low, low body fat percentage you'd need in order to burn off this fat – and it's much faster, too!

Can jowls be fixed without surgery?

Yes – for most people, especially those who are under 55 and who are treating mild or moderate jowls, they can be significantly or completely removed non-surgically. How they are removed – which exact treatments are needed – is very individualized. Our doctors will help you understand which options are the best for you during your free consultation.

What age do you get jowls?

At or before age 55, you're going to see jowls (unless you are actively treating to prevent them). At which exact age depends upon how steady your weight is throughout your life, your genetic predisposition, and how carefully you protect your skin from sun and other environmental damage. You can treat to prevent jowls with non-surgical treatments, starting in your late 30's, and delay or prevent jowls by decades. Ask us how!

Are jowls fat?

Jowls are caused by fat moving down the face and forward – but if they are left to weigh on the skin, it will become a skin issue too as the skin breaks down and loses its ability to bounce back even if all the fat is removed. At some point in our 50's or later, muscles drooping throughout the lower face mean that complete tightening along the jawline and jowls cannot be achieved without also addressing and tightening the muscles below.
Schedule Your Free Consultation
With One Of Our Physicians
Schedule Now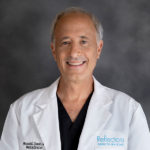 Dr. Mitchell Chasin founded Reflections Center for skin & body as a place where physicians specializing in cosmetic medicine could focus on helping empower patients to feel their most beautiful. Dr. Chasin believes strongly that the best cosmetic physicians are those who are dedicated to mastering their craft through continuing education and collaboration with the industry's top doctors.