Starlux IPL quickly and effectively treats sun damage, melasma, Laser hair removal, skin rejuvenation, skin resurfacing, wrinkles, deep creases and lines, acne, acne scarring, lax skin, hyperpigmentation, leg veins, vascular lesions, stretch marks, and more.
Starlux IPL Quick Facts
Painless, fast treatment
Ability to address multiple concerns with multiple settings
No downtime
Long-lasting or permanent results
What Does Starlux Intense Pulsed Light Treat?
Sun Damage and Brown Spots
Starlux IPL works particularly well at eliminating sun damage from the face, neck, chest, arms, and hands. Starlux IPL is a very affordable treatment for removing brown sun spots. This type of treatment is commonly called a photofacial.
Learn More
Red Blood Vessels And Broken Capillaries
Broken capillaries, spider veins, and red blood vessels can occur from physical trauma, rosacea or skin diseases, or from sun damage. Starlux IPL works well to remove facial redness and clear up broken capillaries.
Learn More
Frequently Asked Questions About Starlux IPL
How many treatments will I need?

We typically recommend a series of 3-4 treatments, spaced about a month apart.

How much does Starlux IPL treatment cost in New Jersey?

We offer Starlux IPL treatments at both of our office locations, in the Martinsville section of Bridgewater, NJ, and Livingston, NJ. At our offices, IPL treatments range from $300 to $450 per treatment, depending on the size and area treated.

Why should I not have IPL at a salon, spa, or other doctor's office?

Older IPL devices are often sold to spas, salons, family practices, or other medical offices. These devices tend to be operated by untrained professionals and can often be older, weaker technologies. Starlux IPL is widely regarded as the top system for IPL treatments.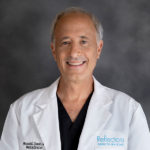 Dr. Mitchell Chasin built Reflections Center for skin & body as a place where physicians specializing in cosmetic medicine could focus on helping empower patients to feel their most beautiful. Dr. Chasin believes strongly that the best cosmetic physicians are those who are dedicated to mastering their craft through continuing education and collaboration with the industry's top doctors.