Botox® is only one brand of 3 FDA-Approved neuromodulators. Dysport® and Xeomin® are two other brands of the same protein that works to slow down overactive muscles that create lines and wrinkles1. Reflections offers all 3 of these brands to our patients, to ensure the best possible results for each individual.
Botox & Other 'Tox Brands Quick Facts
No downtime
Results within 1-2 weeks
Lasts for 3-6 months
3 Brands of Neuromodulators: Same Protein With Unique Outcomes & Results
All 3 of these neuromodulators are slightly different formulations of the same protein, Botulinum Toxin A, which is injected to relax the overactive muscles that create wrinkles and fine lines2 in the face and neck.
Patient Stories About Botox & Other 'Tox Brands
"In a small injection, not even ten seconds, my smile has been completely changed. I feel beautiful and I'm so grateful."
View My Story
"I didn't realize I had botched fillers until I came to Reflections Center."
View My Story
Why Choose Reflections Center For Botox & Other 'Tox Brands
At Reflections, we believe it is very important (not only for the safety of our patients but for the quality of their results), that Botox, Dysport, and Xeomin, as well as other injectable procedures, only be performed by highly skilled physicians. This allows us to ensure we're giving every patient a customized, natural-appearing result based on their anatomy, needs, and wants. The physicians of Reflections are proud to have done hundreds of thousands of Botox and dermal filler treatments over the last two decades and there is nothing more important for great results than experience. You will never find a physician's assistant, nurse, or dentist injecting Botox, Dysport, or Xeomin (or dermal fillers) at Reflections. Be aware there are laws that regulate who can (and who can not) inject these products, but these laws are often neglected.
With Reflections' skilled physician injectors, you can expect results that highlight your natural beauty and turn back the clock without looking "frozen" or "done." We believe when you look good, you feel confident, and that creates positive ripples throughout your entire life. Visit either of our locations in Martinsville (Bridgewater) or Livingston, New Jersey, for a complimentary consultation with one of our skilled physician injectors.
Frequently Asked Questions About Botox and Other 'Tox Brands
Are Dysport or Xeomin cheaper than Botox?

The majority of your results, and cost for treatment comes from who injects you, not which of these products is utilized. The costs of all three agents are similar if an injector uses the products properly. 2.5 units of Dysport is roughly equivalent to 1 unit each of Xeomin and Botox, so the price-per-unit is less expensive for Dysport, but you need 2.5 times more Dysport to achieve the same results of Botox.

You can enroll in additional savings programs for both Dysport and Botox at our practice.

Does Dysport last longer than Botox?

There have been several studies into which of these 3 products lasts longer, kicks in sooner, etc. Of course, each company wants to claim their product is in some way superior to the others. There may be a minor advantage for Dysport kicking in quicker, but Botox probably lasts a little longer. A skilled injector should be comfortable using each of these products.

How do I maximize the duration of Botox or Dysport injections?

Longevity of results is determined by the amount of product used, but at a certain point, additional Botox doesn't yield an advantage. Only experienced providers understand this number, and it varies quite a bit from patient to patient. Building longevity is achieved through routine injections, returning for next treatment before the effects fully dissipate. In other words, if you come back for treatment before the benefits have gone away, you will notice the effects to last longer and longer over time.

What are the most common side effects of these injections with Botox, Dysport, or Xeomin?

Unfortunately, there are a lot of inexperienced injectors out there causing many completely avoidable complications. These include frozen faces, odd-looking brows, startled appearance and more. Unfortunately, we spend much time fixing other's poor outcomes.

A desirable provider will discuss not only what types of results you can achieve but what is being done to avoid any issues. The process of having Botox should include discussion of goals and a well thought out plan. There is an art to this process and experience is necessary to create a masterpiece.

Will there be downtime?

NO. Botox and Dysport injections should be very comfortable and not require downtime. We ask our patients to refrain from rubbing the area or exercising for 90 minutes after, and the use of ice on the area should be avoided. Patients immediately sense the experience of our physicians the first time they are injected here. The way a patient is positioned, using the tiniest of available needles, proper technique, and a gentle touch is a big part of a great experience.

What are some important things to know about Botox, Dysport, & Xeomin?

These are our recommendations for being a savvy consumer during your treatments:

Look for an experienced physician who spends a large portion of their work time providing these types of injections. You can confirm this by asking about awards from Allergan and Merz. The top injectors receive yearly awards from each of these companies based on the volume of product used. There is a very clear correlation between high quantity purchased and high level of experience, and since experience is the best indicator of expected result, this is the key to finding a good provider and getting a good result. Our practice currently ranks in the top 250 in the country for Allergan, makers of Botox. This was previously named Diamond level. This is a position we've maintained over the last 6 years. With Merz, makers of Dysport, we are at the Presidential Champion level.
Know how many units are being used and what "areas" are being treated, not just the dollar figure. Practices charge differently for these injections – some by the "area" treated and some by the number of units used, with price by unit varying quite a bit between practices. Knowing what you're paying for is important, so you can understand the value and the expected results.
Come for next treatment before results have fully dissipated to boost longevity. A 3 month routine will boost the effects of these injections and allow you to use less product over time, which not only saves you money but keeps you looking wonderful year-round.
Avoid treatment provided by non-physicians who may very well not be licensed to do these injections in the state you are in. In NJ, one needs to be a physician to legally provide these injections.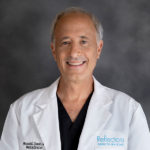 Dr. Mitchell Chasin built Reflections Center for skin & body as a place where physicians specializing in cosmetic medicine could focus on helping empower patients to feel their most beautiful. Dr. Chasin believes strongly that the best cosmetic physicians are those who are dedicated to mastering their craft through continuing education and collaboration with the industry's top doctors.