Q-Switched YAG lasers (Medlite C6 and Alex TriVantage) are two of the most technologically advanced lasers used in the world today for removing pigmented lesions. These lasers deliver short pulses of very intense laser light to the melanin in sunspots, age spots, and other benign pigmented lesions. The treatment fragments and removes the pigment, resulting in more youthful-looking skin. The energy has little or no effect on the surrounding skin. Q-Switched lasers are ideal for removing brown age spots, "liver spots," freckles, and other brown birthmarks, such as cafe-au-lait spots, and Nevus of Ota. They are also very useful when it comes to laser tattoo removal and certain laser hair removal treatments.
Q-Switched Lasers Quick Facts
Great option for pigmentation
Younger, brighter skin
Customizable treatment¹
Frequently Asked Questions About Q-Switched
Lasers & Alex Trivantage Laser
How many treatments are required to clear sunspots?

Most sunspots can be removed within two treatments, spaced four to eight weeks apart. Some deeper lesions will require more treatments.

What areas of the body are treated with these technologies?

Q- Switched lasers can treat pigmented lesions on the face, neck, chest, and hands.

What is the treatment like?

The sensation during the treatment has been compared to a snap of a thin rubber band. Most patients don't require any topical anesthesia, though it can be used if requested. After the treatment, the area will feel similar to light sunburn and the pigmented lesions will get darker and sometimes red. If one specific wavelength (532 nm) is required to remove a lesion, temporary bruising in the treatment area may be noted. The lesions may bleed slightly, crust, and flake off as well. After this clears, the skin returns to its natural color and texture. Sun exposure needs to be avoided after the treatment.

How much does Q-Switched laser cost?

Q-Switched laser treatment costs from $250 to $450 per treatment.

What should I do prior to treatment?

Avid sun exposure and tanning before treatment. In addition, the use of aspirin, ibuprofen, vitamin E, and St. John's Wort should be avoided for a week before treatment.

Is there downtime?

Minimal downtime is required.

Am I candidate for TriVantage treatment?

The Alex TriVantage laser is an advanced technology that delivers rapid pulses of energy to the skin and is used to remove unwanted pigmented spots, sun spots, tattoos, etc. It is a very safe and effective way to treat pigmentation caused by sun damage. It is safe to use this laser in patients with lighter skin. The Alex TriVantage laser is also used to remove unwanted green and blue tattoos.

Is the TriVantage Alexandrite laser safe for dark skin?

Alex Trivantage laser is safe for use in patients with light skin and must be used cautiously in patients with dark skin due to the risk of creating unwanted pigmentation or light spots in the skin. When we are treating patients with darker skin tones, we generally use an Nd:Yag laser instead.

Is the Alex TriVantage laser good for tattoo removal?

This laser is excellent at removing green and blue ink in patients with light skin. For black tattoos, we recommend a 1064 Q-Switched Laser, or Picosecond pulse lasers such as Revlite or PIQO4.

Does Alex TriVantage laser treatment hurt?

Alex TriVantage laser is well tolerated when removing unwanted pigmentation and is done without anesthesia. For tattoo removal, injectable lidocaine may be utilized.
Sources:
1. Wenyi M. MD, Qian G. MD, Jinghua L. MD, Xiaojing Z. BM, Tongtong X. MD, Qinyao W. BM, Zilin C. BM, Nana L. MD, Pingsheng H. MD (2023, September 22). Efficacy and safety of laser-related therapy for melasma: A systematic review and network meta-analysis. Wiley Online Library.
https://onlinelibrary.wiley.com/doi/full/10.1111/jocd.16006?campaign=wolearlyview
Click To Expand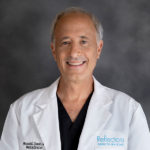 Dr. Mitchell Chasin built Reflections Center for skin & body as a place where physicians specializing in cosmetic medicine could focus on helping empower patients to feel their most beautiful. Dr. Chasin believes strongly that the best cosmetic physicians are those who are dedicated to mastering their craft through continuing education and collaboration with the industry's top doctors.