Tranexamic Acid (often abbreviated as TXA or TA) is a synthesized amino acid that is used to treat moderate to severe melasma, especially in patients that have not had success with other treatments like lasers, skincare (sunscreen), and other prescription medication. TXA Restore uses precision micro-injection to deliver this groundbreaking drug along with other brightening agents like vitamin C, in a safer, more effective treatment.
TXA Restore Quick Facts
Only available at Reflections
$900 for full face
Effective for severe melasma and melasma that's resistent to other treatments
Targets the root cause of melasma
---
TXA Restore™ is available exclusively at Reflections Center in New Jersey. It is a treatment our doctors created to perfect the delivery of a very powerful and proven drug to treat melasma, Tranexamic Acid.
---
How is Tranexamic Acid Used to Treat Melasma?
TXA Restore to Treat Melasma
Tranexamic Acid (abbreviated as either TA or TXA) can be delivered in a variety of formats (pills, topicals, injections, etc.), but it always functions the same way to treat melasma. This synthesized amino acid interrupts the creation of new melanocytes, which are the cellular precursors to melanin, the cause of the dark brownish-grey patches that are characteristic of melasma. You can learn much more about TXA and how it's used to treat melasma on our tranexamic acid page.
During TXA Restore, Tranexamic Acid is Precision-Injected Using A Computer-Controlled Micro-Injection System
This unique treatment overcomes the main obstacles we as doctors have known for some time as the best way to use TXA in treating melasma, which is to inject it into the layers of the skin. Previously, injecting TXA relied on the doctor's hand precision and endurance and was a long and arduous process of repeating hundreds of tiny injections with precision throughout the entire face. It was nearly impossible for both patient and doctor.
This new treatment technology harnesses a computer to manage the flow of Tranexamic Acid and other brightening agents like vitamin C through hollow-tipped needles. It also controls the depth of injections, and it does this with a micro-needling-esque handpiece that delivers many, many injections with each stamp. The process is precise, much faster, and much more comfortable for the patient. The experience for the patient is most similar to an RF microneedling treatment.
Recovery & Downtime: 1-2 days
Numbing: Yes
Cost: $900 for full face
Candidacy: Those with melasma
Duration: Long-term
Why We Love It: Safe and effective way to treat melasma
Why Choose Reflections Center
for TXA Restore Treatment
Severe melasma can take a toll on a person's self-esteem and quality of life. Because of this, our team created the TXA Restore treatment for help treat severe cases of melasma effectively.
Physicians at Reflections Center created TXA Restore treatment, therefore you cannot find it at any other medical practice. Our physicians are constantly researching and studying the last medical technologies to help all of our patients achieve their cosmetic goals. For many years, patients have had difficulty treating moderate to severe melasma, but our innovate treatment design can help!
Our team believes in personalized care, which means that we take the time to discuss your aesthetic goals and medical history to find a treatment that is right for you. No two patients are the same, which is why this approach is so effective.
If you are interested in learning more about the TXA Restore treatment, you can schedule a free consultation with one of our highly experienced, knowledgeable physicians. We will be happy to help you find an effective solution for your skin needs.
Frequently Asked Questions About TXA Restore Treatment For Melasma
What is the downtime & recovery like?

When you leave our office, your skin will be red and you might have some pinpoint bleeding or scabbing. This will resolve over the course of a day or two.

Does it hurt? Will I be numbed or need anesthesia?

We use a numbing cream that takes about 30-45 to take full effect in order to make this procedure as comfortable as possible. As always, we will discuss this in detail during your consultation, and we have the ability to increase numbing and offer other options, like ProNox, for patients who are anxious about the pain involved in this treatment. However, we haven't had any patients need more than topical numbing cream thus far.

How much does it cost?

Treatment for the full face is normally $900 but is available for a limited time at an introductory rate of $750.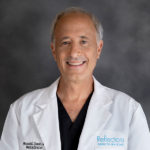 Dr. Mitchell Chasin founded Reflections Center for skin & body as a place where physicians specializing in cosmetic medicine could focus on helping empower patients to feel their most beautiful. Dr. Chasin believes strongly that the best cosmetic physicians are those who are dedicated to mastering their craft through continuing education and collaboration with the industry's top doctors.