Aging is simply a part of living, and it's only a matter of time before we start to develop fine lines and wrinkles on the face, chest, and neck. How early these changes occur is determined by heredity, skin type, and the amount of sun exposure you've had in your lifetime. At Reflections, we have the expertise and technology to help you look your best and most vital, regardless of how many candles were on your last birthday cake.
Top Asked Questions About Wrinkles & Fine Lines
What is the best treatment for wrinkles?

This varies so much based on what's causing the wrinkles and how deep they are - but typically either Botox®, Filler, Skin Tightening Treatments (Lasers, RF, Ultrasound, etc.), or surgery are the most effective options.

Botox is the best for most lines that have been created by repeated facial movements.
Filler is great for filling lines from beneath - and sometimes this requires that we fill an area further up the face for the most natural-looking results (for example, cheek fillers often help smile lines in a way that looks much more natural). If you have a series of fine lines, filler is typically the very best for that as well.
Non-surgical skin tightening treatments, like Sofwave®, ThermiSmooth®, Thread lifts, etc work best for treatment of the full face and neck when it's not quite time for surgery.
Surgical procedures, like a facelift, are the best treatments when you've lost volume and have deep wrinkles as well as fine lines.

Can you get rid of fine lines and wrinkles?

Yes! The way to get rid of wrinkles is to: 1. Slow down the damage from repetitive motions (this is usually done with Botox) 2. Fill the line from below with an HA filler (you can avoid ever getting to this point with early intervention and prevention with sunscreen, a healthy lifestyle, lasers, and Botox) 3. Erase sun damage and resurface away deep lines with laser treatments Contrary to popular belief, facelifts don't actually remove wrinkles - they remove folds of skin - but most patients also have a deep CO2 laser resurfacing treatment along with their facelift in order to remove set-in lines and wrinkles.
Scroll to more FAQs on this topic
What Causes Fine Lines & Wrinkles?
Sun damage and environmental factors destroy the skin's elasticity by breaking down collagen and elastin.
Wear and tear of repeated facial expressions bend the skin, creating grooves that turn into lines and (later) deep wrinkles.
Skin thins over time as natural aging leads to a loss of collagen and elastin, destroying the skin's ability to bounce back from repeated movements. This leaves lines and grooves that will eventually become deep wrinkles and folds.
Loss of normal fat pads (volume) deflates the face, causing the skin to droop forward and down, creating folds and jowls around the mouth and nose.
Gravity, genetics, and age play a role in how quickly we age, the quality of our skin, and the ability of our skin to resist wrinkles.
Our Favorite Treatments For Wrinkles
Prevention is down to 3 tactics:
Reducing the damage being caused by sun, environment, dehydration, and repeated facial movements
Encouraging the skin to build new collagen, which naturally decreases as we age and helps keep skin firm and youthful
Encouraging cell turnover so the skin replaces older cells with new, more youthful ones
It's important to note that Botox and Dysport® can treat fine lines by giving your skin a chance to repair itself, but it will not necessarily work as a repair method for all wrinkles or deeper folds.
Soften Facial Expressions to Reduce Damage That Causes Wrinkles
BOTOX® and DYSPORT® are well-known injectables that help relax overactive muscles and soften facial expressions. When done well, both of these products produce a gentle, natural result rather than a frozen, fake look. Our award-winning physician injectors have mastered the nuanced art of preserving your natural facial beauty and movement while protecting against the harmful effects of repeated facial expressions.
Our Botox and Dysport injections will help to retrain your facial muscles to protect your youthful appearance while enhancing your natural beauty.
Read More
Fortify & Strengthen Skin Against Damage
Building new collagen support underneath the skin is the key to restoring the skin's natural elasticity and bounce. This makes the skin stronger and better able to resist wrinkling.
LASER SKIN RESURFACING uses fractional lasers to target the collagen layers for new growth. These lasers can also treat pigment (dark or red spots), create a tightening effect, and reverse sun damage. We offer all of the best lasers, each FDA-approved, to ensure our patients have access to the laser treatments that will create the best results and best suit their lifestyle needs.
RF MICRONEEDLING delivers radiofrequency energy at precise depths within the skin to remodel and rebuild the collagen and elastin support layers, creating skin that is naturally stronger and more resilient. Microneedling has gained tremendous popularity for treating skin texture issues in the past few years, but adding radiofrequency and precision depth delivery to the system makes RF Microneedling the new gold standard in fractional skin rejuvenation.
SCULPTRA™ is an injectable collagen-stimulator that works to induce widespread skin strengthening. Our skin naturally thins with age. This process usually starts to become noticeable in our 50s, but athletic patients and those who have experienced weight loss may see this effect earlier in life. Sculptra is a downtime-free approach to rebuilding the collagen and volume that supports the skin for a natural, youthful look.
NOVA™ PDO MESH is an injected mesh of collagen-stimulating fibers. By creating a support mesh under the skin, the skin is immediately fortified against further damage along existing wrinkles and lines. The mesh dissolves over 3-6 months, stimulating the body to build new collagen support as it dissolves for results that are long-lasting and completely natural.
Read More
Daily At-Home Prevention: Sunscreen + Retinol + Growth Factor Skincare + Quality Moisturizer
Sunscreen helps block UV rays, which are known to cause the vast majority of wrinkles and other visible signs of aging. In Caucasians and light skin tones, clinical studies show that 80% of visible aging is directly due to sun exposure. So daily use of sunscreen with an SPF of 30 or higher is critical to preventing wrinkles.
Next is retinol. Retinols and retinoids are derivatives of Vitamin A. Retin-A is the strongest form and is only available by prescription. But it's best to start with lower strength retinol anyway and work your way up as you age. Retinols work by encouraging cell turnover and are the only topical skincare item that has been clinically proven to reduce wrinkles over time.
Growth factors are relatively new in skincare – but they are backed by science, and are definitely worth the investment (when the brand is medical grade, like SkinMedica, Defanage, Neocutis, etc.). They stimulate the skin to grow new, healthy, youthful cells for rejuvenation from the inside out.
Finally, many of the fine lines on your face and neck can be minimized by using a good moisturizer. Soft, hydrated skin is not only better suited to stand up to wear and tear but also to look smoother and more youthful doing it.
Read More
If you're looking to treat a single wrinkle or fold, or you have a small series of fine lines in one particular area, these are the treatments that work well for spot corrections:
Lift Skin By Replacing Lost Volume – Create New Support Within the Skin
DERMAL FILLERS replace lost volume and spur the growth of new collagen and elastin support in the face for natural-looking results with little to no downtime.
FAT TRANSFER removes unwanted fat from the stomach, hips, or love handles to use in replacing the fat that the face has lost with age.
Smooth Out Deeply Set-In Lines With CO2 Laser & Sculptra
Co2 Laser with Sculptra, a biostimulatory filler (used topically directly after) has been shown to smooth out the skin. Older CO2 lasers were only safe for certain skin types, but the newer technologies we have at our offices allow us to safely treat skin of all tones and types.
If you have more moderate or severe signs of aging, you don't necessarily need to undergo major surgery – but you'll require something more substantial than surface-level treatments to restructure and support the deep tissues of the face and neck.
"I am DELIGHTED with the results. I am 52 years old, and my laugh lines, and small wrinkles around my mouth have virtually disappeared, and overall I have a much more youthful appearance. "
View My Story
"About two weeks after her injections, she saw softened lines and wrinkles without the "Spock brows" of her previous treatments. "He hit a home run," she says of Dr. Chasin's Botox injections. "I'm so happy with it already, and it's only been two weeks." (please note: Botox takes 2 weeks to take full effect)."
View My Story
"I tried Botox and Fillers for the first time, at age 45, and I love how I look! It was still me, but it was just a more refreshed look. I don't look tired; and my eyes don't look droopy or exhausted anymore."
View My Story
Why Choose Reflections For Wrinkles & Fine Lines?
At Reflections, we use state-of-the-art lasers, microneedling, radiofrequency, ultrasound, Q-switched lasers, and intense pulsed light (IPL) devices in combination with Botox and fillers, micronized fat transfer injections, and medical-grade skincare to treat fine lines and wrinkles, reverse sun damage, and improve the skin's tone, texture, and clarity.
Who says you have to look your age? Experience the very best of facial rejuvenation technology at Reflections. As laser and cosmetic medicine specialists, we have many devices to choose from and we tailor the right device to your skin type, treatment goals, and ability for downtime. Your complimentary consultation will include a discussion of how to achieve and maintain the youthful, natural-looking results you desire.
A More Radiant You At Reflections
We look forward to creating a treatment plan that is customized to your skin type and treatment goals at your complimentary consultation. Call us today and discover how Reflections' approach to laser facial rejuvenation can restore your natural, more youthful radiance.
Frequently Asked Questions About Wrinkles & Fine Lines
Will drinking water get rid of wrinkles?

No, unfortunately not – wrinkles are the result of repetitive movements damaging the skin's collagen support network and killing off the thin layer of fat that supports the skin from underneath. Water will make your skin glow, and it will help make your skin more resilient to wrinkles (keeping them at bay for longer), but it cannot reverse the damage once it's done.

What age do you get fine lines?

Between 25 and 30, most people start to notice fine lines across their forehead, between their brows (frown lines or 11's in the glabella), on the outside corners of their eyes (crow's feet), or around their mouth (smile lines or nasolabial folds). All except for smile lines are well-treated with a light sprinkling of Botox. Smile lines react well to filler injections.
Schedule Your Free Consultation
With One Of Our Physicians
Schedule Now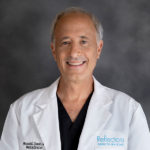 Dr. Mitchell Chasin built Reflections Center for skin & body as a place where physicians specializing in cosmetic medicine could focus on helping empower patients to feel their most beautiful. Dr. Chasin believes strongly that the best cosmetic physicians are those who are dedicated to mastering their craft through continuing education and collaboration with the industry's top doctors.