If there's one aesthetic trend that we don't see going anywhere anytime soon, it's butt augmentation. These treatments help patients achieve a lifted and round backside that may have been difficult to achieve otherwise. Fortunately, there are plenty of options that exist in between squats and surgery that can help you achieve your goals.
We do offer traditional Brazilian Butt Lift (BBL) fat transfer surgery with our board-certified plastic surgeon but we also offer a selection of non-surgical treatments with our cosmetic physicians.
Non-Surgical Butt Augmentation Quick Facts
Cost-effective, fast solution
Build muscle and lift the butt
Increase volume, tighten, firm, and tone the butt
Minimal recovery time
Today's Best Options for Non-Surgical Buttock Augmentation
At Reflections Center, we understand that each patient has unique goals and preferences when it comes to achieving the body they want, so we offer all the tools for a treatment process that suits each patient best. Although the Brazilian Butt Lift (fat transfer to the butt) is one of the more permanent methods for butt augmentation, it may not be best for every patient, especially those who are looking for a perky, lifted butt as opposed to a curvier, larger behind. For patients looking at other options with natural-looking results, a lift without increased size, and/or smoother skin and contours, here are some non-surgical treatments to keep in mind:
Why Choose Reflections Center for Non-Surgical Buttock Augmentation
If you are unhappy about the size, shape, or appearance of your buttocks, Reflections Center can help you enhance your natural contours and regain your confidence. We offer non-surgical alternatives alongside many of our surgical procedures because we understand that surgery is not for everyone and some people are not candidates for surgery. At Reflections, there are plenty of options for non-surgical buttock augmentation but it might seem overwhelming trying to pick the right one(s). Your first step is scheduling a consultation with our specialists who can create the right treatment plan for you and make sure you know what to expect from each treatment option.
Reflections Center is home to a team of physicians, some of whom are plastic surgeons, and some of whom are cosmetic physicians. When you're considering whether you can get a surgical result with non-surgical methods, it helps to have the opinions of both, so that you can make an informed decision. That's what our team offers: a balanced, honest approach to what works best for the patient. We will never push you to receive a treatment you don't want and are always happy to discuss other treatment options we offer.
Patient Stories About Butt Lifts
"I noticed small changes in my abs and butt before the 2 weeks were out. I liked how my abs were looking flatter and leaner, but I was pretty amazed when 4 weeks later I had full-on oblique's and was well on my way to getting my six-pack back. The booty gains were pretty amazing, too!"
View My Story
"Dr. Chasin has performed Laser Lipo, BBL (fat transfer to buttocks), and tattoo laser removal procedures on me. I am not only pleased with my results, I am over the moon."
View My Story
" How would you like to build your dream booty without breaking a sweat? Well, when Blaire, one of Dr. Chasin's cosmetic medicine patients heard about this exciting new treatment she knew she had to..."
View My Story
Our Doctors on TV & In Magazines, Talking About
on Non Surgical Buttock Augmentation
View More of Our Coverage on Non Surgical Buttock Augmentation
View All Media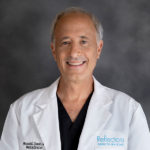 Dr. Mitchell Chasin built Reflections Center for skin & body as a place where physicians specializing in cosmetic medicine could focus on helping empower patients to feel their most beautiful. Dr. Chasin believes strongly that the best cosmetic physicians are those who are dedicated to mastering their craft through continuing education and collaboration with the industry's top doctors.