As we age, our faces begin to deflate as our bodies produce less and less collagen and elastin, the magic stuff that gives our skin its supple, youthful look.  This leads to the formation of fine lines, wrinkles and an overall loss of volume in the mid-face, which can, in turn, create all sorts of problems, from deep nasolabial folds between the nose and mouth, to hollowed-looking eyes, or sagging jowls.
Dermal fillers are an ideal way to address the creases, volume loss and hollowing in the skin that occurs naturally with age.  Dermal fillers can also be used to enhance the volume and shape of the lips, and restore a more youthful appearance to the neck, chest, and hands.
Quick Facts About Dermal Fillers
Add the lost "apple" volume back to your cheeks, diminishing the creases around the mouth and lifting sagging jowls
Minimize the appearance of nasolabial folds, i.e., smile lines
Fill in horizontal lines on forehead and the vertical "11's" between the eyes
Smooth out the tear troughs running from the inner corners of the eyes down to the mid-cheek
Add lost volume back to the under eye area, reducing the "hollowed out" look
Address the "crows feet" around the eyes
The Best Dermal Fillers Results Look Natural – And That Requires Expertise & Skill
Our injectors are all physicians who have years of experience injecting dermal fillers and who have been trained by Dr. Chasin, who has long been a sought-after trainer nationwide because of his skill and expertise in creating the most natural-looking results and making the most out of each filler's unique properties.
| Dermal Filler | Approximate Duration | Characteristics | Best For |
| --- | --- | --- | --- |
| Juvederm (Ultra or Ultra Plus) | 9-12 months | Medium-Firm Consistency Hyaluronic Acid Filler; Will Attract & Hold Onto More Water During First Few Days (Hydrophillic) | Lips, Temples, Lines Around the Mouth, Cheeks needing a small amount of volume |
| Restylane | 9-12 months | Medium-Firm Consistency Hyaluronic Acid Filler. Stiffer than Juvederm | Under Eyes, Lips, deeper frown lines, Nasolabial folds and Areas That Need Precise Filling |
| Voluma | 24 months (2 years) | Firm, Bouncy Consistency Hyaluronic Acid Filler. Great for volumizing and improving contours | Cheeks, Chin, Jawline, Temples, Nose, Hands, Earlobes, Amazing results and longevity, most popular filler to improve volume and contour of the face. Longest lasting hyaluronic acid filler. |
| Volbella | 9-12 months | Thin, Flowing Consistency Hyaluronic Acid Filler. Great for fine lines | Lips in Need of Hydration, Necklace Lines, frown lines, Lines Between the Breasts |
| Vollure | 12-15 months | Cohesive Gel Medium-Firm Consistency Hyaluronic Acid Filler | Lips, nasolabial folds, Lines around the mouth, Cheeks |
| Refyne | 9-12 months | Cohesive Gel Medium-Firm Consistency Hyaluronic Acid Filler | Superficial lines around the mouth, superficial nasolabial folds, acne scars, good with areas that are in motion alot. |
| Defyne | 12 months | Cohesive Gel Firm Consistency Hyaluronic Acid Filler | Cheeks, Chin, Jawline, Temples, Around the Mouth |
| Silk | 9-12 months | Thin, Flowing Consistency Hyaluronic Acid Filler | Lips in Need of Hydration, Necklace Lines & Lines Between the Breasts, Under the Eyes. good for frown lines. Doesn't hold on to much water, so doesn't tend to get puffy |
| Belotero | 6 months | Thin, Flowing Consistency Hyaluronic Acid Filler with No Tyndall Effect (can be used close to skin surface) | Under the Eyes, white Lip, Around the Eyes, etc. Nice filler because it doesn't get puffy, but poor longevity limits its use. |
| Bellafill | 5 years or longer | Bovine collagen (sourced from calf) dermal filler with non-resorbable polymethylmethacrylate (PMMA) microspheres. Major negative is inability to dissolve or reverse if needed | We don't use this filler very often because it cannot later be reversed, removed or dissolved in the event of a problem. This filler has had a troubled past, released with several different names over the last decade. |
| Radiesse | 12-24 months | Smooth calcium hydroxylapatite (CaHA) microspheres suspended in a sodium carboxymethylcellulose gel carrier. Can be used to improve skin quality in a hyperdilute form | Cheeks, Chin, Jawline, and Other Bony or Firm Areas. |
| Sculptra | 12-36 months | Biostimulatory Filler that works to restore collagen and firm the skin throughout a widespread area | General skin rejuvenation, firming action, great in setting of weight loss when face appears gaunt |
| Lyft | 12-18 months | Firm, Bouncy Consistency Hyaluronic Acid Filler. Good for volumizing and improving contours | Cheeks, Chin, Jawline, Temples, Hands |
| Kysse | 9-12 months | Cohesive Gel Medium-Firm Consistency Hyaluronic Acid Filler. Ideal filler for lips | Lips - This filler was specifically formulated for the lips, and it's the best in class for this area. Can be used in white or red part of the lip |
Click To Expand
Patient Stories About Dermal Fillers
"I've seen tons of people where it looks really, I mean it's so overdone it looks like it may pop. So I didn't want to look like that at all, and Dr. Chasin is so good about that. What I love about him is he does not hesitate to tell you no."
View My Story
"people didn't know that I necessarily had any kind of special treatment done." Instead, they just shared compliments, saying things like "Mary Lou, your skin looks great. Did you go on vacation?"
View My Story
The Reflections' Difference: Our Skilled Physician Injectors
Our physicians have performed tens of thousands of treatments and are highly skilled in using every type of dermal filler on the market — it's what they do all day long. They utilize leading edge injection techniques and the latest innovations like the non-needle cannula, which dramatically reduces the risk of bruising and is far more comfortable than traditional needles. They even teach these advanced techniques to dermatologists and plastic surgeons.
Our doctors' competence and aesthetic vision is critical to ensuring that the procedure will result in an attractive, natural looking result. You won't look "done" when you leave our office, you'll just look terrific. These great results can be yours in just one short visit to Reflections.
At Reflections, only experienced physicians inject fillers, and we use every major FDA-Approved filler on the market. We are also preceptors for the largest manufacturers, which means we teach advanced filler techniques to other physicians like dermatologists and plastic surgeons.
Experience The Best of Dermal Fillers at Reflections
Our experienced physicians have the skill and resources to create the best possible dermal filler treatment plan for you. We promise natural, long-lasting results that you'll love!
Our Doctors on TV & In Magazines, Talking About Dermal Fillers
View More of Our Coverage
View All Media
Non-Surgical Facial Rejuvenation

Non-invasive and minimally invasive treatments can address aging skin and volume loss, but do not adequately address muscle laxity.

Fat Transfer for Face

Generally, by the time you're ready for a mini facelift, you've got significant enough fat loss throughout the face from the natural aging process that it's noticeable and leaving you looking a little gaunt (unless you're already treating this by adding in filler volume). Fat transfer is a procedure that will make your mini lift results more natural, longer-lasting, and more youthful. It is easily stacked in, but does increase downtime due to bruising. Ask Dr. Fodero about how this might work for you.
Understanding What to Expect with Fillers
Educate yourself on what to expect before, during, and after dermal filler treatment.
Minimize Alcohol Consumption
Minimizing alcohol consumption for at least 24 hours prior to your treatment, as alcohol thins the blood and can make it more likely you will bruise or swell.
Avoid Certain Medications
Avoid certain OTC medications and supplements for at least 1 week prior, including: aspirin, ibuprofen, Vitamin E, fish oil. Do NOT stop taking blood thinners prescribed by a physician without first speaking to that doctor and getting their OK. We can still treat you if you're on blood thinning medications, just make us aware of this at your appointment.
Cleanse & Prep
During your filler appointment, you will be asked to remove any makeup and then the skin will be sanitized by either the doctor or medical assistant before injections begin.
Injections Begin
The filler will then be skillfully injected into the designated areas to achieve the desired results.
Treatment Duration
Treatment can take 5-30 minutes per treatment area, depending on the amount of filler needed.
May Experience Redness, Swelling, etc.
Immediately after dermal filler treatment, you may experience swelling, redness, and bruising, which usually resolves within 2-3 days.
Avoid Strenuous Activity & Alcohol For 24 Hours
We advise avoiding strenuous activity and alcohol consumption for 24 hours after treatment.
Little To No Downtime
There is little to no downtime required, and most people can return to their daily activities as soon as they wish.
Frequently Asked Questions About Filler Injections
Why choose Reflections for your dermal fillers?

Choosing the right facility and physicians to perform your dermal filler treatment can make the difference between looking naturally great and looking "done" (or worse). It's important to find a medical practice where only physicians perform injections (in New Jersey it is illegal for any non-physician to inject dermal fillers, including advanced-trained nurses), and one that uses many different dermal fillers, as each is better for different areas of the face and certain cosmetic concerns (some practices use one filler everywhere, with less than stellar results).

What areas of the lip can be enhanced with dermal fillers?

Volume

We will determine the best approach to enhancing your lips based on your treatment goals, your anatomy, and your age.

The vermilion border, the junction between the white and red part of the lips, is an important area to treat with dermal fillers. By injecting this region, we can define the lip border better, similar to wearing lip liner. This can also help with lines that cross through this area. To increase the volume we inject the body of the lip (red area). This can create a pouty look and avert the lip outwards so that more of red shows. As a general rule we would like the bottom lip to be one and a half times the size of the upper lip (or 40/60, upper to lower lip), though we can create other proportions, if the patient requests (a lip ratio of 1:1 is more popular in Latin America, and can create a beautiful, natural lip profile for many patients).

Happy appearance

The oral commissures are located in the corners of the mouth. This area usually increases in size with age. Filling this area turns the corners of the lips horizontally, or even upwards creating a more positive and happy appearance.

Shape and curve

The philtrum consists of the two lines in the center of the upper lip that connects to the nose. By enhancing this double-ridge, it is possible to give the upper lip more shape and curve, enhancing the sensuality of the lips.

Upper lip

The cupid's bow or the V-shaped area in the center of the upper lip can also be enhanced with dermal fillers. Done in conjunction with the philtrum, it can achieve a pleasant overall shape to the upper lip.

Are you a licensed physician injector? What credentials do you have?

Licensing and certifications for dermal fillers and other cosmetic treatments can be really confusing, so we'll break down the details in a separate blog, but the answer is yes, our physician injectors are licensed to perform dermal filler injections, and they each have several years of experience doing so. Currently, only physicians inject fillers at our practices, because we want to ensure our patients have the safest experience possible, and achieve the best results possible.

It's also important to look for a practice like ours that performs these treatments all day long — you don't want a doctor who dabbles in dermal fillers to be warming up on you! We honestly aren't trying to toot our own horn here, but it's important to do a little research and find a facility with the skill and the tools to treat you right. You can double-check the experience of your provider by asking to see their awards from the manufacturers of each dermal filler. Galderma (makers of Restylane, Sculptra, and Dysport), Allergan (makers of Juvederm, Kybella, and Botox), and Merz (makers of Xeomin and Radiesse) all award physicians based on skill and experience.

What filler is best for me?

The best filler for your goals will likely be different from the best filler for your friend's goals, even if you both want to treat the same area. The reason for this is that each person is unique, the changes occurring under your skin are different, and in order to make your results as natural-appearing as absolutely possible, we will need to use different types of filler for different treatment areas and different patients. This is why our practice stocks every single kind of FDA-Approved Dermal Filler, and we regularly use each of them, so that we are always able to grab just the right thing for you. We provide complimentary in-person consultations with our physician injectors, to ensure patients get the assessment and guidance they need in order to make an informed decision about their filler treatment.


What happens during treatment?

Using an ultra-fine needle or a smooth-tipped cannula, dermal fillers are injected into the skin. The physician will massage the treatment area then continue injecting the filler along the length of the wrinkle or fold until the maximum correction has been achieved. We blend lidocaine into all of our dermal fillers to reduce bruising and make for the most comfortable treatment experience possible.

How do dermal fillers work?

here are basically 7 types of fillers, and each type works a little differently: Hyaluronic Acid (Juvederm, Voluma, Volbella, Vollure, Defyne, Reyne, Silk, Lyft, Belotero, Restylane) Calcium Hydroxylapatite (CaHA) (Radiesse) Poly-L-Lactic Acid (Sculptra) Collagen with polymethyl methacrylate (PMMA) beads (Bellafil)

Collagen Fat Transfer Illegal Substances (including silicone) Hyaluronic acid fillers are by far the most common. They provide soft, natural results as the molecules of filler attract and bind water molecules in the skin, stimulating the production of collagen. The volume beneath the skin increases, restoring a smoother, more youthful appearance. The body metabolizes and absorbs the injected hyaluronic acid over time.

Hyaluronic Acid fillers have an antidote of sorts, called hyaluronidase, which is very helpful in our practice when patients come to see us upset about how their results from another practice turned out.
Calcium Hydroxylapatite (CaHA) (brand name: Radiesse) and Poly-L-Lactic Acid (brand name: Sculptra) are solutions injected under the skin to stimulate collagen. They can be used to create stiff volume, which is useful for contouring bony areas of the face, or to smooth, firm, and tighten the skin, which can reduce wrinkles and cellulite. They have also even been used in butt augmentation. Collagen is a more permanent filler, and we tend to avoid is because our bodies are not permanent things – they change over time, and so it can be very difficult to create a result with these that will not look unnatural as the body around it changes with time. There are, however, situations where we do make use of these products. Fat transfer is a method of transferring your own fat, usually taken from your abdomen or love handles, to create a very natural and long-lasting result. Finally, illegal substances such as silicone are often to blame for the worst filler results – the disfigured and seriously ill patients you sometimes see on the news. It's important to be an educated consumer because there are people out there who don't know what they're doing (or at least we hope that's the case). Our physicians provide free in-person consultations where we educate the patient about what's possible, what's safe, and what their options are. Please feel free to schedule an appointment, at the very least you'll walk away with the knowledge you need to stay safe.

Do filler injections hurt?

We use numbing injections that can be customized to your preference to ensure the treatment is as comfortable (and numb) as you would like. Most fillers either come mixed with lidocaine, or we mix them with lidocaine prior to injection. Lidocaine is a numbing agent that's very similar to what a dentist gives you prior to filling a cavity. Since a dentist injects that medicine directly into your nerve bundles, you feel nothing of a cavity being filled. This is called a nerve block, and we're happy to do that for you if you really don't want to feel anything. However, by putting the lidocaine in with the filler, we're able to avoid those additional injections for numbing, and this lower dose of lidocaine wears off much faster, so you're not fully numb for several hours after. This is the numbing most patients prefer, but again, we can customize this to your preference.

How long will my filler results last?

Although it varies by patient and depends on the particular dermal filler used, results from dermal filler injections are immediate and typically last for six to 24 months, depending upon the filler used and the area treated. Most patients report that the area treated continues to look improved even after the filler has been fully resorbed.

Is there downtime? What are the common side effects of filler injections?

Immediately following the injections, you may experience:

Minor redness generally lasts no longer than 1 hour, and for most patients, this dissipates before they leave the office (15 minutes)
Swelling generally increases for the first 24 hours, before resolving within 48-72 hours. Certain areas swell much more, like the lips, and other areas don't tend to swell at all, such as the temples.
Tiny scabs may also form at the injection sites, though this doesn't happen for most patients. It's more common when a cannula is used. Don't pick the scars, but you can apply makeup over them. They generally don't last beyond day 2.
Bruises are thankfully not that common in our patients (we take some measures to reduce our bruise rate because we know it's what our patients worry about the most). If you do end up with a bruise, please call and let us know. We can do a laser treatment that will break the bruise up, and this makes the bruise dissipate in just a couple of days (vs. having to cover it with makeup for a week or longer).
These symptoms typically disappear within two to three days. Allergic reactions are extremely rare. There is no need for bandaging and most patients are able to resume normal activities immediately following the treatment., even if they're going back to work and don't want their coworkers to know.

What should I do before filler injections to prepare?

Avoid aspirin, ibuprofen, Vitamin E, fish oil, and other blood thinners for at least a week before treatment.

Will lasers affect the longevity of my fillers?

Laser treatments will not shorten how long the results of your dermal filler treatment will last. Many patients get terrific results combining the two.

How often will I need to return to maintain my results?

Some fillers last forever, but most do not. Most fillers create results that last 6 months to 24 months, meaning you'll want to schedule maintenance appointments to ensure your results remain excellent over time. There are a couple of things you can do to improve the longevity of your results, in fact, we made a video about it. Check it out here: https://www.reflectionscenter.com/maximize-botox-and-fillers-results/

What if I don't like how my results look - or I get injected somewhere else and I hate it?

Fillers made from hyaluronic acid can be dissolved using a substance called hyaluronidase. The following fillers are hyaluronic acid fillers which can respond to hyaluronidase: Belotero, Restylane, Restylane Silk, Restylane Lyft (previously Perlane), Juvederm, and Juvederm Voluma. Sculptra, Radiesse, and Bellafill are not hyaluronic acid and are not able to be dissolved.

Sources:
Lorenc, Z. Paul M.D.; Fagien, Steven M.D.; Flynn, Timothy C. M.D.; Waldorf, Heidi A. M.D.; Clinical Application and Assessment of Belotero: A Roundtable Discussion; Plastic & Reconstructive Surgery: October 2013 – Volume 132 – Issue 4S-2 – p 69S–76S doi: 10.1097/PRS.0b013e31829a0bfc
Gottfried Lemperle, et. al., ArteFill® Permanent Injectable for Soft Tissue Augmentation: I. Mechanism of Action and Injection Techniques., Aesthetic Plast Surg. 2010 Jun;34(3):264–72.
Jacob CI, Dover JS, Kaminer MS. Acne scarring: A classification system and review of treatment options. J Am Acad Dermatol; July 2001; 109-117.
Cohen et al. Artecoll: A Long-Lasting Injectable Wrinkle Filler Material: Report of a Controlled, Randomized, Multicenter Clinical Trial of 251 Subjects. Plast. Reconstr. Surg. 114: 964,2004.
Radiesse Injectable Implant – P050052/S049 – FDA Clearance issued June 4, 2015
Juvederm Voluma FDA Clearance: http://www.fda.gov/ucm/groups/fdagov-public/@fdagov-afda-adcom/documents/document/ucm349428.pdf
Juvederm FDA Clearance http://www.accessdata.fda.gov/cdrh_docs/pdf5/p050047a.pdf
Restylane FDA Clearance http://www.accessdata.fda.gov/cdrh_docs/pdf4/p040024s051a.pdf
Restylane Lyft FDA Clearance http://www.accessdata.fda.gov/cdrh_docs/pdf4/P040024S073a.pdf
Restylane Silk FDA Clearance http://www.accessdata.fda.gov/cdrh_docs/pdf4/P040024S072c.pdf
Sculptra FDA Clearance http://www.accessdata.fda.gov/cdrh_docs/pdf3/p030050a.pdf
Click To Expand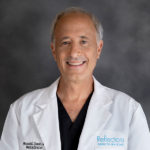 Dr. Mitchell Chasin built Reflections Center for skin & body as a place where physicians specializing in cosmetic medicine could focus on helping empower patients to feel their most beautiful. Dr. Chasin believes strongly that the best cosmetic physicians are those who are dedicated to mastering their craft through continuing education and collaboration with the industry's top doctors.