Light therapies can greatly enhance the appearance of skin and are often used to help control acne, speed up healing processes, and to treat fine lines and wrinkles. Different light wavelengths must be used to accomplish each of these treatment goals, so Reflections has invested in several different systems, offering the best blue, yellow, and red light therapies.
PDT is also used to reverse signs of sun damage and aging, such as fine lines, facial veins, and redness, sunspots, and irregular skin texture. Chronic skin conditions such as rosacea and sebaceous hyperplasia can also be treated with PDT as it reduces both facial redness and pore size. The FDA has approved this procedure for the treatment of pre-cancerous lesions called actinic keratoses (a non-cosmetic treatment which we do not provide), and this treatment gives us a long history of safe and efficacious use of this treatment at much stronger levels than we typically use it at.
Patients typically have a series of three treatments spaced two to four weeks apart.
PDT & LED Therapy Quick Facts
Customizable treatment to range in intensity (and results) from minor to major
Multiple benefits with different wavelengths in a single session
Treatments you're unlikely to find most offering at this level of intensity/result
What Are The Different Types of Light Therapy? What Does Each Do Best?
BLU-U Blue Light Photodynamic Therapy (PDT)
Blu-U Blue Light works best in combination with Levulan as photodynamic therapy, the preferred treatment for pre-cancerous actinic keratosis and treatment-resistant acne.
Blue light therapy was one of the first light-based therapies for acne treatment. Blue light, with a wavelength 405-420nm, works by killing the acne-causing bacteria, P. acnes, and is used to treat inflammatory acne vulgaris that has not responded to other acne therapies.
Levulan® photodynamic therapy (PDT) uses a topical agent called Aminolevulinic Acid (ALA) in combination with specialized lasers and light sources in the treatment of moderate to severe acne, including cystic acne. PDT treatments inactivate the bacteria that trigger acne, exfoliate the skin to unclog pores, and decrease the activity of overactive sebaceous glands in the skin. These three mechanisms of action provide long-lasting effects in the majority of acne patients. It is an excellent alternative to the drug Accutane, as PDT does not cause any systemic effects.
A recent study comparing Blu-U PDT with topical 1% clindamycin (an antibacterial cream often prescribed to acne patients), showed that Blu-U PDT was more effective at reducing inflammatory acne vulgaris lesions3 than this very popular topical prescription medication.
Recovery & Downtime: Redness for 1-2 days
Numbing: None
Cost: $875
Candidacy: treatment-resistant acne
Duration: 2-3 hours
Why We Love It: More effective than many popular acne medications
CureLight IClearXL 100 Near Infrared
CureLight iClearXL 100 Near Infrared offers two distinct light wavelengths for killing p. acnes bacteria, rejuvenating the skin, and speeding up recovery from surgery and wound healing times.
Recovery & Downtime: None
Numbing: None
Cost: Schedule a consultation
Candidacy: Inflammatory acne
Duration: 20-30 minutes
Why We Love It: Can also be used for post-surgical recovery
Gentlewaves LED Photomodulation
Quick and totally painless, the GentleWaves LED system stimulates collagen production and improves the tone and texture of the skin. The device uses specially coded light-emitting diodes to modulate the activity of cells in the skin. GentleWaves is great for reducing fine lines and wrinkles and for improving skin elasticity. It is often combined with other laser treatments for maximum effectiveness. It is a great treatment for fine lines and wrinkles, textural abnormalities including roughness, reducing post-treatment redness from other laser treatments, anti-aging, and preventative care.
Recovery & Downtime: None
Numbing: None
Cost: Schedule a consultation
Candidacy: Poor skin tone and elasticity
Duration: 10-20 minutes
Why We Love It: Stimulates collagen production and prevents breakdown
Frequently Asked Questions About PDT LED Therapy
What is Levulan?

It is a 20% solution of Aminolevulinic acid (ALA), a natural substance found throughout the human body. It is a precursor for hemoglobin synthesis. In the body, ALA is quickly synthesized into protoporphyrin IX, a photo-sensitizer that increases the skin's reaction to the light therapy.

What is photodynamic therapy treatment like?

Skin should be free of all makeup, sunscreen, and moisturizers. An acetone scrub or microdermabrasion is done. The Levulan, which is a clear solution that sensitizes the skin to light, is applied to the skin and left on for 30 to 60 minutes. It is absorbed by skin cells and structures like sebaceous glands. It is washed off with soap and water. Next, skin is exposed to a specific wavelength of light with either the Blu-U, iClearXL, Vbeam laser, IPL, or GentleWaves. This takes about 8 to 15 minutes. At times, multiple lasers or light sources are sequentially used to activate the Levulan. This combined interaction of the Levulan solution and the laser or light is what gives rise to the term photodynamic therapy. Sunblock is applied and a hat is worn out of the office. Sun exposure needs to be avoided for 48 hours after treatment. If possible, patients should remain indoors for the first 24 hours after treatment. A minimum of SPF 40 sunblock should be worn for one week. Skin may become red with mild swelling and peeling for three to seven days. Three to five treatments are recommended at two to four-week intervals.

What will I look like afterwards and is downtime required?

Following PDT, the face can appear red, followed by some flaking and peeling for several days. Rarely, some patients have a noticeable response to PDT, such as redness of their skin, or even temporary swelling of the lips and around your eyes for a few days after the treatment. Darker, pigmented patches or sunspots can temporarily darken, and then peel off over a week or so, leaving normal skin.

What does PDT cost, and will my insurance cover it?

PDT is generally only covered by medical insurances when it is used to remove actinic keratosis, a type of pre-cancer of skin. We have not seen health insurance cover treatment for acne or acne scars, and cosmetic sun damage doesn't meet their requirements for medical necessity. That having been said, we do not accept insurance of any kind at our practice. This allows us to significantly lower our costs to do business, since we don't need a whole team of medical billers, and that allows us to offer PDT at a lower price than most practices. The pricing of your treatment will depend upon the type of light used and whether you purchase your treatments as a package or a la carte. Individual pricing is quoted during the free consultation with one of our cosmetic physicians. On average, PDT with Vbeam is $875 for the full face.

How does Gentlewave's LED Photomodulation work?

GentleWaves is the first device using effective LED photomodulation technology. The key to the science behind GentleWaves lies in using gentle light energy at specifically selected proprietary codes for optimum effectiveness. The modulated light is then delivered to target treatment areas by sophisticated pulsed technology. GentleWaves is not only able to stimulate the body to produce collagen but can reduce the level of the enzyme in the body that breaks collagen down.

What is the treatment like and is downtime required?

The GentleWaves treatment is completely painless, can be performed in minutes and you can return to your normal activities immediately afterward. There will be no redness or peeling. A series of once-weekly treatments for eight weeks is advised, followed by maintenance.
Sources:
1. C. A. Mortona*, R. D. Scholefieldb, C. Whitehurstc & J. Birchc; An open study to determine the efficacy of blue light in the treatment of mild to moderate acne; Journal of Dermatological Treatment; Volume 16, Issue 4, 2005
2. Daniel R. Opel, MD,a Erika Hagstrom, MD, MA,b Aaron K. Pace, MD,a Krisanne Sisto, MD,a Stefanie A. Hirano-Ali, MD,c Shraddha Desai, MD,a and James Swan, MDa; Light-emitting Diodes: A Brief Review and Clinical Experience; J Clin Aesthet Dermatol. 2015 Jun; 8(6): 36–44.
3. Gold MH, Rao J, Goldman MP, Bridges TM, Bradshaw VL, Boring MM, Guider AN,Journal of Drugs in Dermatology; 2005 Jan-Feb; 4(1):64-70.
4. Levulan Kerastick FDA Clearance
Click To Expand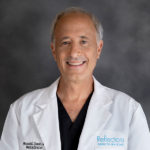 Dr. Mitchell Chasin built Reflections Center for skin & body as a place where physicians specializing in cosmetic medicine could focus on helping empower patients to feel their most beautiful. Dr. Chasin believes strongly that the best cosmetic physicians are those who are dedicated to mastering their craft through continuing education and collaboration with the industry's top doctors.