The Fraxel Re:Store is an FDA-cleared laser that produces thousands of tiny columns of microscopic treatment zones in your skin, leaving the surrounding skin unaffected. This "fractional" treatment approach allows the skin to heal much faster than if the entire surface of the skin was treated at once3. Following each treatment, the body's natural healing process creates new, healthy tissue to replace skin imperfections.
The Fraxel Dual Wavelength system offers the additional benefit of a second laser wavelength that specifically targets unwanted pigment, leaving the skin tone more even and pleasing to the eye. The Fraxel Re:Store Dual Wavelength system refines the skin in a precisely controlled fashion. The skin will become softer, smoother, and fresher, all with minimal or no downtime!1
Fraxel Re:Store Dual Laser Quick Facts
No downtime
No numbing or anesthesia
Improves cellulite dimples on thighs & butt
Three quick treatments, spread across 2 months, for results that last years
Most Common Uses for Fraxel Re:Store Dual Laser
Age-Related Damage To The Skin
Fine lines and moderate wrinkles 1, irregular skin texture 1, areas of skin discoloration, and sun and age spots are easily treated with the Fraxel Re:Store's unique dual wavelength system. The stimulation of collagen in the skin helps to fill out unwanted lines and wrinkles, as well as loss of volume for a more healthy glow and a more rejuvenated appearance.
Recovery & Downtime: 4-5 days
Numbing: Yes
Cost: Discuss during free consultation
Candidacy: Healthy patients looking to improve the look and feel of skin
Duration: Long-term
Why We Love It: Combats uneven skin tone and texture as well as lines and wrinkles
Scars
Acne Scarring2 and Surgical Scars2 respond well to the mixed wavelengths of the Fraxel Re:Store Dual system. By boosting collagen production in the skin, the appearance of scars can be reduced for a more even skin tone and texture.
Recovery & Downtime: 4-5 days
Numbing: Yes
Cost: Discuss during free consultation
Candidacy: Those looking to diminish the look of scars
Duration: Long-term
Why We Love It: Smooths and reduces the appearance of acne and surgical scars
Skin Conditions
The Fraxel Dual system works well for melasma1, enlarged pores caused by sebaceous hyerplasia1, and Stretch marks. In fact, Fraxel Re:Store Dual has become the treatment of choice for Melasma because of its proven ability to create dramatic results in all skin types for this tricky skin condition. During treatment, the creation of many microscopic injuries stimulates collagen production, improving pigmentation irregularities, as well as skin texture and tone.
Recovery & Downtime: 4-5 days
Numbing: Yes
Cost: Discuss during free consultation
Candidacy: Patients who wish to diminish the look of certain skin conditions
Duration: Long-term
Why We Love It: Great option for treating melasma, large pores, and stretch marks
Patient Stories About Fraxel Re:Store Dual Laser
"My melasma started probably 10 years ago...we did try lasers, which worked, and my face would look great for 2 or 3 weeks, and then the pigment would gradually just start coming back."
View My Story
"people didn't know that I necessarily had any kind of special treatment done." Instead, they just shared compliments, saying things like "Mary Lou, your skin looks great. Did you go on vacation?"
View My Story
"Everyone says, I look 10 years younger so that's always really good to hear."
View My Story
Why Choose Reflections For Fraxel Re:Store Dual Laser?
At Reflections, our team of plastic surgeons and laser specialists understand the best options for your unique concerns or medical conditions. We use only proven, cutting-edge laser treatments such as Fraxel to achieve the best possible outcomes.
Our team takes the time to discuss your individual aesthetic goals and takes into account your unique facial anatomy to create a personalized treatment plan to help you achieve optimal results. We understand that no two patients are alike, which is why we don't believe in a "one size fits all" approach. During your consultation, please do not hesitate to ask any questions that you may have about the treatment process, as we want our patients to feel confident and comfortable during their treatment process.
Interested in learning more about how laser treatments can benefit you? Contact Reflections Center today to schedule your initial consultation appointment.
What Will I Feel and Look Like After Treatment?
Most patients experience a sunburn-type sensation following the treatment, which can last for 90 minutes. No pain medicine is required. The skin will have a pinkish tone for several days and mild swelling that may last a day or two. These are completely normal side effects that reflect the healing process that is underway. There is no oozing, crusting, or bleeding. Some flaking may occur but extensive peeling is not expected. The skin may develop a bronzed appearance, which may last for several weeks. Moisturizers are helpful post-treatment and the use of sunscreen (30-60 SPF sunblock) is very important.
Frequently Asked Questions About Fraxel Re:Store Dual Laser
How does it work?

Fraxel laser treatment course consists of three to five procedures, spaced two to four weeks apart, producing a gentle remodeling of collagen under your skin's surface. Improvements in your appearance will continue for six months or more.

What is treatment like?

We begin by imaging your skin with the Visia Complexion Analysis System, a computerized digital imaging system that establishes your baseline image and can identify abnormalities in the skin that are not yet apparent to the naked eye.

The face is then cleansed and a topical anesthetic is applied for 45-60 minutes. During the treatment, the handpiece of the laser is guided across the skin's surface in a precise and predetermined fashion, based on the specific goals of the treatment. A special cooling device will blow chilled air across the skin as it is being treated. There may be some slight discomfort at times, which patients describe as a prickling sensation but the treatment is generally well tolerated. This portion of the procedure takes approximately 30 minutes. The skin is cleansed before you leave and a sunscreen/moisturizer is applied.

What are the benefits one can expect from Fraxel?

The benefits include smoother, fresher, younger appearing skin with fewer lines and wrinkles. The skin will become tighter and those brown spots will be less noticeable. The benefits will continue to improve for several months after the treatment.

What areas of the body can be treated with Fraxel Re:Store?

Fraxel Re:Store can be used on the face, neck, chest, hands, hips, legs, buttocks and arms – pretty much any area of the face or body can be treated with the Fraxel Re:Store. The most commonly treated areas are the face and neck, chest, and hips/buttocks.

Are Fraxel laser results permanent?

Fraxel permanently improves skin tone and texture, as well as permanently removing sun damage, acne scars, and discoloration. However, nothing we do at our practice can prevent you from re-damaging your skin with sun damage or experiencing a relapse in skin conditions like acne, melasma, etc. Obviously, no treatment can prevent future damage from occurring, but we will discuss with you how you can protect your investment with proper skincare and sun protection.

Are there different types of Fraxel?

Yes. The Fraxel Dual Restore is 1 device and the Fraxel Repair is a different CO2 laser device. Each of these devices has a few different settings that allow it to use the laser at various strengths. The Fraxel Dual Restore has 2 wavelengths of laser that can be used separately or together, for a total of 3 different treatments this particular Fraxel device can create.

Can Fraxel cause skin cancer?

No, lasers do not cause skin cancer, and in fact, lasers that help remove sun-damaged skin cells can help reduce your risk of those abnormal cells developing into cancer in the future. However, what can increase your skin cancer risk is not protecting the fresh skin cells you grow after treatment with Fraxel from the sun. We will discuss sun protection with you at your appointment. Preventing sun damage is one of the best ways to reduce skin cancer risk, but it cannot prevent all skin cancer.

Does Fraxel cause cold sores?

Yes, if you have a history of cold sores, Fraxel can trigger an outbreak. We suggest preventative used of Valtrex prior to your appointment to reduce this risk. We discuss this risk and prevention techniques during the free consultation with our doctors.

Does Fraxel help hyperpigmentation

Yes, for fair to medium skin tones, Fraxel is the best choice for removing hyperpigmentation (dark spots), brown spots, and sun damage. It may not be the right choice for those who have melasma, which tends to have a greyish-brown tint to it. Our doctors will examine you and determine the underlying cause of your dark spots and discoloration during the free consultation, and then help you select the right treatment based on the cause, your skin type, and your preferences around budget, downtime, goals, etc.

Does Fraxel laser tighten skin?

It does – and the CO2 repair by Fraxel provides a much more profound skin tightening result than the Fraxel Dual Restore Laser, and neither of these works nearly as well for skin tightening as the treatments that are specifically built for skin tightening, like Ulthera, Sofwave, Thermage, Exillis Ultra, etc.

Can you exfoliate after Fraxel laser?

You should not exfoliate for at least 2 weeks post-Fraxel treatment, and until all rough skin has finished sloughing off. When you do return to exfoliation, we always recommend chemical over physical, so something like an AHA, BHA, glycolic acid, lactic acid, salicylic acid, or retinol not a scrub or scrubbing device. You should also go gentler than usual the first time, as your skin may be more sensitive than usual.
Sources:
1. Z. Rahman, MD1; M. Alam, MD, MSCI2; J. S. Dover, MD, FRCPC, FRCP3-5; Fractional Laser Treatment for Pigmentation and Texture Improvement; ADVANCES IN DERMATOLOGIC SURGERY
2.ALSTER, T. S., TANZI, E. L. and LAZARUS, M. (2007), The Use of Fractional Laser Photothermolysis for the Treatment of Atrophic Scars. Dermatologic Surgery, 33: 295–299. doi: 10.1111/j.1524-4725.2007.33059.x
3. Manstein, D., Herron, G. S., Sink, R. K., Tanner, H. and Anderson, R. R. (2004), Fractional Photothermolysis: A New Concept for Cutaneous Remodeling Using Microscopic Patterns of Thermal Injury. Lasers Surg. Med., 34: 426–438. doi: 10.1002/lsm.20048
Click To Expand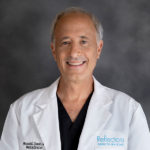 Dr. Mitchell Chasin built Reflections Center for skin & body as a place where physicians specializing in cosmetic medicine could focus on helping empower patients to feel their most beautiful. Dr. Chasin believes strongly that the best cosmetic physicians are those who are dedicated to mastering their craft through continuing education and collaboration with the industry's top doctors.