SKINVIVE™ by JUVÉDERM® is an injectable microdroplet injectable specifically designed to improve skin smoothness and overall skin hydration. It is especially effective in smoothing and rejuvenating the cheeks. It contains hyaluronic acid (HA), a naturally occurring substance in the body that binds moisture and adds youthful volume to the skin. SKINVIVE™ is created to harness the power of HA, enhancing skin hydration, texture, and elasticity.
Quick Facts about SKINVIVE™ by JUVÉDERM®
Ideal for improving skin quality by smoothing the skin and increasing hydration
Leaves skin looking healthier, more glowing, and hydrated
Treatment is minimally invasive and offers little to no downtime
Most Common Uses for SKINVIVE™ by JUVÉDERM®
SKINVIVE™ by JUVÉDERM® can be used for overall skin rejuvenation but is especially effective in the cheek area.
SKINVIVE™ by JUVÉDERM® is the first and only FDA-approved HA microdroplet injectable in the US to improve skin smoothness in the cheeks. It works by increasing hydration in the skin, improving smoothness, and providing a healthy, refreshed glow that lasts up to 6 months.
Overall Skin Rejuvenation
By harnessing the transformative power of HA, SKINVIVE™ is an optimal solution for rejuvenating the overall health of the skin. For a more youthful, plumper, hydrated skin appearance, patients can feel more confident in their skin. In clinical studies, patients who were treated with SKINVIVE™ reported higher satisfaction with how hydrated, refreshed, and healthier their skin looked.
Cheek Skin Improvements
Our face is often the first thing people notice about us. After all, it is where our expressions are shown, which is key for communicating. As we age, the skin on our face can lose collagen and elastin stores, leading to a sunken or dull appearance, specifically in the mid-face and cheek area. SKINVIVE™ is specifically created to improve skin smoothness of the cheeks. By increasing hydration, the skin looks and feels smoother and takes on a healthy glow. Patients can enjoy a healthy, radiant complexion for up to 6 months following a SKINVIVE™ treatment.
Why Choose Reflections?
At Reflections Center for Cosmetic Medicine, we are dedicated to providing individualized experiences for each of our patients. We know that there is no such thing as a "one size fits all" treatment option, which is why our award-winning team of cosmetic physicians takes the time to create a personalized treatment plan to help you meet your aesthetic goals. Our cosmetic physicians have combined decades of experience under one of the most respected cosmetic injectors in the country, Dr. Mitchell Chasin.
To learn more about SKINVIVE™ by JUVÉDERM® or our other filler treatments, please visit Reflections Center for Cosmetic Medicine today for a free consultation to meet with our award-winning physicians and schedule your appointment.
Frequently Asked Questions About SKINVIVE™ by JUVÉDERM®
How long does SKINVIVE™ last?

Overall, the longevity of SKINVIVE™ varies from patient to patient. Typically results will last for several months. Scheduling maintenance sessions following your initial treatment will prolong the effects.

Who is a suitable candidate for SKINVIVE™?

SKINVIVE™ is an effective treatment option for adults over the age of 21 who desire an improvement in the quality of their skin. During a consultation, one of our skilled skincare professionals can assess your skin to determine if SKINVIVE™ is the right option for you.

How can I prepare for my SKINVIVE™ Treatment?

Following an at-home skincare routine before and after your SKINVIVE™ treatment is the best course of action to ensure healthy, youthful-looking skin. If you are seeking professional-grade skincare for optimal results, you can purchase products in person in our NJ offices or at our online store.

Is there any downtime to SKINVIVE™?

There is little to no downtime associated with SKINVIVE™treatments. Patients can feel free to return to their daily activities as soon as they wish. While mild redness or bruising may occur around the treated areas, these effects and temporary and will fade with time.

What can I expect during my SKINVIVE™ visit?

During your SKINVIVE™ treatment, your provider will cleanse the treatment area and administer the filler through a series of injections. This process can take up to 30 minutes, depending on the number of injections administered.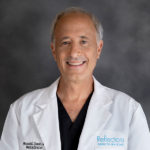 Dr. Mitchell Chasin built Reflections Center for skin & body as a place where physicians specializing in cosmetic medicine could focus on helping empower patients to feel their most beautiful. Dr. Chasin believes strongly that the best cosmetic physicians are those who are dedicated to mastering their craft through continuing education and collaboration with the industry's top doctors.