Our Advanced Laser Technologies Offer Breakthrough Treatments For Aging & Sun Damaged Skin
Time and the elements can do a number on our skin. Fine lines and wrinkles begin to emerge, sunspots appear, and we develop sagging skin as our natural supply of youth-giving collagen begins to fade with age. Some people also have issues with redness and veins appearing on their face.
That's the bad news. The good news is that Reflections has the technology and expertise to help stop and even turn back the clock.
Our years of experience and multiple treatment options provides the very best in facial rejuvenation.
Treatment Options For Every Symptom Means Optimal Results
Reflections is dedicated to providing our patients with the very latest and very best options for laser facial rejuvenation. We'll work with you to determine the best approach for your individual needs – your skin type, cosmetic goals, and your ability for downtime. Along with the state of the art laser treatments below, we are also offer BOTOX Cosmetic and an array of dermal fillers to help smooth out wrinkles and add youthful volume back to the face.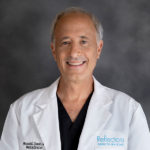 Dr. Mitchell Chasin founded Reflections Center for skin & body as a place where physicians specializing in cosmetic medicine could focus on helping empower patients to feel their most beautiful. Dr. Chasin believes strongly that the best cosmetic physicians are those who are dedicated to mastering their craft through continuing education and collaboration with the industry's top doctors.