Daxxify will be one of several neuromodulators that we offer at our practice, but what sets it apart is its duration of effect, which clinical studies have proven to be around 24 weeks, or 6 months (that's double what the other brands currently offer)1. Because it lasts so much longer, and because they want to prevent bad experiences, the manufacturer is limiting which injectors are able to offer this product and we're proud to say we'll be the first to offer Daxxify in New Jersey!
COMING SOON – Our office will be among the first in the nation to offer Daxxify!
Daxxify Injections Quick Facts
Last 6 Months (Median Duration, with 2-9 Months as the Full Spread Seen During Clinical Trials)
Smooth Fine Lines & Wrinkles
No Downtime
Always Provided Only by Physicians at Reflections
Best Daxxify Uses
Just like with any of our neurotoxin injectables, this treatment is quick and easy and performed only by our cosmetic physician injectors.
Daxi Results & Uses
Daxi has been studied for use in most popular areas we commonly use other Botulinum Toxins for:
Dystonia (Although we don't provide this treatment)
Recovery & Downtime: Avoid excess sun exposure
Numbing: None Needed
Cost: Discuss during a free consultation
Candidacy: Anyone with mild to moderate dynamic wrinkles
Duration: 4-6 months
Why We Love It: Lasts longer than Botox
Daxxify for Other Injections Uses
However, there have been no studies yet on its use for lip lines, bunny lines, nose tip refinement, chin dimpling, jawline slimming, lip flip, vertical neck bands, MicroBotox (Aquagold Microneedling), Sweating, Migraines, or other treatments where exact dosing is critical to creating a safe and nuanced effect.
Why Choose Reflections Center For Daxi
Daxi isn't available at most medspas or plastic surgery offices and there's a good reason for that! With twice the longevity of results, you'd hate to get a bad result. The manufacturer knows that, so they're being cautious and only selling the product to top injectors who they've screened and feel are skilled enough to create the kind of results you'll love. Our practice is one of very few in New Jersey that will be offering Daxi, and you can have it injected by our physician injectors at either of our New Jersey locations:
During the free consultation, you'll first meet with our patient care coordinators who start with filling in any important gaps in your medical history, taking your "before" photos, and answering any questions you might prefer to ask them. Then they'll bring in your cosmetic doctor, who will assess your suitability for this treatment and/or other treatments by reviewing your medical history, your physical anatomy, reviewing your "before" photos, and taking into account your goals and desires (perhaps you want to avoid downtime and only have a budget of $500, those are the sorts of things they'll take into account). Finally, you'll be presented with a treatment plan and a personalized quote. This process is fairly quick for an injectable treatment, but it can take longer when other options or concerns are added in.
Be sure to register for our Reflections Rewards loyalty program so that you can save on future treatments!
Frequently Asked Questions About Daxi
What happens during Daxi treatment?

For most people, treatment happens directly after the consultation, provided you haven't had alcohol or other blood thinners that day. While this doesn't increase the risk of complications, it would increase the likelihood of bruising, which most patients want to avoid at all costs. There's no numbing required for this treatment, as we use very fine needles that make it quick and easy.

The doctor will first ask you to make some funny faces – like frowning or scrunching your face or lifting your brows – and they might make some markings with a white pencil (don't worry, that will be wiped right off), then they'll swab the area with alcohol to cleanse it and make their injections.

How much does Daxi cost?

The distributor for Daxi, Revance, has not yet told us how much Daxi will cost (they're keeping us all in suspense since this product is supposed to be available in the next couple of weeks. But as soon as we know, we will list pricing here. We expect to price it by unit, just like we do with all of our other neuromodulators.

Are there side effects to Daxi, or potential complications?

Side effects are common and non-serious effects that one may experience from a procedure. For Daxi, potential side effects (and the percentage of patients who experienced them in clinical studies) include:

headache (2 to 7% of those injected)
Injection site pain (2 to 4% of those injected)

We commonly see our patients complain that they have little red bumps where they've been injected with neuromodulators. This effect is usually very temporary and lasts less than an hour.

Bruising is usually very rare with these types of injections at our practice because we use such fine needles. However, when it occurs, the bruises tend to be very small, about the size of a dime or smaller, are often not very dark, and don't last long. Should you find yourself with a significant bruise following the injection, please do call us right away. It could be a sign of something more serious.

Potential complications or adverse events from this type of injection belong to 2 categories:

Complications that can occur from any form of injection: injection into a blood vessel
Complications that are specific to Botulinum Toxin Type A: injection into the wrong depth or tissues can cause muscle weakness in areas you may not want to impact (and of course, this could be very serious depending upon where it's injected, or it could simply mean a bad result – which we can often help to at least improve for the duration of its effect).

One important thing to note is that there is an art to these treatments, and when a patient is first seeing a different injector, there is often a bit of "dialing in" the dosage to create the ideal effect. For this reason, we always ask first-timers to come back for a 2-week follow-up. After 2 weeks, the full effect is seen, and any tweaks that need to be made can be.

What makes Daxi different? Why does it last so much longer?

In addition to purified botulinum toxin type A that is formulated without any human or animal-based components (making it a substantially different manufacturing process from other neuromodulators on the market today), Daxi contains a proprietary peptide excipient4 that helps to stabilize the product, and is theorized to be the cause of the extended duration.

What is Daxi?

Daxi is the newest neuromodulator to come onto the market. What makes it unique is that it has proven its results can last 6 months or longer and that's at least double what all of the other brands offer.

The most popular brand of neuromodulator is Botox. Neuromodulators are most commonly used in cosmetic procedures to reduce the intensity of repetitive facial motions (though they can be used to do other things like tweak features such as a lip flip and jawline slimming) as well as reduce pore size and treat rosacea-related flushing.

Daxi has been in development for years and was previously known by the research name RT002. Daxi isn't going to be available as widely as Botox, which we believe is a good thing – bad results that last 6 months would be awful. Revance Therapeutics Inc. has decided only to sell this product to the very best injectors in the U.S. at this time, and we're happy to announce we've been selected as one of the few providers of Daxi in New Jersey.

How long does Daxi last?

In clinical trials, the median duration for Daxi used to treat glabellar lines (commonly called frown lines), was 24 weeks1. This shouldn't be misconstrued as the average or minimum duration, though. This chart does a better job of describing the duration of Daxi's effects on those in the clinical study.

This chart shows Daxi lasted a median of 24 weeks, but in some individuals, it lasted only 8-12 weeks (2-3 months), and in some, it lasted 36+ weeks (9 months or longer). Like with most neuromodulators, those who are younger and have better skin quality tend to see better and longer-lasting results.

Another thing to note about this study, though, is that participants were primarily white females, both of which are important distinctions. Males tend to have stronger forehead and facial muscles, which means they tend to require more neuromodulator products to create the same effect as all previous botulinum toxins. We don't know yet if that will hold true for Daxi since there's no clinical data and no anecdotal evidence with a long enough history to trust.

The other issue to be aware of with these studies is that the sample of those treated was predominantly white. Now we don't have genetic information on these participants, so that makes it a bit harder to judge whether this impacted their results or not (because the way that your skin and body react is often governed by DNA, and that may or may not directly correlate to the racial identity you report). And in general, we lack comprehensive studies that well-defined the dosage and duration effects race or ethnicity might play with neuromodulators, but it is worth noting because we can't, in good science, extrapolate these results to everyone.

What is the longest lasting Botox?

Daxi (daxibotulinumtoxin A for injection) is the longest-lasting botulinum toxin type A (commonly referred to as Botox, but technically a different brand of the same type of injectable treatment), as shown in their clinical trials to last 6 months1.

Is there something that lasts longer than Botox?

Yes, Daxi lasts longer than Botox — about twice as long!

Will I need more Daxi than Botox or Dysport?

Yes, you will need more units of Daxi than Botox3, but fewer units of Daxi than Dysport to create the same effect. The way the "units" work across Daxi, Botox, and Dysport means that would you need different doses of each product to get the same amount of effect. In clinical studies, they found that 40 units of Daxi were equivalent in effect to around 20 units of Botox, whereas we know you need 60 units of Dysport to create the same impact as 20 units of Botox.

Will Daxi cost more than Botox?

No one yet knows the cost of Daxi, but we do try to keep our neuromodulators at around the same cost per effectiveness, since we know there's a lot of math involved in trying to compare by units, etc., and we want our patients to be guided towards the best product for them, not necessarily the least expensive one.

Is Daxi the same as Botox or Xeomin?

No, while Daxi is also botulinum toxin Type A, just like Botox and Xeomin, these 3 don't exactly contain the same ingredient because they are all manufactured slightly differently, and that means there are minute differences in the protein molecules of each. This is what we believe accounts for the variance in the duration of effect and strength.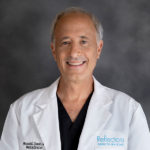 Dr. Mitchell Chasin built Reflections Center for skin & body as a place where physicians specializing in cosmetic medicine could focus on helping empower patients to feel their most beautiful. Dr. Chasin believes strongly that the best cosmetic physicians are those who are dedicated to mastering their craft through continuing education and collaboration with the industry's top doctors.