Most often appearing on the thighs, buttocks, and abdomen, cellulite makes the skin appear dimpled or lumpy. For years, women have spent money on creams, lotions, wraps, and supplements that promised to reduce cellulite, yet got virtually no results. But it's a new day in cellulite treatment.
At Reflections, our expert physicians are highly skilled at using the most exciting new innovations in laser technology available for cellulite treatment. You will love your smoother skin and your newer, more contoured body.
Quick Facts About Cellulite Treatment
Non-surgical approaches with little downtime
Fully personalized treatment for your specific area and degree of cellulite
Dual benefits of tightened and thicker skin
Possible contouring effects help the area appear slimmer
Today's Best Options for Cellulite Treatment
We are proud to offer many innovative laser treatment options that will help you battle your cellulite. All of our laser treatments are FDA-approved and our highly skilled physicians know how to get the results you want.
Qwo
Qwo is a nonsurgical way to get rid of cellulite and the first FDA-approved injectable cellulite treatment. It works by dissolving the bands that cause the deep dimples known as cellulite.  This procedure is very safe and effective at treating cellulite.
Learn More About Qwo
Exilis
Exilis is a non-invasive, scientifically proven treatment that uses radiofrequency energy to heat the deep layers of the skin. Metabolic activity is increased, shrinking fat cells and stimulating the skin's collagen network to tighten the treatment area. This can dramatically improve the appearance of cellulite.
The benefits from Exilis come over a series of three to six comfortable treatments. No downtime is required, and the results are long-lasting.
Learn More
Cellulaze
We very rarely recommend Cellulaze anymore, not because it doesn't provide amazing results – it does! But, is has a long, intense recovery and newer treatments offer the same results without recovery or with much reduced recovery.
Cellulaze is a trailblazing laser treatment that attacks cellulite at its source, smoothing out bulging pockets of fat and increasing the skin's natural thickness, which helps to eliminate the peaks and valleys that are the hallmarks of cellulite. Studies have shown that Cellulaze can increase the thickness of your skin by 25% and the elasticity of your skin by 29%, two major factors in reducing the appearance of cellulite.1,2
Cellulaze is backed by multiple years of clinical research and is the only minimally invasive procedure available for improving the appearance of cellulite in a single treatment. In less than 90 minutes, your skin will look smoother and healthier – we're confident you'll love the results!
Learn More
Patient Stories About Cellulite Treatment
"After only my second treatment, I had already seen a major difference in my thighs and buttocks when I went to put my pants on."
View My Story
"It sounded too good to be true. But after meeting with you and understanding your knowledge of this miracle procedure I became convinced that this procedure might actually work, and it has!!"
View My Story
"I had the treatments and I am very happy, the cellulite is about 70 percent better and that is fine with me."
View My Story
Why Choose Reflections For Cellulite Treatment?
You might feel bad about your cellulite and wonder if you can make it go away with diet and exercise. The reality is that cellulite runs in families, and can appear in early adulthood no matter what type of diet and exercise regimen you follow. Bands of stiff fibers pull across pockets of healthy fat, creating the dimpled look that makes so many women feel self-conscious. With Reflections' approach to cellulite treatment, you will enjoy smoother skin and feel more confident. Get ready to look forward to swimsuit season!
Our Doctors on TV & In Magazines, Talking About Cellulite
View All Media
Treatments We Don't Recommend Anymore for Cellulite
Velashape
VelaShape is the leading noninvasive technology for treating cellulite. It features the unique combination of infrared light energy, radiofrequency energy, and actual kneading of the tissue. The combined heat energy delivered to the skin penetrates deeply enough to reduce thigh and buttock circumference and improve skin surface irregularities. It also improves lymphatic drainage. After VelaShape treatment, patients appear to have lost weight because the entire area is re-contoured.
VelaShape is usually administered in a series of six weekly treatments, but after even one treatment the skin surface of the treated area will feel smoother, firmer, and tighter. Reduction of thigh circumference and cellulite reduction will be most apparent six to eight weeks following the final treatment.
VelaShape requires no downtime and is effective on all skin types and colors.
Read More
Thermage
Thermage is a noninvasive laser treatment that uses radiofrequency energy to gently heat fat deposits beneath the skin. It smooths, tightens, and contours the body and requires no downtime. Because it eliminates unwanted superficial fat, Thermage improves the appearance of cellulite.
Measurable tightening and contouring improvements appear gradually over a two to six-month time period following a single treatment session. A Thermage treatment takes less than an hour, and is very safe. Your skin will feel tighter, smoother, and more youthful, and the effects will last for years.
Our patients love this treatment and describe it as being painless, and even pleasant.
Read More
Frequently Asked Questions About Cellulite
What causes cellulite?

Cellulite happens when underlying fat begins to push through the layers of collagen fibers in the skin. These collagen fibers pull the skin down in certain areas, causing the telltale dimples we recognize as cellulite.

Can I treat cellulite naturally?

There are a lot of products and at-home methods that promise to reduce cellulite. Although there are some steps you can take (like maintaining a healthy lifestyle), most patients find that professional treatments are the most effective way to reduce cellulite.

Do only women get cellulite?

The female body can have less supportive connective tissue when it comes to holding fat on areas like the hips and thighs. This contributes to the appearance of cellulite. However, men can and do experience cellulite (some estimates state this can be around 10% of men).

Why do I have cellulite if I'm In shape?

Cellulite can happen to anyone. In fact, it's believed that there's a genetic component to cellulite that causes it to occur even in people that are otherwise slim. However, maintaining a healthy lifestyle can certainly help reduce the appearance of cellulite.

What will cure my cellulite?

There are plenty of unscientific claims out there about what can clear up cellulite. The best way to learn about your best options is by speaking with our cosmetic physicians about what treatment options will work best for you.

Can I burn off cellulite?

With a healthy lifestyle, you can gradually burn off fat which can reduce the appearance of cellulite. Cellulite won't respond on its own, rather, you can treat the underlying causes by reducing fat and undergoing professional treatments.
Sources:
Alizadeh Z, Halabchi F, Mazaheri R, Abolhasani M, Tabesh M. et al. Review of the Mechanisms and Effects of Noninvasive Body Contouring Devices on Cellulite and Subcutaneous Fat, Int J Endocrinol Metab. 2016 ;14(4):e36727.
DiBernardo BE, Reyes J, Chen B, "Evaluation of tissue thermal effects from 1064/1320nm laser-assisted lipolysis and its clinicalimplications." Journal of Cosmetic and Laser Therapy 2009, 11:62-69
Click To Expand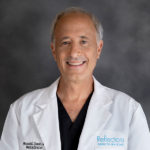 Dr. Mitchell Chasin founded Reflections Center for skin & body as a place where physicians specializing in cosmetic medicine could focus on helping empower patients to feel their most beautiful. Dr. Chasin believes strongly that the best cosmetic physicians are those who are dedicated to mastering their craft through continuing education and collaboration with the industry's top doctors.