The beauty of this 30 to 60 minute treatment for the face, neck or chest is that it uses the body's own regenerative response to rebuild collagen, gently and gradually tightening and restoring sagging skin. Ultrasonic sound waves, or ultrasound, has been used for decades as a medical imaging technology, most commonly for pregnant women. Now this technology has been harnessed to create natural-looking rejuvenation, without surgery or needles (what's called a non-invasive facelift). In one study, Ultherapy showed 95% patient satisfaction 1 year after treatment.4
Ultherapy Uplift Quick Facts
Ultherapy skin tightening is a totally non-surgical and non-invasive way to lift and tighten the skin
It uses your body's own regenerative response to stimulate the growth of new collagen1 to combat the signs of aging
No downtime is required, so you can easily fit Ultherapy into the busiest schedule
Ultherapy uses safe, proven ultrasound energy, like that used during sonograms
Its innovative DeepSee Ultrasound technology allows the doctor to see under the skin and deliver the energy precisely where it's needed
Ultherapy usually takes only a single treatment and the results are long lasting
Most Common Uses for Ultherapy Uplift
Ultherapy's Uplift offers one of the most significant and transformative non-surgical and non-invasive facelifts available, due to its unique technology. It can be used to treat the face, neck, and chest (decollete).
Most patients choose to treat 1 or 2 areas first. Some patients opt for a series of treatments, for more dramatic results that are longer-lasting. Treatments purchased as a series are offered at a discounted rate.
Browlift by Ultherapy
Ultherapy is one of the few non-surgical browlift options that meet our high standards for consistently great results.
Upper Face Lift by Ultherapy
The upper face lift by Ultherapy focuses on the brow and areas surrounding the eyes. This is a nice alternative to Botox for patients who prefer less maintenance or more movement. Many celebrity actresses, including Jennifer Aniston, have said they choose this Ultherapy treatment over Botox because of the natural movement it allows for.
Lower Facelift by Ultherapy
The lower face is one of our most popular treatment areas for Ultherapy. This lifting and firming treatment focuses on the cheeks and jowls, two areas that show the effects of aging most quickly.
Neck Lift by Ultherapy
The neck2 can be a tricky area to treat due to the curves and high movement within the area. Ultherapy offers natural results that are all you – so they move and look completely natural. No one will know you've have a treatment, but they'll definitely notice how great your neck looks!
The Uplift by Ultherapy
The Uplift by Ultherapy is a full face and neck lift treatment. It provides the most dramatic results and ensures that your entire face and neck are harmoniously rejuvenated – so no one area gives away your age!
Decollete / Chest by Ultherapy
Women's chests often experience increased sun exposure that leads to deep creases and wrinkles. Ultherapy is the only treatment we currently recommend for this particular problem area. Instead of lifting the breasts, like many other treatments, this treatment focuses on tightening and firming cleavage skin, or the decolletage3.
Why We No Longer Perform Ulthera for Hyperhydrosis
Ulthera was once used for hyperhydrosis (excessive sweating), and that was based on sound science at the time. Unfortunately, what we found was that it wasn't as predictable as we had hoped. For some patients, it did create wonderful results for most patients, but for some it the results just didn't last. Given that we hold our treatment offerings to the highest standard, we decided to stop offering this treatment. We now only offer Botox for hyperhydrosis.
How Uplift by Ultherapy Works
Uplift by Ultherapy Skin Tightening & Lifting
The Uplift treatment by Ultherapy is a nonsurgical skin tightening and lifting treatment. Ultherapy can also be used to treat hyperhidrosis, and that's discussed in more detail on our 
Ultherapy for Hyperhydrosis page
.
Ultherapy uses focused ultrasound, ultrasonic sound waves, to create heated areas below the skin5. The depth, temperature, and location at which the sound waves are focused can be adjusted throughout the treatment. This creates precise heating.
Precise heating is the main mode of non-surgical skin rejuvenation, whether that's achieved through Lasers, Radiofrequency (RF), or Ultrasound. Ultherapy is the most effective and intense non-surgical ultrasound treatment. The ultrasound waves are used in this treatment to heat the collagen fiber bundles within the skin.
Focused heating of collagen bundles with Ultherapy:
"Shrink wraps" the collagen, creating a mild tightening effect during the treatment. The heated collagen fibers contract and almost melt together. This is the smaller of the two effects.
These shrunken and damaged collagen fibers will be replaced and rebuilt by the body over a period of 3-6 months following the treatment. These brand-new collagen fibers will be bouncy and give the real result – a natural, youthful-looking skin that's lifted and toned.
Ultherapy is the only non-surgical skin rejuvenation procedure that uses ultrasound to see below the surface of the skin and to specifically target its deep foundational layer of tissue. Ultherapy uses focused ultrasound energy – like that used by obstetricians during a sonogram – to promote the creation of fresh collagen in the skin, which gradually makes it tighter, firmer and more supple. The ability to treat not just the skin but its underlying support very precisely, from the inside out, helps to ensure both safe and satisfying results, with no downtime.
Recovery & Downtime: Little to none
Numbing: Yes
Cost: $1,000-$4,500
Candidates: Patients looking to tighten and lift their skin without surgery
Duration: 3-5 years
When to See Results: After 2-3 months
Why Choose Reflections Center
For Ultherapy Uplift
Ultherapy seems to be available everywhere these days, even places where it really shouldn't be – like spas and salons. This procedure can be incredibly safe and effective in the hands of a trained and experienced provider, but unfortunately, we've seen several serious complications from treatments at other establishments in New Jersey recently. We're pretty sure this is why Ultherapy sometimes gets a bad rap. So why should you pick Reflections' cosmetic physicians for your treatment?
We offer several non-surgical lifting technologies and treatments. This is important because it helps ensure we're matching you with the best treatment for you, as an individual.
We have a reputation for saying "no" when patients ask for treatments that aren't in their best interest. We are physicians first. We swore an oath to do no harm, and we take that oath very seriously. It's given us a reputation for saying "no" when we feel a treatment may either harm, or not benefit, a patient. We're lucky to have enough treatments and technologies in our offices that we usually have an alternative treatment that we can offer, but we simply won't sell you services that aren't right for you.
Ultherapy is provided by trained and experienced cosmetic physicians at our office. Our physicians who provide Ultherapy are focused in cosmetic procedures. They receive specialized training on Ultherapy. They devote the majority of their work week to nonsurgical treatments, like Ultherapy, giving them significantly more experience with how to create the best results.
Frequently Asked Questions About Ultherapy Uplift
What does Ultherapy cost?

"[Ultherapy] helps to produce your collagen and firms up/tightens everything and that's exactly what I wanted!" – Jacqueline Laurita, Reality TV Star

Costs range from $1,000 to $4,500, depending on the areas treated. These prices ranges reflect the average cost of Ultherapy at our New Jersey offices. This includes all fees and pre and post-procedure visits. Full financing is available for Ultherapy treatments at our office. Visit our financing options page for details and information on how get pre-approved before your consultation.

Does it hurt?

Ultherapy does have a reputation for being painful. There are 2 main reasons an Ultherapy treatment can become uncomfortable:

Your technician, or provider, may not be trained in how to properly use the device. We believe this is a main reason for the reports of painful treatments. More on this later, but for now, know that our Ultherapy treatments are provided by trained physicians who understand how to create a comfortable (and effective) treatment.
Your provider may not know how to properly manage the discomfort. We have several ways to make this treatment comfortable, including relaxing medications and nitrous oxide (laughing gas). So let's talk about how the experience and knowledge of your provider plays into your comfort. Ultherapy is concentrated ultrasound. This is a comfortable procedure when that ultrasound is concentrated in the soft tissues, where it should be, and when you are given medication to relax and manage the discomfort. What can happen, is that an inexperienced provider can concentrate the soundwaves in the wrong places, like on the bone, where it will become very painful, even with medication. Treatment pulses should not be layered in the same exact place, because there is an ideal amount of heat, and there is a level at which it becomes too much heat. This is another common user error we've seen from other offices and spas, and unfortunately this can cause some really bad complications.

Is there downtime?

You are able to return to your normal activities right away, and there are no special measures you need to take. Your skin may appear a bit flushed immediately after the treatment, but any redness should disappear within a few hours, and can be covered with makeup in the intermediary. It is not uncommon to experience slight swelling for a few days following the procedure or tingling/tenderness to the touch for a few weeks following the procedure, but these are mild and temporary in nature. Bruising is very unlikely to occur, but if you are on blood thinning agents or are predisposed to easy bruising, please let our office know and we will take additional precautions. Should you experience a bruise, we do offer complimentary laser treatments that will break up the bruise for a very quick recovery. Temporary numbness may occur, but is very uncommon in our experience. Your physician will review this and other less common side effects during your consultation.

How do I ensure my Ultherapy treatment is comfortable?

The best way to ensure your Ultherapy treatment is not a painful experience, is to choose an experienced provider who speaks frankly with you about treatment comfort. Experienced and skilled providers of Ultherapy know that the treatment can be done incorrectly and painfully, and how to correctly provide a safe and effective Ultherapy treatment. They will discuss how they make sure patients are comfortable, and create a specific treatment plan for you. Our providers have a range of anesthesia, numbing, and relaxation medications available, which will allow us to create a pain management plan that can be adjusted mid-treatment if things are less comfortable than expected. Typically we find a relaxing medication and nitrous oxide are more than sufficient.

What can I expect for results?

With just one treatment, the regenerative process is initiated, but the full effect will build gradually over the course of between two to three months. Some patients may benefit from more than one treatment. Visible effects include a lifting and toning of sagging skin. In the FDA clinical studies, for instance, nine out of 10 patients had a noticeable, significant lift of the brow line. This resulted in reduced skin laxity on the eyelid, and a more open, youthful look to the eyes overall. Patients reported firmer, better-fitting skin in other areas of the face and neck, as well. There is also an invisible result from the procedure with the creation of new collagen, which can help to slow down the rate of skin aging. The new collagen created by Ultherapy will endure, but as with all of the natural features of your face, will be subject to the aging process in the long term.

How do I maximize my Ultherapy results?

There are several things you can do to help maximize the results of your Ultherapy Uplift, but they can be broken down into these categories: Restore volume loss and prevent wrinkles in addition to lifting Most patients who are ready for a lifting procedure also have some volume loss, or natural loss of fat due to aging, and prevention of wrinkles. The most common treatment we offer for these two concerns is called a liquid facelift, and involves dermal fillers and Botox/Dysport/Xeomin injections. Fat transfer and injectable mesh can also be used, for longer-lasting results, with a slightly higher cost and recovery period.
Sources:
Dobke MK, Hitchcock T, Misell L, Sasaki OH. Tissue Restructuring by Energy-Based Surgical Tools, Clin Plastic Surg. 2012:39:399-40
Baumann L, Zelickson B. Evaluation of Micro-Focused Ultrasound for Lifting and Tightening Neck Laxity. J Drugs Dermatol. 2016;15(5):607-614.
Fabi SG, Goldman MP, Dayan SH, et al. A prospective multicenter pilot study of the safety and efficacy of microfocused ultrasound with visualization for improving lines and wrinkles of the décolleté. Dermatol Surg. 2015;41(3):327-335. SH, et al.
Werschler WP, Werschler PS. Long-term efficacy of micro-focused ultrasound with visualization for lifting and tightening lax facial and neck skin using a customized vectoring treatment method. J Clin Aesthet Dermatol. 2016;9(2):27–33.
White WM, Makin IRS, Barthe PG, et al. Selective creation of thermal injury zones in the superficial musculoaponeurotic system using intense ultrasound therapy. Arch Facial Plast Surg. 2007;9(1):22-29.
Click To Expand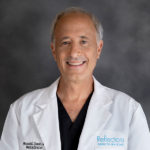 Dr. Mitchell Chasin built Reflections Center for skin & body as a place where physicians specializing in cosmetic medicine could focus on helping empower patients to feel their most beautiful. Dr. Chasin believes strongly that the best cosmetic physicians are those who are dedicated to mastering their craft through continuing education and collaboration with the industry's top doctors.