CoolSculpting changed the fat loss game forever 5 years ago when it received FDA approval for it's safe and effective fat freezing technology. Our offices were among the first in the country to offer CoolSculpting when it came out, and we've loved the results we saw from the start, but the new and improved CoolSculpting 2.0 system, which includes CoolAdvantage sculpting technology, makes this treatment even more effective!
In the past, the areas that could be treated with CoolSculpting were mostly limited to the belly and love handles, but newly-redesigned applicators allow us to treat all sorts of places on the body the inner and outer thighs, the bra area, the arms, the neck, and more! And new treatment protocols allow us to get results that are more amazing than ever1,2!
CoolSculpting Quick Facts
Freezes Away Unwanted Fat, Permanently
No Downtime
No Needles
FDA-Approved and Clinically Proven to Work
Removes 20 – 25% of Fat in Area Treated, Per Session (Most People Do 2 Sessions per Treated Area)
Most Common Uses for Coolsculpting Treatment
Our practice has upgraded to the NEW! CoolSculpting Cool Advantage, what we like to call "CoolSculpting 2.0". This new way of CoolSculpting uses the same cryolyposis technology that makes CoolSculpting so effective at freezing away unwanted fat. But the new treatment applicators now treat a larger amount of tissue, are more comfortable, and have shorter treatment times.
CoolSculpting uses advanced cooling technology to target and eliminate fat cells through a controlled cooling process called cryolipolysis1,2. CoolSculpting is an FDA-approved and totally non-invasive body contouring procedure that reduces fat in targeted areas of your body, providing noticeable and natural looking results. It requires no needles, no surgery and no downtime. 1,2
Many patients opt for multiple CoolSculpting treatment cycles during their visit to achieve an even greater fat reduction. Most patients see noticeable results within two months after treatment as the body safely removes the fat in the targeted area.
Freeze Away Belly Fat With CoolCore Advantage
This is our most popular treatment request, and the CoolCore Advantage applicator allows us to treat more tissue in less time, with a more comfortable treatment than ever before! CoolCore works to remove stubborn belly fat of the upper and lower abdomen.
Recovery & Downtime: None
Numbing: No
Cost: Starts at $1500
Type of Result: Slimmer belly and upper abdomen
Change Made: Excess fat elimination
When to See Results: Initial improvement seen after 3 weeks
Eliminate Love Handles and Muffin Tops With Coolcurve + Advantage
Love handles and muffin top (often called "flanks" by doctors) are easily targeted by this specially curved CoolSculpting handpiece. This CoolSculpting Advantage treatment makes it possible to treat a larger area, with a shorter treatment time of 35 minutes.
Recovery & Downtime: None
Numbing: No
Cost: Starts at $1500
Type of Result: Reduction of love handles and muffin top
Change Made: Excess fat eliminated
When to See Results: Initial improvement seen after 3 weeks
Create A Thigh Gap with Coolfit Advantage
Finally, a nonsurgical fat freezing treatment to tackle the inner thigh! This specially fitted applicator allows CoolSculpting to effectively freeze away unwanted fat at the top of the inner thigh.
Recovery & Downtime: None
Numbing: No
Cost: Starts at $1500
Type of Result: Slimmer inner thighs
Change Made: Elimination of excess fat
When to See Results: Initial improvement seen after 3 weeks
Tackle Bellies That Spill Over Your Pants Coolcurve Advantage Plus
The largest applicator, this Curved treatment is perfect for larger rolls of fat. It easily suctions in large volumes of fat, for effective treatment of a large area.
Recovery & Downtime: None
Numbing: No
Cost: Starts at $1500
Type of Result: Slimmer belly area
Change Made: Elimination of excess fat
When to See Results: Initial improvement seen after 3 weeks
Debulk Large Areas of Fat on Stomach with Coolcore Advantage Plus
This applicator is great for debulking – freezing away large areas of fat, before sculpting with other, smaller CoolSculpting applicators. This 45-minute treatment is ideal for patients with upper and lower abdomen, who will appreciate the larger treatment zones this applicator achieves.
Recovery & Downtime: None
Numbing: No
Cost: Starts at $1500
Type of Result: Slimmer upper and lower abdomen
Change Made: Excess fat elimination
When to See Results: Initial improvement seen after 3 weeks
Patient Stories About Coolsculpting
"Dr. Chasin and his team were great... sincerely a very positive experience. I need to preface this with the fact I rarely write reviews unless truly impressed with integrity and honesty. "
View My Story
""I threw away my spanx out and I'm so happy about that...the results are incredible.""
View My Story
Frequently Asked Questions About Coolsculpting
What's the cost of Coolsculpting in New Jersey?

Each cycle of CoolSculpting costs $750 – 1500. Most patients will have 1-3 cycles per treatment day, and best results are seen when 2 or more of these treatment days are spaced 4-12 weeks apart (ideal time between retreatments varies by treatment area).
Treatments packages can be purchased at a discounted rate the day of your consultation. In this case, a 25% discount is given on the second and all future treatments to the same area. We offer this discount because we know patients are happiest after at least 2 treatments to any given area, as each treatment will reduce fat by about 20-25%1.

Are there financing options for Coolsculpting?

Our practice is proud to partner with two of the leading cosmetic care financing companies, Care Credit and Prosper Financial, to offer our patients affordable financing options for CoolSculpting. We accept financing from these institutions for any treatment totaling over $1000. To learn more about your options, and to apply for financing right now, please visit our financing options page.
CoolSculpting is a part of our unique Rewards Plus Program, making it eligible for Reflections Rewards plus Allē (formerly Brilliant Distinctions) savings.

What happens to the fat cells? Where do they go?

During the CoolSculpting procedure, a special process called cryolypolisis targets and freezes only the fat cells, leaving your other tissues unharmed6. These fat cells are effectively frozen to death during this time. Fat cells are unique in their sensitivity to cold, so we're able to freeze them at a temperature that's still safe for your other surrounding cells. Your body is constantly cleaning up and removing old and dead cells as part of its normal processes, and these fat cells will become waste products just like all of your other dead cells (eventually you'll pee them out).
Why is this important? Because not all non-invasive fat removing procedures actually remove the cells that store fat (i.e. fat cells). Many treatments just induce these cells into releasing their stored fat. Even if your body flushes all of the stored fat out of its fat cells, it can and will quickly replenish those stores when you eat anything containing fat in the future. But when you remove the actual fat cells, you create a new "set point" for the body with less fat storage. In other words, this is the only effective way to actually get rid of fat in the long term.

What happens during the Coolsculpting treatment?

CoolSculpting is a comfortable and relaxing procedure where you read a book or watch TV while the device does the work. It starts with the application of a thin gel pad on the area to be treated. This gel pad helps the CoolSculpting vacuum applicator to attach to the targeted area and insulates your skin during the treatment. Once the gel pad is in place, the CoolSculpting vacuum applicator is attached to the area of desired fat reduction. The applicator uses suction to gently gather in the excess fat, drawing it in between two cooling panels.

We feel this video gives an accurate accounting of what the actual treatment is like and what to expect. Skip to 5:30 to see just the treatment and results.

What does Coolsculpting feel like?

When the procedure begins you will feel a cooling sensation and then the treatment area quickly goes numb. You sit or lie down as the fat treated by the applicator is cooled. The surrounding tissue remains unharmed while the fat is being treated. Afterward, a quick massage will help to warm you up, and then you'll be on your way.

Where do you offer Coolsculpting treatments?

We have 2 office locations, in Livingston, NJ, and in the Martinsville section of Bridgewater, NJ. While we perform free consultations for CoolSculpting at both of these offices. We currently perform CoolSculpting at our Livingston, NJ office.

How long does the procedure take?

Each treatment cycle takes 35-60 minutes, and patients usually choose to have multiple cycles performed during a single visit, usually between two and four. The doctor will discuss how long your procedure will take during your complimentary consultation.

What is downtime with Coolsculpting?

There is no recovery time required after CoolSculpting, and you are free to resume your normal activities right away, including work and exercise.

What to expect after the procedure?

In the weeks following your procedure, you will notice a gradual reduction in the thickness of the fat layer in the targeted area, with noticeable results and measurable fat reduction in about two months. The treated area will be red for about 20 minutes immediately after the procedure, and it might feel stiff, but this normally disappears within 10 minutes. Occasionally, patients may experience some localized bruising and tenderness as well. You may also feel a temporary numbness in the treated area for a period of time after the procedure. If this does occur, the time this sensation lasts varies by patient, with some people feeling numb for a few hours and others feeling numb for several weeks. Don't be concerned, as over time all patients regain normal feeling in the treated area. Within the first two weeks, some patients may also experience tingling sensations or soreness in the area as well. A follow-up visit should be scheduled with your doctor two to four months after your procedure to assess your cosmetic improvement.

Are the results permanent?

The fat cells CoolSculpting eliminates are gone for good. However, if you gain weight in the future, your body will build itself new fat cells to store more fat. So it's important that you maintain your results with a healthy lifestyle.

Is Coolsculpting a good weight-loss procedure?

No, CoolSculpting often doesn't change the number on the scale very much at all. That's because CoolSculpting removes fat cells, which are actually very light-weight. So you should expect to lose inches and look better, but the scale might not move at all.

Do I need to follow a diet or exercise program, or take supplements to see results?

No, you won't need to change your diet or exercise routine or take any pills or vitamins to see results. CoolSculpting works well on its own to eliminate the stored fat you already have on your body. Living a healthy lifestyle is great for your health and will definitely help you maintain a healthier physique, but CoolSculpting doesn't require changes to your lifestyle to achieve a result.

Is the Coolsculpting procedure safe? What about for dark or olive skin tones? What if I have a tan?

CoolSculpting is extremely safe. It's been performed safely on millions of patients worldwide for over 5 years now. There are no risks related to skin tone or tan with CoolSculpting, making it safe for patients of all skin types during all times of the year.

Who should not have Coolsculpting?

CoolSculpting is not right for everyone. It won't undo a bad diet or lack of activity in the long term or in terms of overall health. But beyond those who don't live a healthy lifestyle (or who are not committed to making changes to live more healthfully afterward), there are some surprising reasons CoolSculpting may not be right for you. People without pinchable rolls will not only find CoolSculpting to be extremely painful, but are unlikely to have good results. These patients are typically better candidates for SculpSure or laser liposuction.

How much does Coolsculpting cost?

Once you have decided to undergo the CoolSculpting procedure, it is also important to understand CoolSculpting costs. There are some factors in which the costs of the procedure may vary including the size of the area and the required amount of treatments.

• CoolMax is the largest applicator and is used for volume reduction, known as the debulking treatment. A smaller applicator may be used to refine your results in a combination session.
• Smaller applicators come in 3 different varieties:
• CoolCore is the applicator is used in case there is excessive abdominal fat and that is why the applicator features a curved shape.
• CoolCurve Plus is contoured for fitting into your love handles and flanks; and the procedure requires at least 2 hours of application on each side.
• CoolFit is a straight applicator used on the arms, back and inner thighs. Any unwanted bulges on the abdomen can also be eliminated with this. When using CoolSculpting for body contouring, you should expect cycles to range from $750-$1500.

How does Coolsculpting work?

CoolSculpting was approved by FDA about 5 years ago and it is based on the science of cryolipolysis. It is a safe and effective fat freezing technology. Even as it destroys the fat cells, the CoolSculpting treatment does not harm any surrounding cells. The procedure delivers controlled cooling effectively into the fat cells and within your skin. The treated fat cells get crystallized and die. With time, your body will naturally process this fat and eliminates them. Before you understand whether a CoolSculpting treatment works for you, it is important to know the difference between losing fat cells and losing weight. When you lose weight, the fat cells become smaller and when you gain weight, they become bigger. By the time you reach teenage, the number of fat cells in your body are fixed. When you experience weight fluctuation, it will change the size of these fat cells and not their number. The CoolSculpting treatment reduces the number of fat cells in the treated area by about 25 percent. This means that you are decreasing the number of fat cells and it gives you the sculpted appearance as they get eliminated from your body.

How long does Coolsculpting last?

CoolSculpting is based on the science of cryolipolysis and is an effective treatment for freezing fat cells. It does not harm any surrounding tissue, delivering controlled cooling safely into the fat cells. These cells are crystallized and naturally eliminated by your body with time. By the time you are in your teenage years, your body has a fixed number of fat cells and any weight fluctuations only change their size but not the number. This means that you can reduce the number of fat cells in your body with CoolSculpting, even by about 25 percent. Even though it is a great procedure for anybody with stubborn fat in certain body parts like the abdomen, love handles, or arms, it is not the right procedure for everybody. If you are not committed to a healthy lifestyle, it is not the right procedure for you. Additionally, it only works if you have pinchable fat in the treatment areas; in such cases where you don't, you might benefit more from laser liposuction and similar procedures. CoolSculpting is an effective body contouring treatment that can help to eliminate inches from your profile for the long-term. You should be committed to maintaining your results by following a healthy diet and an active lifestyle going forward. Any future weight gain may lead to your body developing new fat cells to store the fat, and the existing fat cells can also get larger. This can cause disproportional weight gain and lead to the need for additional procedures.

How many Coolsculpting treatments will I need?

With the effective cooling technology of CoolSculpting, the way fat was eliminated saw a new non-invasive entrant. Initially, it was only helpful with treating the abdomen and love handles but, with the new redesigned applicators, CoolSculpting can now treat almost any body part using a specialized applicator. If you have been struggling with stubborn fat in other areas like the inner and outer thighs, arms, neck, bra area, or neck, you can now utilize CoolSculpting for effective reduction. CoolSculpting is a relaxing procedure where you can read a book or watch TV while your procedure is completed. The vacuum applicator is attached to the treatment area over a gel pad, and it uses suction to gently gather your excess fat between two cooling panels. During your consultation with our CoolSculpting experts, you'll be given an estimate of how many treatment sessions you will need to give you the desired results. It is also dependent on the number of areas you want to be treated. Generally, most patients require 1 to 3 treatment sessions on each area to see best results. The best part about CoolSculpting is that you can choose to have multiple areas treated during a single visit. You should know that one treatment area for CoolSculpting is the size of your hand. This means that you need one treatment for one love handle while the lower abdomen generally requires 2 treatments. Each treatment session will remove about 25 percent of fat from that area; multiple sessions in the same area will help remove about 50 percent of the targeted fat. This is why the number of CoolSculpting treatments required is very specific and depends on your body's anatomy, the targeted areas, and the results you desire. You will not lose weight with this procedure but rather inches, meaning you can enjoy a slimmer appearance and the fact that you fit better in your clothes.

How effective is Coolsculpting?

CoolSculpting is a procedure that helps remove stubborn body fat by freezing the fat cells, which are then eliminated naturally by your body. The procedure can eliminate 20 to 25 percent fat cells in the treatment area. It does not help you lose weight and should not be mistaken for a weight loss procedure. CoolSculpting is a body sculpting procedure meant to improve the shape of your body, giving you better contours. This can make it appear as though you have shed a few pounds. When you consult with a CoolSculpting technician, they will be able to check your areas of concern and recommend the right treatment package for you. Your results are permanent since the fat cells do not come back once they have been eliminated. This is contrary to weight loss where the fat cells only shrink in size and, when you consume extra calories, they can become bigger again. However, with the CoolSculpting procedure, the fat cells die and are permanently removed; when you consume extra calories, the fat will distribute evenly over other areas in your body. This is why CoolSculpting is an effective procedure. If you did not find the desired results with one session of CoolSculpting, you can get additional treatments for the same area. However, you should wait for at least 30 days before the next session. The idea is to give your body enough time to flush out the dead fat cells so that you can see your final results and decide if you need another session. As long as you follow a healthy lifestyle, you can retain your stunning results for years to come.

Does Coolsculpting hurt?

CoolSculpting is a quick procedure aimed at freezing away your fat cells from stubborn areas on your body. There is no downtime with this groundbreaking procedure and most patients go back to their routines right afterwards, making it one of the most popular non-invasive methods to lose stubborn fat. Anybody who is struggling with areas of fat that do not go away with just diet and exercise can opt for it as long as you have pinchable fat. During a consultation with our cosmetic physicians, we can answer any questions you may have. One of the most commonly-asked question is whether the procedure hurts. Most patients report that they feel numbness after the initial cold in the treatment area. Once the procedure is over, a quick massage warms up the area. However, there are several stages in the procedure which begins with the protective gel pad being applied to the treatment area. This is completely painless even though the pad is wet and cold like the jelly used during an ultrasound. When the applicator is positioned over the treatment area, it pulls your skin into the handpiece. This is not painful either, but may come as a surprise. The next steps can feel extremely cold and some patients may feel a bit of a sting. After a few minutes, though, the procedure becomes comfortable since the area will become numb. Most CoolSculpting providers make it more comfortable for their patients with entertainment or other accommodations. Once the applicator is removed, the area is massaged either by hand or an acoustic therapy device which is effective in expediting the process of elimination of the dead fat cells. This is one part of the procedure which may be uncomfortable for most patients, since the feeling slowly returns to the area.The treatment area may remain a bit tender for a few weeks and you will slowly see your result emerge.

What are the negative effects of Coolsculpting?

CoolSculpting is a very safe and effective procedure when done by a trained specialist. The team at Reflections Center offers CoolSculpting as a noninvasive body contouring procedure. This procedure is ideal because of its convenience, it's quick and offers little-to-no downtime. As with any treatment, there are some side effects associated with CoolSculpting. During the procedure some people may feel some discomfort with sensations of pulling, pinching, tugging, tingling, and cold. Many find the procedure painless and relaxing even. Afterward, there are some mild side effects including redness, swelling, bruising (pretty rare), firmness, tenderness, itching, and/or skin sensitivity. Many of these side effects will resolve within a couple of days and can be diminished with over-the-counter pain meds. Wearing loose, soft clothing can also make most of these side effects very mild. Most patients return to their normal daily routine with no issue immediately following the CoolSculpting treatment. The doctors at Reflections Center will provide after-care instructions for any side effects and to make sure that our patients get the best possible results. Soon after the treatment, you will start to see your results as the fat cells die.

How much weight can you lose with Coolsculpting

Clinical studies on the effectiveness of CoolSculpting been shown to reduce about 20-25% of fat cells in the treatment area. However, this doesn't mean that you will shed pounds, but rather inches. CoolSculpting should not be relied on as a weightloss treatment.
Alternative Treatments To Consider
CoolSculpting isn't right for everyone, but Reflections offers many treatment options for fat reduction, including other non-invasive treatments. Liposonix and SculpSure offer non-invasive fat reduction, as well. SculpSure is a new technology that works by heat-damaging fat cells, which are then cleared away by the body, just like with CoolSculpting. Click the link below to visit our infographic comparing CoolSculpting and SculpSure, the two most popular and newest fat reduction treatments, or read the full story on our blog, CoolSculpting vs. Sculpsure.
Sources:
1. Nils Krueger1 Sophia V Mai, Stefanie Luebberding, Neil S Sadick; Cryolipolysis for noninvasive body contouring: clinical efficacy and patient satisfaction; Clinical, Cosmetic and Investigational Dermatology 2014:7 201–205
2. W. Grant Stevens, MD, FACS; Non-Surgical Fat Reduction using the CoolSmooth Conformable Surface Cryolipolysis Applicator; Plastic Surgery Pulse News, Volume 6, Number 2, 2014.
4.Nelson AA, Wasserman D, and Avram MM; Crolipolysis reuces excess adipose tusse.; Semin Cutan Med Surg.
5.  Dierickx CC, Mazer JM, Sand M, et al; Safelt, Tolerance, and Patient Satisfaction with Noninvasive Cryolipolysis; Dermatol Surg.
6. Bernstein E.F., Bloom J.D; Safety and Efficacy of Submental Cryolipolysis; JAMA Facial Plastic Surg.
Click To Expand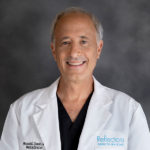 Dr. Mitchell Chasin founded Reflections Center for skin & body as a place where physicians specializing in cosmetic medicine could focus on helping empower patients to feel their most beautiful. Dr. Chasin believes strongly that the best cosmetic physicians are those who are dedicated to mastering their craft through continuing education and collaboration with the industry's top doctors.