Our professional aestheticians have been carefully chosen for their extensive experience and ability to relate to our clients. Because every patient is unique, we will evaluate your skin and recommend a customized treatment plan.
Maybe you are noticing changes to your face but feeling unsure of what to do about them. Or maybe you are feeling run down or stressed out. At Reflections, we can help relax your mind and restore your skin to its former radiance with our skin revitalization devices, chemical peel treatments, and our wide array of customized facials options.
Aesthetician Treatment Quick Facts
Aesthetician treatments are relaxing & restorative
A wide array of customized facial options
Aesthetician-physician collaboration
High-quality, physician-approved aestheticians
Aesthetic Services Menu
Targeted Aesthetic Skin Treatments
DERMAFRAC $195 / Series of 6 $1050
Combination treatment of microneedling, anti-aging peptide serums, and pore-clearing suction. Each treatment includes the face and neck. Optimal results with 6 treatments scheduled 1-2 weeks apart. No downtime.

SAPPHIRE PHOTO ABRASION $160 / Series of 6 $850
Combines the power of wet and dry exfoliation, vitamin infusions, lymphatic drainage, and light therapy to resurface the skin.

DERMASWEEP $175 / Series of 6 $925
Provides gentle exfoliation, sweeping away dead skin cells and cleansing the pores. Can also include personalized infusions of anti-aging serums using the Epi-infusion setting.

CUSTOMIZED FACIALS $50 -$130
Customized facials are carefully curated to drive the results you care about while working together to enhance and maintain the results you're getting from treatments with our doctors, your skincare routine, and prescription at-home treatments.
Medical-Grade Skin Resurfacing Chemical Peels
Chemical peels create soft, even skin tone by reducing the appearance of mild scarring, acne, discoloration, and fine lines. Choose from these options for your aesthetic chemical peel (other peels are also available with our doctors, for different needs):

ILLUMINIZE ………………………………………………………………………………………$150
Salicylic acid, resorcinol, phytic acid, and alpha-hydroxy acids (mandelic and malic acid)

VITALIZE ……………………………………………………………………………………………$185
Resorcinol, lactic, salicylic, and retinoic acid

REJUVENIZE ……………………………………………………………………………………..$250
Salicylic acid, lactic acid, resorcinol, panthenol, isoceteth-20, retinoic acid
Frequently Asked Questions
About Our Aesthetician Services
What are the most popular aesthetician services?

Our most popular treatment, by far, is our customized medical facial offering. This offers great results for anyone with acne, sensitive skin, or skin that tends to get congested or is difficult to exfoliate at home on your own. A customized facial allows our aesthetician to do some of the heavy lifting of regular skin maintenance, and it's a relaxing, enjoyable experience, too!

How much should I be charged for a facial?

We charge between $50 and $130 for our facials typically, and the pricing depends upon the size of the area being treated and the techniques and tools being used.

What questions should I ask my aesthetician?

Ask our aestheticians for recommendations on skincare and daily care of your skin, as well as recommendations for which doctor to see for a free consultation for any bigger concerns that might require treatments. Robin has been a core member of our team for over 20 years now – so she has the inside scoop on nearly everything at our practice!

What is the main function of an Aesthetician?

Our aesthetician provides basic skincare as well as light treatments at a lower cost than our doctors could. This helps keep the cost of anti-aging maintenance under control for our patients.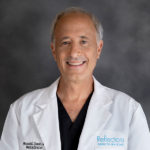 Dr. Mitchell Chasin founded Reflections Center for skin & body as a place where physicians specializing in cosmetic medicine could focus on helping empower patients to feel their most beautiful. Dr. Chasin believes strongly that the best cosmetic physicians are those who are dedicated to mastering their craft through continuing education and collaboration with the industry's top doctors.