This page is about changing your jawline to make it sharper or more angular or less square – in other words, tweaking your natural appearance, as opposed to fixing aging-related sagging and looseness and jowls, which we cover over on this page.
Jawlines are actually where we start to see some of the first signs of deeper shifting within the face due to aging, but they're also an area of the face that's come into the spotlight after years of being passed over. So is your jawline bothering you now because you've aged and changed, or is it that you've always had this problem? And how do you get a natural result that others won't be able to pinpoint, but will still create an impact in your overall image, preferably without breaking the bank?
Top Asked Questions About Defining the Jawline
What procedures define jawline?

Fillers, especially firmer ones like Radiesse, Volux (coming soon), Voluma, Lyft, and Defyne, and skin tightening/lifting procedures (for those with age-related skin laxity) like Sofwave, Ulthera, Thread Lifts, and Facelift surgery are the treatments that will help you get a sharper, more defined jawline. Defining the jawline requires either skin tightening and/or adding volume along the jawbone, which is why we selected the best treatments for achieving those results. Kybella can be used to reduce jowls (which is not going to then sharpen the jawline but will make it look better) and Botox can be used to create a more v-shaped or feminine face for those with TMJ or enlarged masseter muscles, but again this doesn't mean a sharper definition line between cheek, jawline, and neck.

What is the best treatment for jawline?

It depends upon what's wrong, or what you want to treat, right? Anyone who tells you there is one best cosmetic treatment that works wonderfully for everyone doesn't understand the nature of this type of work. Our doctors have amassed a huge amount of treatments and the expertise to be able to advise you, during your free consultation, about which treatments would be best for you. Generally for the jawline, we like fillers, botox, thread lifts, lasers, RF Microneedling, Ultrasound Tightening (Sofwave, Ulthera), laser lipo with skin tightening, and facelift surgery. Each of those is the best jawline treatment for a very specific patient with specific goals.

How much does it cost to get your jaw done?

This depends upon what you have done, but most people these days start with filler, and they typically need 2-4 syringes of filler, at a cost of around $1200 – $3,400 (financing is available). Filler is not a perfect solution that creates great results for every single patient - but, for most people, it can get them going in the right direction, or even help them get all the way to the end goal, and because it is affordable and dissolvable, it's a great first thing to try.
Understand What's Causing Your Jawline Problem, to Find a Natural-Looking Treatment
The key to getting a natural-looking result for jawline definition or shape is to understand the underlying anatomy and what is causing the issue in the first place. Now it can be age-related, we do all lose jawline volume as we age and it shows up as lack of definition long before we notice it as loose skin, but it could also be a jaw that's not positioned properly or just a genetic predisposition (something you've always had) towards an ill-defined jawline, or perhaps towards a jawline shape that you don't like. For many women, a square jaw and sharp definition looks overly masculine and unattractive for their face.

Natural Features You'd Like to Tweak
If you've always had a natural shape to your jaw that doesn't make you more attractive – maybe it's lacking definition at the back near the ear or it's always been a soft transition between cheek and neck that's bothered you – then generally filler is a really good way to augment the jawline and add in the volume that will enhance your face.
For women, sometimes the issue is that they have an overly square jaw and that makes them look more masculine. When this is caused by an enlarged masseter muscle, this can be treated quite easily with Botox or other 'Tox.
Extra Fat in the Neck or Double Chin
Often when we gain weight, or just due to a genetic predisposition, some fat accumulates in the neck just below the jawline, making the jawline look undefined. This is a very common concern when it comes to jawline sharpness, and is best-treated with laser lipo with a skin tightening treatment, like PrecisionTX with Smartlipo or ThermiTight with Laser Lipo. These treatments completely remove the extra fat and tighten loose neck skin, without the cost, downtime, scars, or risks of traditional liposuction or a necklift performed under general anesthesia.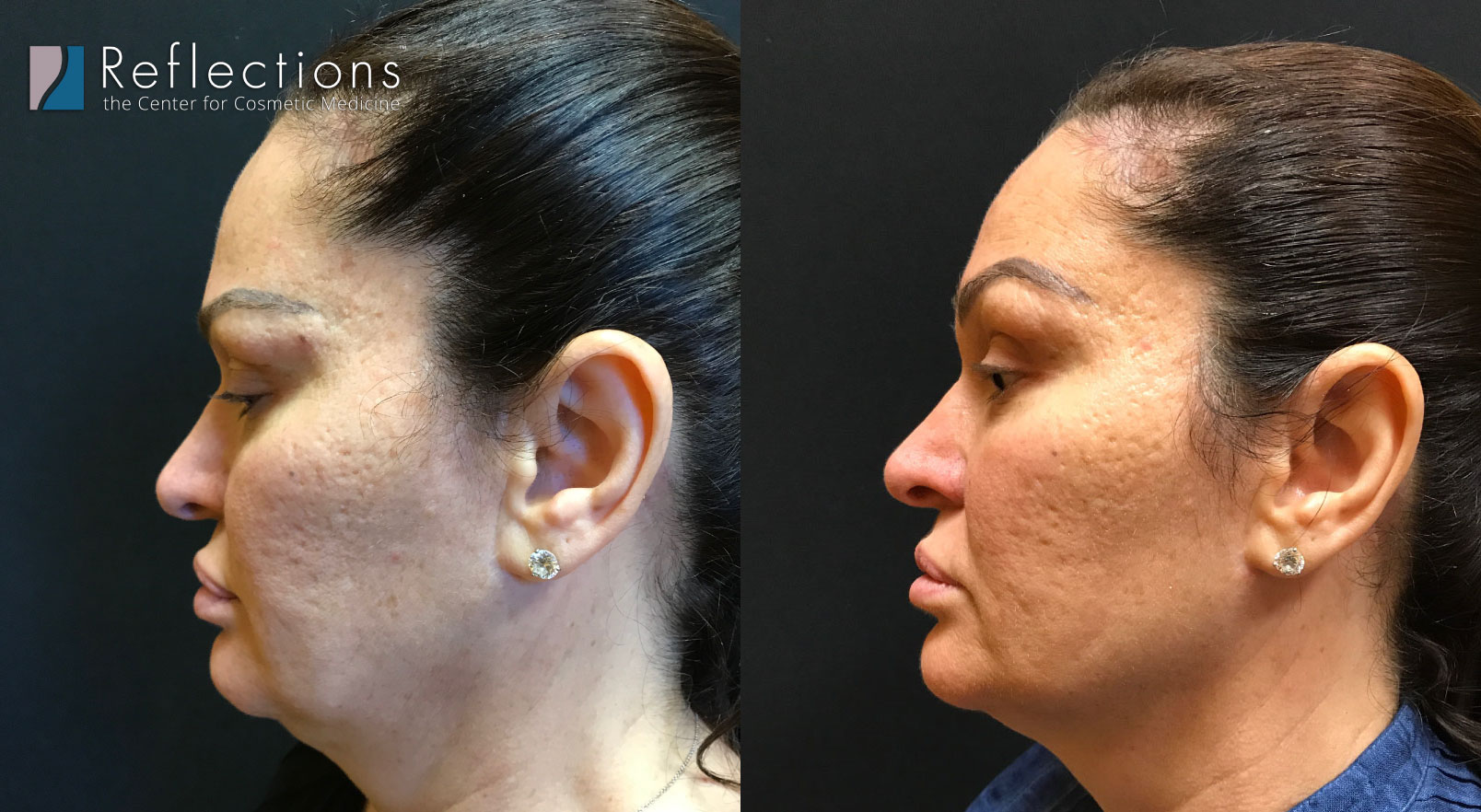 ""I tried out ThermiTight, the new laser that they said would help tighten the skin under my neck and jowls. I don't have a lot of wrinkles under my neck just hanging skin that I really hate. So I had the procedure two weeks ago and I like the results a lot!""
View My Story
""My Facelift looks so natural that no one knew I had work done. They just thought I look the best I have ever looked and can't believe my age.""
View My Story
Why Choose Reflections For Your Jawline Treatment
We've covered the complexity that underlies treating the jawline, and how much of it has to do with deeper anatomy, especially if you want to be able to create a natural result that's going to age well along with the rest of your face.
When it comes to natural results, Reflections has earned its reputation as New Jersey's best MedSpa by creating consistently great results on a wide variety of patients, and we believe that is due to the high quality standards in who we allow to perform these procedures, as well as our arsenal of the best technologies.
Schedule Your Free Consultation
The next steps you can take is to connect to our practice. Our team is ready to set you up with an essential part of the process, which is our initial consultation. The award-winning physicians at Reflections Center are here to answer all of your questions and help put you at ease during the process. You can find out more about our physicians on our team page. When it comes to jawline contouring, our consultation is free of charge. Reach out by filling out our form online or giving our practice a call.