Are your eyes your best feature? Many women and men want to make the most of their eyes with fuller, longer eyelashes. More dramatic lashes add glamour to your look and make your eyes look bigger – not to mention making you appear healthier and more youthful!
You don't have to rely on lash lifts, tints, lash extensions, falsies, or crazy layers of chunky mascara to improve your lashes – there's actually an easy solution that will grow your own natural lashes thicker, fuller, and longer – at a lower cost than lash extensions (not to mention without those lengthy appointments for refills, or looking crazy when you need a refill)!
Top Asked Questions About Latisse
How Does Latisse Work?

LATISSE is believed to affect the growth phase of the eyelash hair cycle by increasing the length of the growth phase and increasing the number of eyelash hairs that grow.

How is Latisse Used?

LATISSE is applied to along the base of the upper eyelashes once nightly, using a sterile applicator supplied with the solution.

What if I Get It In My Eyes?

In some cases, those with light-colored eyes who used Latisse's active ingredients in an eyedrop form (it was originally a medication in eyedrop form used to treat high pressure in the eyes) did see a change in the color of their eyes. It's very unlikely you would be poking Latisse into your eyes so frequently that you would cause this issue - just like you probably don't often have mascara end up in your eye. LATISSE has not been determined to cause harm to your eyes, so there's no need to rinse it out. You should be careful to keep the tip of the bottle or the applicator from touching your fingers, objects, or surfaces in order to avoid contamination with bacteria, similar to how you should handle mascara.

Can I wear mascara with Latisse?

You sure can. It's a great way to get the most out of your LATISSE enhanced lashes.

How much does Latisse cost at Reflections?

We sell the 5ml size for approximately $191 at each of our New Jersey locations. You will need a valid prescription to purchase, which our doctors can prescribe during any appointment with you (provided you are a candidate).
Scroll to more FAQs on this topic
What Causes Your Eyelashes to Become Thinner, Shorter, or Fewer?
The most common cause of damaged lashes these days is actually the use of lash extensions, chemical lash tints & flips, and strip lashes (falsies) – but it wasn't always this way.
The most common causes of shorter, thinning, or broken lashes used to be:
Rubbing your eyes due to allergies
Being too rough with lash curlers, mascara, or mascara removal
Genetic predisposition to fewer or short lashes
Aging & hormonal changes
Certain rare illnesses or medications
Whatever the cause of your lash concerns, Latisse can help you grow thicker, fuller lashes in a safe and natural way.
How Does Latisse Help Grow Fuller Lashes?
LATISSE is a prescription only topical solution that you apply each night at home to the base of the upper lashes. In a clinical study, the vast majority of patients experienced an improvement in overall eyelash prominence, most seeing results within one to two months – with full results expected after 16 weeks (all of the before and afters shown are at 16 weeks).
We are happy to offer LATISSE®, a safe, low-maintenance, prescription-only alternative to false lashes and lash extensions – and offers the kind of natural-looking and comfortable results that are almost impossible to achieve with those options. Since our patients always see a physician at Reflections, we are able to easily evaluate and prescribe this prescription for patients at their regular Botox, Laser Hair Removal, or other appointments at our practice.
The only FDA-approved treatment for growing eyelashes, LATISSE makes lashes grow longer, thicker, and darker – which is the opposite of what strip lashes and lash extensions do (we all know the damage and breakage – not to mention maintenance and expense those options come with).
Why Choose Reflections For Eyelash Help
In a word – convenience.
Latisse is a topical treatment used daily to help patients achieve thicker, fuller eyelashes. It is quick and easy to use, and can be applied in mere seconds. Plus, there is no recovery time needed after treatment, making it easy and convenient.
Reflections is a different kind of Cosmetic Practice – one that believes you deserve to see and be treated by skilled and experienced doctors. This is important for Latisse, because you do need a prescription that gets refilled periodically – and because you'll be seeing a doctor for all your routine treatments, like Botox and Laser Hair Removal, it's always easy to ask for a refill at any other appointment.
We also stock Latisse for purchase in both of our New Jersey office locations, Martinsville (in Bridgewater Township) and Livingston.
Are you ready to take the first step toward fuller, thicker lashes? If so, contact us today to learn more about Latisse and how it can benefit you-we offer free in-person consultations with our cosmetic physicians for Latisse.
Frequently Asked Questions About Latisse
When will I see results?

In a clinical trial, the majority of LATISSE users saw a significant improvement by two months. Optimal results can take up to 16 weeks for some people.

What if I forget to apply LATISSE?

If you miss a day, don't try to "catch up." Instead just apply it like normal the following day. Using LATISSE more than once a day will not increase the growth of your eyelashes more than daily use.

What happens when I stop using LATISSE?

Your lashes will eventually return to their previous appearance over several weeks or months.

Is it safe?

The safety and effectiveness of LATISSE has been supported in many clinical trials. The most common side effect after using the LATISSE solution was itchy or red eyes, reported in about four percent of users during testing. These symptoms went away after patients discontinued use of LATISSE.

Is LATISSE right for me?

LATISSE is a great, safe and effective way to increase the fullness of your lashes. Call today to consult with one of our expert physicians to see if LATISSE is right for you!
As time passes, it's not uncommon for physicians to find an alternative or...
Read More
A clear, glowing complexion and a few natural enhancements can help you...
Read More
Schedule Your Free Consultation
With One Of Our Physicians
Schedule Now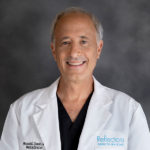 Dr. Mitchell Chasin founded Reflections Center for skin & body as a place where physicians specializing in cosmetic medicine could focus on helping empower patients to feel their most beautiful. Dr. Chasin believes strongly that the best cosmetic physicians are those who are dedicated to mastering their craft through continuing education and collaboration with the industry's top doctors.