Lip filler injections are one of the most popular cosmetic treatments in America, and our New Jersey patients love that they can customize the results of their procedure at Reflections, because our lip injections are always performed by expert physician injectors with the skill and experience (and filler inventory) to create the best results based on the patient's wishes.
Lip Injections Quick Facts
Natural-looking results, tailored to your aesthetic (plump, define, smooth, or all 3)
Only performed by physicians
Quick procedure: around 15 minutes
$650 – $750 average cost (for 1 syringe, which is typical)
How to Get the Best Results From Lip Injections: Fillers, Botox, Threads, & More
Plump: Increase the Size & Pouty-Ness of Lips
The most common request for lip fillers is to increase the size or poutyness of the lips. Fillers are amazing for this because they naturally resemble the soft tissue of the lips and can be injected precisely in certain areas to add natural volume in proportion with the rest of your features.
More Pouty, But Not Bigger?
A lip flip rolls your lips out a little, using Botox to tweak the muscles in your lips to create a pouty look all of the time. Our doctors do often use this in combination with fillers, but it can be done alone, too.
Smooth & Hydrate: Decrease Lines in the Lips
Most women, especially after 40, start to notice that there are far more lines on the red part of their lips than they want. When you're young, sometimes you can use a hydrating lip mask or balm to get rid of these, but they typically become permanent with age and very difficult to camouflage.
Define & Line: Create a Crisp Border in the Perfect Shape
As we age, we lose the crisp, raised border around the edge of our lips and for many women this leads to lip liner and lipstick that bleeds, and just a generally less beautiful and youthful-looking lips. The 2 best ways to treat this are either filler or smooth threads. Both work very well.
Other people just don't love the shape of their lips – this often has to do with the cupid's bow and lip height – both of which can be changed with filler or smooth threads. Generally, filler works better than threads for cases of asymmetry.
| Treatment | Duration | Characteristics | Best For |
| --- | --- | --- | --- |
| Kysse | Approximately 9-12 months | Medium-firm consistency, medium consistency hyaluronic acid filler | Ideal lip filler. Great for increasing size and plumpness, shape, texture and overall youthfulness. Known for swelling less than other fillers. Only filler made specifically for the lip |
| Juvederm (Ultra Plus) | Approximately 6-12 months | Medium-firm consistency hyaluronic acid filler; will attract & hold onto more water, especially during first few days (hydrophillic) | Plumper, pouty lips. Tends to swell initially |
| Restylane | Approximately 6-12 months | Medium-firm consistency hyaluronic acid filler | Precise lip shape changes, A bit firmer than Juvederm |
| Voluma | Approximately 18-24 months | Firm, bouncy consistency hyaluronic acid filler | Supporting skin around the skin that has become thin and wrinkled due to aging |
| Volbella | Approximately 9-12 months | Thin, flowing consistency hyaluronic acid filler | Good for creating smooth, more youthful lips, without increasing size |
| Vollure | Approximately 12-15 months | Cohesive gel medium-firm consistency hyaluronic acid filler | Good for white area above red lip and for lips with lots of changes from smiling, pursing, etc. |
| Refyne | Approximately 9-12 months | Cohesive gel medium-firm consistency hyaluronic acid filler | Slightly plumper lips, less swelling |
| Silk | Last 6-9 months | Thin, flowing consistency hyaluronic acid filler | Hydrated, smooth lips, Can be used in skin surrounding the lips for lip line smoothing |
| Belotero | Lasts 6-9 months | Thin, flowing consistency hyaluronic acid filler with no tyndall effect | Hydrated, smooth lips, Can be used in skin surrounding the lips for lip line smoothing |
Click To Expand
Patient Stories About Lip Injections
"I got my lips done for the first time ever, & I am so happy! I just wanted my lips to look fuller on top like they were when I was in my 20's, and they did exactly that!"
View My Story
"The difference in my lips is amazing! People say to me "Elena, you look so young!" and I say, "Dr. Johnson!"
View My Story
"I've seen tons of people where it looks really, I mean it's so overdone it looks like it may pop. So I didn't want to look like that at all, and Dr. Chasin is so good about that. What I love about him is he does not hesitate to tell you no."
View My Story
Why Choose Reflections Center for Lip Injections?
Reflections Center makes you a priority and we understand that each patient and their aesthetic goals are unique. Our team of plastic surgeons and aestheticians is highly experienced with the lip augmentation procedure, using both surgical methods and injectable dermal fillers to create a customized lip augmentation. For lip injections, we use hyaluronic acid fillers that are FDA-approved and proven to be safe and effective.
Our medical injectors are highly qualified and Reflections has earned both the Galderma Presidential Award since its creation and the Allergan Diamond Level Award for the past five years because of our exceptional care and the results we produce. Our injectors have even traveled across the nation to train other providers on safe injecting techniques.
Schedule Your Free Consultation
Our dermal filler consultations are complimentary so you can meet your medical injector, discuss your cosmetic concerns and goals, and develop the best plan for your lip injections. Your provider will listen carefully so that a beautifully sculpted lip based on your ideal look can be created. Whether you want a perkier pout or more symmetrical lips, a lip injection at Reflections can help!
If you're curious about Lip Fillers or any other Injectable treatment, we warmly welcome you to our offices for a complimentary one-on-one consultation with one of our cosmetic physician injectors.
How To Find The Best Lip Injector Doctor Near You
The experience of your injector is just as important as the quality of the product being used and all our injectors at Reflections are certified and highly experienced. Reflections Center has been named as Diamond-Level Injectors by Allergan, the creators of Volbella. Our experienced injectors are highly regarded for their skills and ability to customize lip fillers to each client's desired effect. We are honored to serve the New York community as recipients of this award.
When you arrive for your consultation, you may want to ask your provider which dermal filler they recommend, how you should prepare for your injections, and what the recovery process will be like. You should also discuss any underlying health conditions you have or current medications you are taking to ensure you receive a safe treatment plan.
Frequently Asked Questions About Lip Injections
What should I expect after lip fillers? How much swelling and for how long?


Swelling is going to happen any time you are injected with anything, that's the body's normal response. But it's not always visible to others (think about the soreness in your arm after an immunization – that's swelling, but it's not usually visible to others).

The lips are an area that's very prone to swelling (think of those lip-plumping glosses – that's how those work!). So everyone should expect to have some swelling in their lips if they are injected in that area. The degree of swelling depends upon your body's sensitivity, which filler or product is used (some cause more swelling than others), and what technique is being used to inject.

What are the advantages of lip fillers?

Lip fillers are a non-surgical procedure so you can expect a quick treatment with little recovery time. Lip fillers will also help you meet your aesthetic goals and give you a more youthful appearance by adding volume to the lips.

What are the risks of lip fillers?

Although these risks are minimal, bleeding, scarring, and infection are possible with lip filler injections, so it is important to receive treatment from a licensed medical practitioner.

Are lip fillers bad for you?

Lip fillers are a safe procedure that can boost your self-esteem. There are minimal risks or complications associated with this procedure.

Will lip fillers ruin your lips?

If too much lip filler is used, you can permanently stretch the skin or create an asymmetrical appearance.

Do lip fillers hurt?

A topical anesthetic or numbing cream can be applied to your lips to minimize any discomfort you might feel while the lip filler is being injected.

Are lip fillers permanent?

Lip fillers are not permanent which makes the procedure easily customizable. Depending on the filler used, results can last anywhere from a few months to a year.

Can you get lip fillers while pregnant?

It is recommended that you do not receive lip fillers while you are pregnant or breastfeeding. Lip fillers tend to stay within the injection sites, but it is possible for the filler to spread.

What is the lip filler recovery time?

Lip filler recovery is very minimal. Swelling, redness, and soreness around the injection site are common but these symptoms will subside within a couple of days after treatment.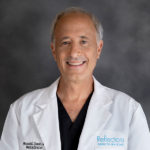 Dr. Mitchell Chasin founded Reflections Center for skin & body as a place where physicians specializing in cosmetic medicine could focus on helping empower patients to feel their most beautiful. Dr. Chasin believes strongly that the best cosmetic physicians are those who are dedicated to mastering their craft through continuing education and collaboration with the industry's top doctors.