The newly redesigned Exilis Ultra platform builds on the amazing results of the previous Exilis treatment, adding ultrasound into the radiofrequency device for even better results with shorter treatment times. Patients are often very surprised to learn how affordable Exilis is, with treatments typically around $400 – 500 per session – and once they undergo treatment, they are surprised with how quickly they see results.
Exilis Ultra is a non-surgical, non-invasive (no needles) procedure that uses radiofrequency and ultrasound transmitted deep into the skin to tighten, lift, and tone the skin. The ultrasound and radiofrequency waves work to heat the collagen fibers that form the skin's support structure. This web of collagen degrades naturally as we age and as our weight fluctuates. As it degrades, the skin becomes thin and loose. Heating these collagen fibers up helps create a "shrink wrap" effect in the short term, and causes the body to build more collagen in the long term.
Exilis Ultra Quick Facts
FDA-cleared device used for noninvasive fat reduction, skin tightening, and the treatment of wrinkles
Can be used to treat virtually any area of the body or face
Delivered in a series of three to six sessions (depending on treatment area), spaced one to two weeks apart
Treatments are comfortable and take less than an hour
No downtime and no aftercare are required
Pricing ranges from $300 – 800 per session
Best Treatment Areas For Exilis Ultra 360
With nearly every device in the cosmetic procedure industry, manufacturers seek to list their machine as being best-in-class for every possible application. The truth is, no one technology does everything well – that's why we have over 50 lasers and technologies in each of our New Jersey offices. The following are the treatments we find Exilis Ultra really excels at:
What is Exilis Ultra? How Is It Different Than Exilis?
Exilis Ultra 360 For Non Surgical Skin Tightening
Exilis has been in our office for several years now, and it was a great skin tightening treatment that used radiofrequency to tighten and tone the skin. Exilis Ultra 360 adds Ultrasound technology to the treatment, for a more controlled treatment with significantly better results. Ultherapy is one of the better-known ultrasound skin tightening treatments, but because Exilis Ultra combines ultrasound with radiofrequency, the treatment is very comfortable and does not require the numbing or downtime of Ultherapy.
The treatment area is marked by the operator and a conductive gel or mineral oil is applied. Next, a handpiece is glided over the skin as energy is delivered into the deeper layers of the skin. You'll feel a warming sensation as the Exilis handpiece is passed over the treatment area and energy is delivered to the deeper layers of your skin. Exilis is a well-tolerated treatment thanks to built-in cooling, which keeps the top layers of the skin at a suitable temperature while the deeper layers of the dermis are being heated. An onboard thermometer allows the operator to monitor and adjust the temperature of the treatment to ensure the procedure is comfortable.
Recovery & Downtime: None required
Numbing: None required
Cost: $400-$800 per session
Candidacy: Healthy adults who have specific problem areas of loose skin, excess fat, or wrinkles
Duration: 6-12 months
Why We Love It: Very comfortable and affordable with long-lasting results
Cost of Exilis Ultra in New Jersey: Areas Treated With Approximate Ranges
| | |
| --- | --- |
| Area | Pricing |
| Posterior or outer thighs and buttocks | $600 per session |
| Knees | $400 per session |
| Buttocks | $400 per session |
| Inner & outer thighs | $600 per session |
| Arms (upper) | $400 per session |
| Abdomen (belly – upper and lower) | $400 per session |
| Abdomen & love handles | $600 per session |
| Lower face & neck | $800 per session |
Patient Stories About Exilis Ultra Treatment
"The treatment is comfortable and relaxing. Like getting a hot massage to the area. "
View My Story
"I love the way it feels. It feels very gentle. It feels very calming."
View My Story
"My lips look great, fuller, and sexy, quite natural in appearance and my lipstick doesn't bleed anymore."
View My Story
Why Choose Reflections Center For Exilis Ultra Treatment?
Honest & Accurate Free Consultation with a Cosmetic Physician: Our body contouring consultations are free no-obligation visits with a cosmetic physician who will evaluate you and provide you with a treatment plan recommendation.
Highly Experienced & Knowledgeable Providers: Our providers have performed thousands of Exilis treatments, and we know how to keep the treatment comfortable, quick, and easy, while still getting you the very best possible results.
Competitive Pricing and Loyalty Rewards with Financing Available: Exilis Ultra is an incredibly affordable procedure, but we take it a step further by offering our patients an exclusive loyalty rewards program and financing available on packages over $1,000.
Schedule a Free Consultation
To learn more about Elixis Ultra and if it is a good match for you and your personal goals, contact Reflections Center today. Our friendly team will be happy to schedule your free consultation appointment with one of our skilled physicians.
Frequently Asked Questions About Exilis Ultra 360
Is Exilis the same as Thermage?

No, Exilis is not the same as Thermage. Exilis Ultra uses both radiofrequency and ultrasound energy to heat the skin. Thermage uses only radiofrequency to heat specific areas within the skin.

What is the difference between Exilis and Ultherapy?

Exilis uses both ultrasound and radiofrequency energy and controlled heating and cooling to cause the skin to tighten and build new collagen. Ultherapy only uses ultrasound energy and heats the muscles and skin to create firmer skin with fewer wrinkles. Exilis usually needs multiple treatments while Ultherapy typically only requires one. Exilis is better suited for larger areas, vs Ultherapy for smaller regions.

How long will my results last?

Exilis Ultra provides excellent results that tend to last years, but take annual maintenance treatments to maintain results.

How much of a difference will I see with Exilis?

Treatments like Exilis that work to stimulate collagen production can have different impacts on different people. Most patients see excellent results. However, there is no way for us to know exactly how your body will react to the treatment. Results tend to be better in younger, less sun damaged individuals and less in older individuals, over 65 and smokers.

When will I start seeing results?

Some patients may see results after the first treatment, but normally, it takes 2-3 treatments before the results really start to show. Depending on how you schedule your appointments, it can be between 3-6 weeks. We take a series of before and after photos to help patients more easily visualize their results.

Is Exilis Ultra right for me? Who's a good candidate?

Exilis Ultra is recommended for anyone who is a healthy adult with unwanted loose skin, excess fat, or wrinkles. The best results are achieved by patients with mild to moderate skin laxity or looseness. The treatment can be used on many different parts of the body including the face.

Is there downtime or recovery afterward?

Once the procedure is completed, you are free to go on with your day. There is no downtime or recovery period.  You might experience a little pinkness in the treatment area but it will likely disappear after 15-30 minutes.

Will I need numbing or anesthesia?

No, the Exilis Ultra treatment is very comfortable. You won't feel much discomfort at all. Most patients only feel a little heat in the treated area.

What is the treatment like?

It starts with the treatment area being marked by the provider and a conductive gel or mineral oil being applied. Next, the handpiece glides over the skin as it begins to send ultrasound and radiofrequency energy into the layers of the skin. At most, you'll feel a warming sensation. A thermometer on the device is used by the provider to ensure the treatment is safe and as comfortable as possible.

Is Exilis worth the money?

Exilis can certainly be worth the money. Many patients find Exilis beneficial. The best way to determine if the procedure is right for you is to schedule a consultation today.

Does Exilis 360 work?

Patient satisfaction with Exilis 360 is excellent. Patients have seen tighter and firmer skin and feel better about their body.

Is Exilis better than Coolsculpting?

While the two treatments have some similarities, Exilis's main application is to firm and tighten skin whereas Coolsculpting melts away fat.

How many sessions of Exilis do I need?

It depends on the area you're looking to treat. A bigger area may need more sessions. If the results you're looking for are more dramatic, you may also need more sessions. Typically, patients may require up to 4-6 treatment sessions.

Is Exilis 360 painful?

Most patients don't feel any discomfort at all. At most, you'll feel a warming sensation from the heat of the device.

Does Exilis make you lose weight?

Exilis is not meant to make you lose weight. It works to tighten skin and can melt some fat. A healthy lifestyle is recommended for those who receive the treatment.

Does Exilis tighten skin or burn fat?

Both! Exilis tightens skin and can melts small amounts of fat at the same time.

Can Exilis be used under the eyes?

Yes! Exilis can be used under the eyes to tighten any loose skin there. And by addressing the loose skin, it can also reduce the appearance of wrinkles in the eye area as well. We prefer to use thermismooth and Ifine for this area though.

What treatment should I do after Exilis?

After treatment, you'll want to stay hydrated but there is no downtime. You can go to work, perform your daily activities, and even exercise.

Does Exilis build collagen?

Yes! Exilis stimulates the production of collagen in the treated area. This improves elasticity and tightens the skin leading to firmer and smoother skin.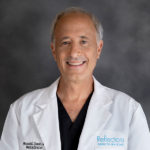 Dr. Mitchell Chasin built Reflections Center for skin & body as a place where physicians specializing in cosmetic medicine could focus on helping empower patients to feel their most beautiful. Dr. Chasin believes strongly that the best cosmetic physicians are those who are dedicated to mastering their craft through continuing education and collaboration with the industry's top doctors.