A warm, beautiful smile is a perfect first impression. When you don't love the way your smile or lips look, it can be a source of anxiety and self-consciousness. Our detail-oriented cosmetic physicians will help you chose the right procedure to fit your lifestyle and budget, to create natural-looking, beautiful lips and a smile that glows. We focus on creating subtle, natural-looking results that enhance and highlight your natural beauty.
Top Asked Questions About Lip Lines
What's the cost of lip fillers?

For our practice, the cost of lip augmentation or smile enhancement depends upon the procedure or product used. Dermal Fillers are the most common lip procedure, and they are priced by brand and number of syringes. A single syringe starts at $650, and most patients will have 1 syringe, although we do occasionally recommend a second syringe when significant augmentation is requested. Each of these products is very different. Juvederm offers soft, kissable lips with full volume and the ability to sculpt the lip shape. Restylane Silk and Volbella are thin products that work best to smooth out wrinkles and fine lines or create a "lip gloss" effect.

Can I change the shape of my lips without making them bigger?

Yes, absolutely! This is a common request, especially for women who have asymmetric lips or who have a lack of definition or shape to their cupid's bow. This can be done with Fillers and/or Botox, by our skilled physician injectors.

How long do lip injections last?

Filler in the red portion of the lip lasts around 6-18 months, depending upon which filler is used and your metabolism. Botox lasts between 3-5 months.
Scroll to more FAQs on this topic
What Can Smile & Lip Treatments Correct?
When it comes to creating a smooth, plump lip and balanced smile, precision artistry cannot be overstated. It is the work of the physician, not the tool he/she uses, that creates the majority of the result. This is why our physicians, who perform procedures for lip enhancement and rejuvenation many times each day, have the experience and skill to consistently create beautiful, natural-looking results on a variety of patients.
Too-Thin or Thinning Lips
The desire for fuller, pouty lips has certainly driven the popularity of lip fillers over the past decade, but you don't have to want kylie-style lips to appreciate the results of filler in the lips. Many of our patients want a natural, subtle plump, or perhaps a little more protrusion.
Changing the Shape of the Lip
Some people are looking for a more defined border to their lip, and others want a different shape. In either case, filler can help you achieve your lip goals!
Lip Lines on Aging Lips
Vertical lip lines, sometimes called smoker's lines, can appear in women as early as their 30's, and left untreated continue to deepen over time. They're caused by repeated motions or facial expressions, although that doesn't have to mean smoking – they can occur from drinking from straws and water bottles, pursing your lips, or other repetitive motions.
Lip Lines, or "Smoker's Lines", those vertical lines that form around the mouth are very common, especially in older patients. The collagen support for the skin around the mouth breaks down from repeated facial expressions, creating fine lines that become deeper with time.
Overly Gummy Smiles
Patients who have overly gummy smiles often tell us that they avoid smiling. This breaks our hearts. We love correcting this problem because it's so quick, easy, and inexpensive to fix, and creates such a huge sense of relief and joy for our patients. Just a few units of Botox usually does the trick. Very occasionally we will recommend dermal fillers to increase the lip size in addition to the Botox.
Our Favorite Treatments For Lips & Lip Lines
Our Patients' Lip Treatment Stories
"I felt very safe coming here."
View My Story
"I got my lips done for the first time ever, & I am so happy! I just wanted my lips to look fuller on top like they were when I was in my 20's, and they did exactly that!"
View My Story
"I couldn't be more pleased with my "under the radar" change in my youthful look and quality of my skin which glows beautifully as long as I stay out of the sun! "
View My Story
Schedule Your Free Consultation
With One Of Our Physicians
Schedule Now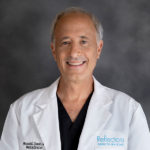 Dr. Mitchell Chasin built Reflections Center for skin & body as a place where physicians specializing in cosmetic medicine could focus on helping empower patients to feel their most beautiful. Dr. Chasin believes strongly that the best cosmetic physicians are those who are dedicated to mastering their craft through continuing education and collaboration with the industry's top doctors.