The liquid facelift has been Hollywood's best-kept secret for the past 15 years, and today it's more affordable than ever to get natural-looking facial contouring without cosmetic surgery using this special injectable technique. Using Botox and fillers, this non-invasive technique can lift, smooth, and create a naturally youthful facial appearance for both men and women.
Quick Facts About Liquid Facelift
Botox & Fillers for a Total Transformation
Performed Only by Doctors
$2,500 – $3,500 Typical Cost
No or Very Minor Downtime
Results Visible Immediately, Finalized at 2 Weeks
What Can a Liquid Facelift Do For You?
A liquid facelift is the right choice for you if you're looking for instant results with low commitment and no downtime, at an affordable price point. The liquid facelift procedure can help treat unappealing facial features such as:
Bunny lines
Deep tear trough (nasojugal groove)
Voluma is our very favorite filler for liquid facelifts, and almost every liquid facelift makes use of a couple of syringes of Voluma, and often more. So we decided to offer patients a unique, large discount on purchases of 4 syringes of Voluma.
Results From Liquid Facelift Treatments
"I tried Botox and Fillers for the first time, at age 45, and I love how I look! It was still me, but it was just a more refreshed look. I don't look tired; and my eyes don't look droopy or exhausted anymore."
View My Story
Why To Choose Reflections Center
For Your Liquid Facelift
It seems like everyone is offering Botox and hyaluronic acid-based fillers these days, but finding a truly gifted injector can be difficult. A skilled and experienced injector can make your results more long-lasting and better-looking so you don't seem "worked on". Here are three key things to look for that will help you find the best doctor for your liquid facelift in New Jersey, or anywhere else:
Experience: look for a doctor who's been injecting dermal fillers and Botox full-time for the past several years. If they have been, then they'll likely have some awards to show off – like a Top 250 Award from Allergan (makers of Botox and Juvederm), or a Presidential level award from Galderma (makers of Restylane). These awards show that they've purchased a lot of Botox and fillers, and prove they've got a good bit of experience under their belt.
Skill: read online reviews and look at before and after photos – are they skilled at creating the kind of natural-looking results you want for people who previously looked like you do now?
Training: Ask about your doctors' qualifications and training in injectables. Bonus points if they're training other doctors on how to inject!
Our practice has received a Top 250 / Diamond award from Allergan for the last 5 years and several Presidential awards from Galderma, we have high patient reviews ratings on all the top sites and a gallery full of great, natural-looking results, and our physicians frequently train other doctors on the newest injection techniques.
Read Our Blogs About
Liquid Facelift Treatment
Frequently Asked Questions About Liquid Facelift
What is the pricing for a liquid facelift?

At Reflections, we price our dermal fillers and Botox, the FDA-approved products used to achieve youthful facial contours, by the amount used. For Botox, that's $17 per unit, with most patients using between 15-45 units.

For dermal fillers, we price by the syringe, starting at $650 a syringe. Most liquid facelifts range between $2,500 – 3,500 at our New Jersey office locations. You'll receive a quote on your exact pricing based on your individual needs and wants during your free consultation with the doctor.

We also offer financing options for all our procedures, as well as an exclusive Reflections Rewards Plus program, which will allow you to enjoy loyalty savings on your treatments at either of our offices.

What's the downtime like? Will I need to take time off from work or social events?

You should expect some swelling and redness after your treatment. For most patients any redness resolves in a couple of hours and can be easily covered with makeup, allowing people to return to normal activities immediately after treatment. Swelling should be mild to moderate, although certain areas, like the lips, are more prone to swelling, and may stay swollen for a few days. Most patients find this swelling is mild enough that others wouldn't notice it, and so it shouldn't prevent you from returning to work or attending social events.

Bruising is rare but possible. Activities that raise your blood pressure, such as intense workouts, can increase your risk of bruising, so we suggest you avoid this for 12 hours following treatment. Should you develop a bruise, we will happily provide you with complimentary laser treatments to help speed up the healing process.

Vigorous rubbing of the treated area may negatively affect your results. Washing your face gently shouldn't create a problem, but laying face-down in a massage chair for an hour could be problematic, so plan to avoid anything like that for at least 24 hours.

What kind of numbing is used? Will it hurt?

A liquid facelift is a minimally invasive injectable procedure that is generally considered to be very comfortable by our patients. Botox injections are superficial and patients find these small pricks to be quick and easy. Filler injections are often placed deeper, but most filler products come with lidocaine, a local anesthetic, mixed into their formulation, which numbs the area as it's being treated. On the rare occasion that we use a filler without lidocaine, or for patients who are sensitive to treatment, we can use both topical numbing creams and lidocaine injections to ensure the experience is comfortable.

What's a one-needle liquid facelift? What's an 8 point facelift?

There are several different named techniques for liquid facelift floating around the internet these days. The 8 Point Facelift is a formulaic approach to the liquid facelift. It outlines exactly where to inject, in what order. While it may be a good framework for teaching newbie injectors how to view the face, we don't subscribe to a one-size-fits-all approach like this technique advocates.

A One-Needle Liquid Facelift is a technique that uses a single opening to inject the dermal fillers beneath the skin throughout the lower half of the face. We try to limit the number of injection points we use, and we use cannulas like this technique does (because it helps limit swelling and bruising), but we don't limit ourselves to a single injection point for everyone. Why? Because we care most about your results. Whether you have one, two, or more injection points doesn't affect your comfort during the procedure, overall risk, or the timing of the procedure.

Our physician injectors are trained in all of the top injection techniques and focus on creating the most natural results. We promise you'll be pleasantly surprised with what we're able to achieve during your liquid facelift procedure.

How is a vampire facelift different from a liquid facelift?

A vampire facelift uses platelet-rich plasma, a component of blood responsible for wound-healing and regeneration, to help patients look younger with regenerated skin. Paired with a technique like microneedling, lasers, or fillers, a vampire facelift is an effective way to jumpstart your skin's natural healing and re-growth process. A liquid facelift, on the other hand, simply uses dermal fillers to improve the profile of the face.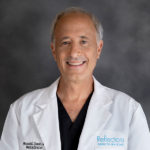 Dr. Mitchell Chasin built Reflections Center for skin & body as a place where physicians specializing in cosmetic medicine could focus on helping empower patients to feel their most beautiful. Dr. Chasin believes strongly that the best cosmetic physicians are those who are dedicated to mastering their craft through continuing education and collaboration with the industry's top doctors.