Worried about wrinkling veiny hands? We've got you covered. This page talks about some of the best hand rejuvenation solutions on the market that you can use to reduce wrinkling and revive your hands' youthful, smooth appearance. You will be surprised at how these injections will dramatically help you get rid of granny hands and improve your appearance.
Wrinkling is one of the most common signs of aging, but most people also experience a veiny appearance of prominent tendons to their hands as they age. Fillers are the best option for creating smooth hand skin.
Hand Injections For Rejuvenation Quick Facts
Non-surgically restores youthful volume in the hands.
Little to no downtime.
Results can last up to 2 years.
The Best Dermal Fillers For Hand Rejuvenation
Restylane Lyft
Restylane Lyft
 is a hyaluronic acid filler – meaning it is made out of a substance that is found naturally in our skin, making it quite safe. Restylane Lyft will fade out of the body over time, usually at between 1 to 2 years for the hands. It also has the advantage in that it is reversible, in the unlikely event it needed to be removed.
Restylane Lyft has a history as a facial filler but became FDA approved for use on the back of the hands. The FDA approved Lyft in 2018 following a successful clinical trial which revealed that the solution was both safe and effective for people looking to restore volume to their hands.
Restylane Lyft is an effective dermal injection for hand rejuvenation that thousands of Americans have used to slow aging in the hands. The hyaluronic acid in the Lyft is believed to produce collagen which increases the thickness and elasticity of the skin, in addition to restoring volume.
This is a perfect option for women with thinner skin and less fat in the hands. You may try this out if you believe your hands make you look older than your age. Patients typically need one syringe of filler per hand to complete this treatment.
Recovery & Downtime: Little to none
Numbing: Available on request
Cost: Discuss during free consultation
Candidacy: Healthy individuals looking to restore youthfulness to their hands
Duration: 1-2 years
Why We Love It: Hyaluronic acid in this product produces collagen and restores volume
Radiesse
Like Restylane Lyft, Radiesse Radiesse isn't new on the market as it has a rich history of use for smoothing facial wrinkles and folds, including nasolabial folds (lines or ridges that extend from the corner of your nose to the corner of your mouth) as well as improving the contour of the cheeks.
Radiesse has now been approved by FDA as an effective solution for correcting volume loss in the back of the hands. The treatment option speeds up hand rejuvenation and is quite safe.
Radiesse is a biostimulatory filler, meaning it stimulates the body to grow more collagen, an advantage over other types of fillers. It has the disadvantage in that injections of Radiesse are not reversible.
According to research published in the Journal of Cutaneous and Aesthetic Surgery, Radiesse is most ideal for older hands. This dermal filler creates firm volume, and for that reason, it's best in patients who have lost some bone volume, which is a normal part of advanced aging. Another research published in Dermatologic Survey showed high satisfaction with Radiesse.. Patients will usually require one syringe per hand for this treatment.
Recovery & Downtime: Little to none
Numbing: Available on request
Cost: Discuss during free consultation
Candidacy: Healthy individuals looking to restore youthfulness to their hands
Duration: 1-2 years
Why We Love It: Stimulates the body's collagen production for natural-looking results
Voluma Filler
Voluma filler
 is an injectable gel made from hyaluronic acid. It is a common facial filler used in restoring volume to the cheeks, but recently recommended for volume restoration in the hands. The treatment is administered through an injection in the hands. While some people are often concerned about the discomfort associated with the procedure, the treatment is quite comfortable. Voluma, Lyft and Radiesse all contain lidocaine which aids in the injection process.
Like Lyft, Voluma is reversible and will naturally fade out of the body over time. It can last for about 1-2 years for the hands.
Recovery & Downtime: Little to none
Numbing: Available on request
Cost: Discuss during free consultation
Candidacy: Healthy individuals looking to restore youthfulness to their hands
Duration: 1-2 years
Why We Love It: Hyaluronic acid in this product produces collagen and restores volume
Why Choose Reflections For Hand Filler Injections?
At Reflections Center, your safety and satisfaction are our top priorities. Only physicians perform dermal filler injections – not physician assistants, nurses, aestheticians, or technicians. Our highly experienced team of physicians will use blunt-tipped instruments called cannulas instead of needles to perform the injections. This is a safer and much more comfortable way to inject fillers and result in less downtime than using needles.
We use different techniques and apply a unique approach for the injections to minimize swelling in the area of the hands. The swelling is often easy to conceal from others, especially in winter when you can wear gloves out and about.
Choosing the right provider can make the difference between having mild side effects and adverse events. While all hand fillers have certain side effects associated with them, a more experienced physician injector can help minimize the unwanted outcomes of the treatments. Ready to get started? Book your free consultation with one of our physician injectors!
Dermal Fillers vs. Other Hand Rejuvenation Procedures
Dermal fillers are an ideal solution for just about anyone who desires to have younger, more attractive looking hands. Whereas fillers create a smoother surface to the hands, lasers (with laser skin resurfacing) can remove the brown spots and wrinkles caused by the sun that make our hands also look old. It is very common to combine dermal filler injections with laser skin resurfacing to turn back the hands of time.
See Our Gallery of All Kinds of Hand Rejuvenation Before & Afters, Including Lasers, Filler, and More!
Much like our faces, our hands lose volume and radiance as we age – this is very common, especially to those who stay in great shape. Add onto that the impact of the environment, including exposure to the sun and wind of shore season, the cold wind and free radicals of NYC winters, and household chores & chemicals, all of which cause wrinkles and volume loss of skin tone in the hand. But while people often use different facial cosmetic procedures to look younger, far less think about the tell-tale sign of aging – wrinkling and veiny hands – and they usually only think of it when the damage and aged appearance has far surpassed that of their face, neck, chest, etc. so that now their hands are the part of their appearance that is truly making them look older.
Your hands are as visible as your face. If your hands have started giving away your age, then dermal fillers might be a good option for you. Fillers such as Restylane Lyft and Radiesse are found to be highly effective at reducing wrinkles in the hands and are FDA approved to be both safe and effective.
Fillers in the hands are administered like cosmetic injections in other parts of the body to cause rejuvenation by adding volume and plumpness to an area that has lost it. As we get older, not only do we lose fat in the hands, we lose important skin building blocks such as collagen and elastin which makes the skin to get thinner. This is why you see the tendons and the veins in the hands more prominently, especially as aging sets in. People that keep their body weight down and those who have spent much time outdoors usually experience premature aging of the hands.
Frequently Asked Questions On Hand Filler Injections
How do hand fillers work?

There are several techniques in providing hand injections. For example, some doctors make multiple injections in small amounts between the tendons, while others may make one large injection in the center of the hand, and then direct the filler to where it needs to go once it's under the skin. At Reflections, the physicians used blunt tipped instruments called cannulas to inject, as this is a more comfortable, less traumatic means of injections. Non the less, due to the large number of blood vessels in the hands, bruising after treatment is possible.

All of the fillers that we use at our New Jersey offices are proven safe and FDA-Approved, but only Radiesse & Lyft have clinical trials and FDA approval proving they are effective at reducing the impact of aging in the hands.

How much do hand fillers cost?

On average, patients can expect to spend between $750 – $1600 for their hand filler procedure performed by our physician injectors in our New Jersey offices.

The final cost of your dermal filler will vary, depending on the product used for the procedure and the number of syringes necessary. Regardless of which one you and your injector choose to use, you'll likely need 1-2 syringes per session – and some patient find they do need a second session (which can be planned after 6 weeks, when the finalized results from the filler have settled in – before then expect some swelling, which can actually make your hands look smoother, so not a bad thing afterall, right?).

What is the best filler for hands?

All fillers can work fine, but the selection is based on the firmness of the support needed. Before your procedure, a proper diagnostic evaluation will be carried out on your hands to determine which filler will work best.

While Lyft and Voluma work effectively for restoration of soft tissue, Radiesse produces more firm results. Therefore, the question about which filler is best fit for your hands depends largely on which tissue you've lost due to aging, and not choosing the cheapest option. It's important to consult with an experienced injector to get the right results.

What is the downtime of hand fillers?

Like most injectable procedures, there should be no true downtime after receiving hand fillers. Patients may return to their normal activities after the procedure. However, in some people, there are transient side effects such as minor swelling and bruising, that may make certain activities less comfortable. Usually with hand fillers, this won't prevent you from doing normal activities, especially after the first day.

You may also have bruising, but it will heal quickly as well. Most people return to their normal routine immediately after their appointments. Meanwhile, you're advised to avoid strenuous activity and exercise for at least 24 hours after the procedure, because raising blood pressure can make any small bruising into a much bigger bruise.

If you do find you have large bruises, please contact us – we offer free laser therapy in each of our New Jersey locations to help speed up bruise healing to all of our injectables patients.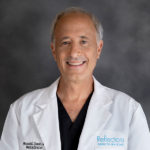 Dr. Mitchell Chasin built Reflections Center for skin & body as a place where physicians specializing in cosmetic medicine could focus on helping empower patients to feel their most beautiful. Dr. Chasin believes strongly that the best cosmetic physicians are those who are dedicated to mastering their craft through continuing education and collaboration with the industry's top doctors.