Reflections was the first cosmetic rejuvenation center to offer ZERONA® in New Jersey, but after a few test runs with our staff and a handful of patients, we determined that this non-invasive fat reduction technology didn't meet our high standards of efficacy. We returned our units, and in their place have assembled a set of devices that produce reliable results.
Quick Links To Other Fat Reduction Technology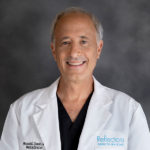 Dr. Mitchell Chasin founded Reflections Center for skin & body as a place where physicians specializing in cosmetic medicine could focus on helping empower patients to feel their most beautiful. Dr. Chasin believes strongly that the best cosmetic physicians are those who are dedicated to mastering their craft through continuing education and collaboration with the industry's top doctors.