Most commonly used for creating a smooth lip surface, Volbella is a very low molecular weight hyaluronic acid dermal filler that flows into lines. Volbella is a hyaluronic acid dermal filler used to enhance and augment the lips and mouth.  Volbella utilizes the same Vycross technology that has made Voluma so popular. Vycross provides a bouncier feel to the product, which helps the product to move naturally and retain its fullness over time. Volbella creates longer-lasting results than the other popular lip fillers, including Juvederm Ultra, Restylane Silk, and Belotero Balance. Volbella's results typically lasted 1 year in clinical studies.
Volbella Quick Facts
Little to no downtime
Quick and easy treatment
Results last up to 1 year
Most Common Uses for Volbella Lip Injections
Lip augmentation with dermal fillers has become very popular in the past few years, due in part to celebrities who've had this procedures. But Kylie Jenner's look is not for everyone. Most of our patients want subtle, natural-looking results, and Volbella helps us create that look by treating a variety of concerns.
Vertical Lip Lines – Creating A Smoother Lip
Vertical lip lines come in a variety of forms. Sometimes called "smoker's lines" or "water bottle lips," vertical lines that extend beyond the vermillion (pink-colored portion of the lips) usually come from repetitive motions or sun damage, and generally appear as part of the aging process. Creases or folds within the lip are the beginning stages of vertical lip lines, and can appear even in patients as young as their 20s.
Volbella is one of the only FDA-Approved dermal fillers to be clinically proven safe and effective to treat vertical lip lines.
Volbella is formulated with Vycross technology, which gives this filler extra bounce and resiliency. Because your mouth is a high-movement part of the face, the fillers used here need that extra boost to create a lasting result. Volbella has been proven to last longer than other hyaluronic acid fillers for lip line correction, at an average duration of 1 year.
This patient received 2 syringes (1.5ml) of Volbella for lip lines and lip outline contouring. A smaller amount would have been used to create only one of these effects. It is possible to create a smoother area around the lips with Volbella, without augmenting the lip volume.
Recovery & Downtime: None
Numbing: Available if requested
Cost: Schedule a consultation
Candidacy: Adults looking to achieve smoother, more defined lips
Duration: Up to 1 year
When to see results: Immediately after injection and improved results once swelling subsides
Lip Outline Contouring – Creating A Different Lip Shape

Volbella is the first dermal filler to offer the ability the proven ability to redraw the contours of the lip shape, creating a curvier lip outline. Think of Volbella as your new lip liner – one that never rubs off! This is a new innovation in the field of lip augmentation, and it's exactly what many of our patients have been asking for. If you're unsatisfied with thin lips, but don't want to look "ducky" or over-filled, Volbella can help you create a curvier lip contour without creating forward projection of the lip.
Recovery & Downtime: None
Numbing: Available on request
Cost: Schedule a consultation
Candidacy: Adults looking to achieve a curvier lip contour
Duration: Up to 1 year
When to See Results: Immediately after injection and improved results once swelling subsides
Lip Augmentation – Creating Fuller, Larger Lips
For those looking for the ultimate plump, Volbella can be paired with other dermal fillers to layer volume for natural-looking movement and results that last.
If you're looking for a plumper pout that outlasts Restylane Silk or Juvederm Ultra's 3-6 month duration, Volbella is going to be your new favorite filler. Volbella's results have been shown to last for an average of 1 year. That's because Volbella utilizes the Vycross technology that has made Voluma such a success for cheek augmentation. Vycross technology makes the product bouncier, and more resilient, which is the key to a long-lasting result in high-movement areas like the cheeks and mouth.
Recovery & Downtime: None
Numbing: Available on request
Cost: Schedule a consultation
Candidacy: Adults looking to achieve fuller, plumper lips
Duration: Up to 1 year
When to See Results: Immediately after injection and improved results once swelling subsides
Volbella Rewards Programs – Beyond Alle (Formerly Brilliant Distinctions)
Volbella belongs to the Juvederm family of dermal fillers. Allergan, the manufacturer of these fillers, as well as Botox and Kybella, offers Allē (formerly Brilliant Distinctions )rewards for patients who purchase these procedures through select offices, including Reflections. You can redeem your points as cash discounts on future treatments with their products.
Reflections offers our own rewards program, called Reflections Rewards. Any patient can join our reward program, and can earn rewards based on purchases, referrals, and several other activities. To learn more about Reflections Rewards and enroll today, Click Here.
Volbella patients can stack rewards from both of these programs for Double the Rewards at Reflections!
Patient Stories About Volbella
"Well, my experience was great, your assistant held my hand, it didn't hurt and I look great."
View My Story
"Everything looks SO natural, but making these couple improvements has really increased my confidence - I feel and look so good!"
View My Story
"Now I can't wait to get up each morning and look at myself. It's a new me, but still me."
View My Story
Why Choose Reflections For Volbella Injections?
The physicians at Reflections have won multiple awards for their skill and experience in injecting dermal fillers. Most recently, we were named Diamond-Level Injectors by Allergan, the makers of Volbella. Our physicians have dedicated their careers to the field of cosmetic medicine, allowing them to spend a large portion of their time perfecting their dermal filler techniques. At Reflections, you'll always receive treatment from our experienced cosmetic physicians (real medical doctors) and never a nurse injector, aesthetician, or dentist.
When it comes to dermal fillers, the injector matters much more than the product. Our dermal filler consultations are always complimentary and offer you the ability to meet one-on-one with your physician injector to develop the perfect plan for your lip injections as well as to discuss any other cosmetic concerns you might have. We'll never push products or services you don't need and we'll be honest and open about what results you can expect from your treatment package. If Volbella isn't right for your goals, we'll help you select from our wide variety of industry-leading injectable treatments.
Schedule Your Consultation
To find out if Volbella is the right option for you, contact Reflections Center today to set up an initial consultation. Our award winning team of cosmetic & laser physicians can provide the right recommendations to meet your aesthetic goals. If you're an existing patient, you can give our offices a call, instead.
Frequently Asked Questions On Volbella Injections
What are the different injection techniques for Volbella?

Cannulas vs. Specialty Needles

Cannulas, micro-needles, and specialty needles have gained a lot of attention as the hallmarks of advanced injection techniques among the nation's best cosmetic physicians. When it comes to lip injections, our physicians utilize a variety of needle types, injection techniques, and dermal filler layering strategies, based on the individual's anatomy and goals, to create a result that looks and feels perfectly natural whether you're smiling, kissing, eating, or at rest.

We Prefer Cannulas and Specialty Needles For Volbella Injections. Here's Why:

Cannulas are blunt-tipped needles with a larger circumference. They allow the physician to precisely deliver the product in a comfortable manner, with a much lower risk of bruising. Typically, a cannula technique uses fewer injections to achieve the result than traditional, smaller needles. Less injections makes the procedure more comfortable, and helps limit the trauma that causes swelling and redness for dermal filler injections. Cannulas are our tool of choice for adding volume to the lip with Volbella.

Specialty needles come in a variety of sizes and allow our physicians the precision to correct lip shape (the lip liner effect) and smooth away vertical lip lines. These two concerns require masterful placement of the Volbella filler close to the skin's surface. Specialty needles allow very small amounts of the product to be placed in exactly the right position.

What is the cost of Volbella injections?

At Reflections, we price all dermal fillers, including Volbella, by the syringe. We offer significant package discounts when 2 or more syringes are purchased at once.

Click Here to learn more about financing options at Reflections

Who is a candidate for Volbella lip injections?

Volbella is a good fit for patients over 21 who seek to improve the shape, fullness, and/or contour of their lips. Volbella is perfect for a first-time procedure for lip augmentation, because it is dissolvable and temporary (lasting around 1 year), offering patients the peace of mind of being able to "try out" their results.

How long do results last?

In clinical studies, Volbella's results lasted around 1 year, on average. That's 2-4x longer than other dermal fillers used in the lips.

Are there risks and side effects?

The most common side effects from Volbella are redness and swelling at the injection site. Nearly everyone experiences swelling, which typically goes away within the first 24 hours. Very commonly, especially for patients who are receiving their first lip injections, this swelling is mistaken for an overly full result. Do not worry if you think you're lips are a little too big at first. In about 24-48 hours after your injections, you will see your final result, when swelling subsides. If you are concerned after 48 hours that your lips are still too large, please call our office. Volbella is dissolvable, and the results can be reduced, or in many cases, completely undone.

Bruising is a risk for Volbella as well. We generally prefer to inject Volbella with a cannula, a special type of blunt needle, which limits bleeding and risk of bruising. For this reason, bruising with Volbella is very rare among our patients. If you do experience bruising, a treatment with the VBeam Perfecta laser can speed up the recovery. Call our office to discuss bruising reduction therapies if you notice bruising following your Volbella treatment.

With all dermal fillers there is a very rare but serious risk of embolism and skin death. Because filler is injected in small droplets, it is possible for those droplets to enter the blood stream. This complication can be treated and usually has no long-lasting side effects when treated early. If you notice pale areas or dark areas near an injection site, please call the office or go to the emergency room immediately. Left untreated, this complication can become serious. Again, if detected and treated early, it is typically easy to treat, with no lasting effect.
Planning For Your Treatment
With Volbella
Stop Supplements & Vitamins
First, you want to stop any supplements and vitamins that might increase your risk for bruising or prolonged swelling. Those supplements are: Vitamin E, Fish Oil (or Krill Oil), and non-prescription blood thinners (aspirin). You'll want to stop these a week before your injections, if possible.
Don't Stop Prescribed Medications
Do not stop any prescribed medications (including an aspirin regimen if your doctor has asked you to be on one). Do not worry if you forget, or are unable to stop these supplements, your results and health will not be affected by having injections if you have been taking these supplements. This step is just precautionary, to help minimize your swelling and risk of bruising.
If You've Previously Had Cold Sores
If you've had cold sores in the past, it might be advisable to take a course of Valtrex prophylactically, in order to help prevent a flare from lip injections.
Redness & Swelling
Most patients experience swelling and redness for a few hours following injection. You'll receive numbing before the injections, and ice to help reduce the swelling and inflammation immediately following your injections.
Give Ample Recovery Time For You
Many patients still feel comfortable continuing their normal routine, but if this is your first time having lip injections, you might want to come in for a later appointment in the day, and plan to take the evening off, to be sure you feel comfortable with how your lips look before you show them off to the world.
SPF Protection
Because your lips will be sensitive, an SPF lip balm is a good precaution to take, especially if you've had cold sores in the past. We always recommend sun protection, but it's particularly important to protect your lips for as long as they remain swollen or inflamed.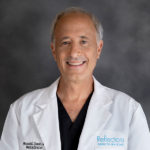 Dr. Mitchell Chasin founded Reflections Center for skin & body as a place where physicians specializing in cosmetic medicine could focus on helping empower patients to feel their most beautiful. Dr. Chasin believes strongly that the best cosmetic physicians are those who are dedicated to mastering their craft through continuing education and collaboration with the industry's top doctors.