Are you seeing changes on your face, and feeling unsure what to do about them? At Reflections, we can help restore your skin to its former radiance with our chemical peel treatments.
Skin care at Reflections is medically based ensuring noticeable results. Our aestheticians work directly with our physicians to customize a treatment plan that addresses your needs. Aesthetic services are effective on their own, and help maintain the fabulous results of our many leading-edge laser treatments. Chemical peels are performed by our aestheticians to improve skin texture and tone, and enhance absorption and effectiveness of topical treatments applied during an office visit.
Quick Facts About Chemical Peels
Improve smoothness, softness, evenness of skin tone, fine lines, and absorption of skincare
Range from $150 to $250
Provided by Medical Aesthetician, Supervised by Physicians
Available in Both of Our New Jersey Offices
Improve Your Skin's Texture & Tone With Chemical Peels
A chemical solution is applied to the skin in a controlled manner to remove outer layers of aged and sun damaged skin. After healing, new skin is generated that is smoother and fresher in appearance.
Reflections feature a variety of chemical peel options, including the SkinMedica line of peels from Allergan, the makers of Botox®. These effective and results-oriented peels come in a variety of strengths, each designed to provide a visible improvement after one treatment and wonderful results after a series of visits.
Illuminize Peel – $150
The Illuminize Peel is the gentlest peel available in the SkinMedica line, just right for mild skin imperfections like fine lines and wrinkles, sun damage and slight irregularities with pigment. It will have your skin looking more radiant and feeling tighter with little or no visible peeling.
Active Ingredients Include: salicylic acid, resorcinol, phytic acid, and alpha-hydroxy acids (mandelic and malic acid)
Recovery & Downtime: Little to none.
Numbing: None
Cost: $150
Candidacy: Patients with mild skin imperfections.
Duration: Rejuvenated look for up to 1 week. Can be repeated every 2 weeks for long term results.
Why We Love It: Decreases the appearance of pore size, hyper-pigmentation/age spots, and fine lines/wrinkles.
SkinMedica Vitalize Peel – $185
The SkinMedica Vitalize Peel is a more aggressive approach to treating sun damage, acne-prone skin, and fine lines and wrinkles, making it perfect for people with moderate skin imperfections. A retinol solution is incorporated to enhance exfoliation with this well-tolerated peel that requires little to no downtime.
Active Ingredients Include: resorcinol, lactic, salicylic, and retinoic acid
Recovery & Downtime: Little to none. Peeling for 2-5 days.
Numbing: None
Cost: $185
Candidacy: Those with mild to moderate skin imperfections.
Duration: Significant, long-term results seen after 3-6 treatments.
Why We Love It: Diminishes the appearance of fine liens and wrinkles, skin tone unevenness, acne scarring, and hyperpigmentation.
SkinMedica Rejuvenize Peel – $250
The SkinMedica Rejuvenize Peel targets the deeper layers of the dermis for the most aggressive treatment of sun damage, fine lines and wrinkles, pigmentary irregularities and acne-prone skin. This peel will provide noticeable results after the first treatment, and significant results after a series of four to six treatments, all with minimal downtime.
Active Ingredients Include: resorcinol, panthenol, isoceteth-20, eetinoic acid
Recovery & Downtime: Minimal
Numbing: Available on request
Cost: $250
Candidacy: Those with moderate to severe skin imperfections.
Duration: Significant, long-term results after 7-14 days.
Why We Love It: Smooths fine lines and wrinkles, sun damage, melasma, and acne scarring.
Why Choose Reflections For Chemical Peels
Because every patient is unique, we will evaluate your skin and help determine which treatments are best suited to your skin and your aesthetic goals.
Whatever treatment you choose, our goal at Reflections is to leave you not just looking better, but feeling better too. With the help of our professional aestheticians, you'll feel rejuvenated, and be transformed both inside and out.
Our aestheticians work closely with our physicians and have decades of experience working in a science-first medical environment, so you can trust their recommendations are rooted in both experience and scientifically proven techniques. You can trust your investment in care at Reflections will be worthwhile and will fit into a larger plan for looking and feeling your very best!
If you are interested in learning more about chemical peels and if this treatment is right for you, contact Reflections Center today to schedule your free consultation! One of our skilled aestheticians will speak with you regarding your medical history and aesthetic goals to create a personalized treatment plan to help you achieve healthy and beautiful skin.
If you get a regular eight hours of sleep, then you're setting yourself up...
Read More
Some of the most frequent concerns we hear about Botox and fillers are: how to...
Read More
Frequently Asked Questions About Chemical Peels
Would laser treatment be a better option for my skin type?

While chemical peels offer real results with little to no downtime, there are simply things that cannot be achieved without the use of advanced laser therapies, which are revolutionizing skin care. The Reflections team is happy to discuss the many laser options available that can help you more quickly achieve your treatment goals.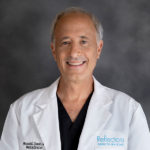 Dr. Mitchell Chasin built Reflections Center for skin & body as a place where physicians specializing in cosmetic medicine could focus on helping empower patients to feel their most beautiful. Dr. Chasin believes strongly that the best cosmetic physicians are those who are dedicated to mastering their craft through continuing education and collaboration with the industry's top doctors.