The erbium laser removes the top layers of the skin with accuracy and precision, revealing a smoother, healthier, and more vibrant complexion. The erbium laser peel, also called the "Smooth Peel" is a much more safe, controlled, and precise way to refine the skin and create healthy skin rejuvenation, without the need for harsh chemicals.
Erbium Laser Quick Facts
Helps reverse the effects of sun damage
Requires little to no downtime
Can be safe for more brown skin tones
Treats for concerns like fine lines, wrinkles, and hyperpigmentation
What Is The Erbium Laser Like?
Erbium Laser Smooth Peel Procedure
The erbium laser peel begins with the application of a topical anesthetic for about 30 minutes. The treatment itself takes about 20 minutes and is performed along with the application of a cool stream of air for your comfort. You will have the feeling of mild sunburn after the treatment and this will last about 90 minutes. Within a period of two to three days, the skin will peel, revealing smoother, healthier, more vibrant-looking skin. The use of a high SPF broad-spectrum sunblock, and intensive moisturizers are recommended after the procedure.
The erbium laser Smooth Peel is used to treat:
Treatments provide smoother, more uniform skin tone and texture. Makeup will go on easier and you will look and feel younger.
Recovery & Downtime: Skin peeling for 2-3 days, use rich moisturizers, avoid sun exposure
Numbing: Topical anesthetic
Cost: Discuss at a free consultation
Candidacy: Anyone looking for smoother, more uniform skin tone and relief from mild laxity
Duration: Up to 6 months
Why We Love It: Powerful laser skin resurfacing that signals the skin to regenerate more quickly for long-lasting improvement
Frequently Asked Questions About Erbium Laser
What should I do before my treatment?

Tanning should be avoided before and after the treatment. For individuals with a history of cold sores, antiviral prophylaxis should be utilized.

What is the downtime with erbium laser?

Two to three days of downtime are required for your skin to heal after the procedure. For individuals without the ability for downtime, the treatment can be performed more gently and repeated once monthly for three months.
Tridermal rejuvenation® refers to the combination of three specific different...
Read More
Men and women who spend their summers by the pool or at the beach trying to...
Read More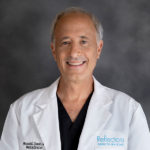 Dr. Mitchell Chasin founded Reflections Center for skin & body as a place where physicians specializing in cosmetic medicine could focus on helping empower patients to feel their most beautiful. Dr. Chasin believes strongly that the best cosmetic physicians are those who are dedicated to mastering their craft through continuing education and collaboration with the industry's top doctors.