As we age, our faces experience changes to underlying structures that create an older look. At Reflections, our facial plastic surgery team works to address all of the underlying causes of an aging appearance, rebuilding a youthful face, from the foundation to the finishing touches, to create a lasting, natural look. This unique, non-surgical approach creates lasting correction of thin skin, lines, and wrinkles, puffiness, hollowed-out eyes, and dark circles.
IdealEyes Treatment Quick Facts
Non-surgical eye rejuvenation
Skin texture improvement around the eyes
Firming skin tone in areas of laxity
Brightening the whole under-eye area
Today's Best Treatments Using IdealEyes for Under Eyes
IdealEyes combines fat transfer with CO2 ablative laser skin rejuvenation to restore a naturally youthful look to the undereye area, without the risks, costs, and downtime of traditional blepharoplasty (eyelid) surgery. Here are some different ways you can use IdealEyes to meet your aesthetic goals:
IdealEye for Puffy Bags
As we age, the fat from the edge of our lower eyelids down to the cheekbone loses volume, creating an uneven surface texture and excess skin. Sometimes what we think is puffy excess fat in the undereye area is actually the underlying tissue structures, which are curved mounds becoming more prominent as we lose the smooth, soft layer of fat between skin and muscle. This loss of volume makes wrinkles and folds in the skin more apparent and casts shadows that can lead to a darkened appearance.
This loss of volume leads the skin to wrinkle and sag. Traditionally, lower blepharoplasty (eyelid surgery), removes this loose skin, and often even removes what little fat remains. Despite this procedure's goals, this creates a gaunt, hollowed appearance, and makes you look different, not younger. By understanding the changes to the anatomy that occur during the aging process, it becomes clear that the results you desire – a naturally youthful undereye area – require careful repair of the changes caused by aging, and that making surgical alterations that move you further away from the original anatomy will only produce a different look, not a restoration of the youthful anatomy.
IdealEye for Dark Circles
Dark circles can appear darker due to shadows, but the purple hue some people experience in this region is actually due to blood pooling under very thin skin, with little to no fat between the skin and blood vessels. This is addressed during the IdealEyes treatment by thickening the skin with laser treatments and replacing the missing fat between the blood vessels and the skin.
IdealEye for Wrinkled & Thinning Skin
The delicate skin around the eyes grows thinner with age. Sun damage and dehydration degrades the skin's natural abilities to repair itself, making it more sensitive, dull, and crepey. The laser skin resurfacing portion of the IdealEyes treatment works to erase sun damage, tighten up loose skin, and rebuild lost collagen, for thicker, plump, smooth skin. Then, fat transferred to the undereye replaces the lost volume that contributes to the severity of wrinkles.
Together, these two processes smooth away wrinkles, looseness, and uneven tone and texture, as well as thickening the skin and restoring normal elasticity.
Why Choose Reflections
For Ideal Eyes
Your eyes are usually the first part of your face that shows aging signs, but everyone ages differently around the eyes. The IdealEyes procedure allows your plastic surgeon to repair the damage to tissues caused by constant rubbing of eyes, inflammation, and aging, in a way that's perfectly tailored to your unique experience with the aging process. Best of all, this can be performed without the need for invasive surgery or general anesthesia.
IdealEyes is Reflections Center's offering of highly customized procedures that don't require surgery, using tools and procedures such as RF microneedling, laser resurfacing, and fat transfer for added volume. The IdealEyes plan that's right for you will not be a pre-determined package that may or may not actually address your needs, but a targeted treatment option for specific concerns, like volume loss, sagging skin, and darkened under-eyes.
Eye Rejuvenation Without General Anesthesia
The IdealEyes procedure is performed under Comfort Calm Local Anesthesia in our private, state-of-the-art surgical suite, located in our Martinsville & Livingston offices in New Jersey. Comfort Calm Local Anesthesia allows our patients to be comfortably relaxed but gently awake during their treatment, and this contributes to a safer procedure with more natural results and a shortened recovery period.
Frequently Asked Questions About IdealEyes
Who can benefit from IdealEyes?

The majority of changes to the undereye area are caused by genetic factors, although sun damage can play a role as well. Unfortunately, that means many young patients experience these concerns, as well as older patients. IdealEyes allows a trained surgeon to recreate a natural and timeless look that benefits patients of all ages. Because IdealEyes is a minimally invasive procedure, it easily fits into busy schedules, providing a shortened recovery period compared to other undereye procedures.

Is IdealEyes a surgery? How is it different than traditional blepharoplasty surgery?

IdealEyes is an alternative to traditional surgery for the lower lid. IdealEyes corrects the changes that occur to the anatomy of the undereye during the aging process to create a naturally youthful appearance that lasts, without incisions, removal of any skin, or general anesthesia.

What if I've been told my dark circles and undereye bags are caused by allergies?

Patients with allergies tend to experience the worst dark circles under the eye. This is because of the inflammation of the eyes and nearby sinuses, which contribute to puffiness and stagnation of blood in capillaries that are inflamed. For these patients, combining the IdealEyes procedure with a long-term allergy relief protocol will yield the best results.

Pairing IdealEyes with an allergy-relief protocol, usually prescribed and managed by a dedicated physician allergist, will allow you to treat current inflammation, and prevent future flares. This is the key to a healthy, beautiful undereye area.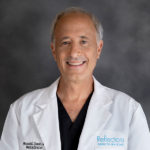 Dr. Mitchell Chasin founded Reflections Center for skin & body as a place where physicians specializing in cosmetic medicine could focus on helping empower patients to feel their most beautiful. Dr. Chasin believes strongly that the best cosmetic physicians are those who are dedicated to mastering their craft through continuing education and collaboration with the industry's top doctors.