Whether you call it a brow lift, forehead lift, or eyebrow lift, this surgery restores the brow and eyebrows to a more youthful, lifted position, with care taken not to distort, or change, the eye shape. As we age, our brows tend to lower in over the eyes, closing off our eyes, and creating a tired, drooped appearance. In the past, this was addressed with a full brow lift, but often this full brow lift procedure was done in such a way that the opposite effect was created: a look of surprise, or of "being done."
Browlift Quick Facts
Reverse a tired, aged appearance
Reduce facial lines and wrinkles throughout the forehead and crow's feet
Open up the eyes for a more youthful appearance
Dramatic, long-lasting and natural-looking results
Today's Best Options for Brow Lift
Although a brow lift may not be the first thing that comes to mind when looking into anti-aging treatments, this procedure offers numerous benefits. Brow lift procedures provide patients with the ability to rejuvenate their appearance and rid their faces of unwanted excess facial skin and creases.
There are several different techniques that can be used during a brow lift surgery. Depending on your particular case, you may be better suited for one technique over the others. During your consultation, your board-certified plastic surgeon will recommend the best method to achieve the desired results.
Brow Lift Under Local Anesthesia
At Reflections Center, we use Comfort Calm™ Local Anesthesia for our surgical procedures, because it provides so many advantages to the patient, including:
Reduced costs for patients
Increased safety
Easier, faster recovery
More natural results
Gentle, comfortable procedure experience
Learn More About Comfort Calm
Lateral Brow Lift
A lateral brow lift is performed by lifting the ends of the brows, the section that tends to experience the most drooping with age and a loss of skin elasticity. This is sometimes also referred to as a Temporal Brow lift, because of the placement of the incisions near the temple. By focusing on this outer portion of the brow, we are able to lift the brow back to its natural lifted position without disrupting the proportions of the inner eye, which are usually less distorted by the aging process. In this way, the lateral brow lift creates a naturally rejuvenated look without appearing surprised or experiencing a change in eye shape after the procedure.
Because these incisions are made behind the hairline, your forehead shape and the natural edge of your hairline is not affected. Small incisions are made behind the hairline, for discreet scarring that is well-hidden both as it heals, and afterward. These incisions are typically made from around the area directly behind the temple up towards the center part of your hair. This creates the most natural results and almost imperceivable scar lines (really, only a hairdresser should ever be able to tell you have had a procedure, if that).
There is also a secondary technique that can be used during this procedure called suture suspension. For this, the physician will utilize internal sutures to suspend the muscles and the tissue near the brow line. This will help to keep the brows lifted near the arches of the brow line for almost seamless, rejuvenated results.
Transblepharoplasty Brow Lift
Another brow lift technique is the transblepharoplasty brow lift. This method raises the eyebrows by using an incision made on the upper eyelid. Through this incision, the brows and forehead will be raised to a higher, more youthful position.
In the case that the patient is already undergoing an upper blepharoplasty (or upper eyelid lift) procedure, the brow lift can be achieved through the same incision line to avoid additional scarring. Typically, the transblepharoplasty brow lift still focuses on lifting the outside third of the brow, rather than the inner area closest to the nose. This technique using incisions already made for an upper eyelid procedure which will help to avoid any additional sutures and scarring.
Since no excess forehead skin is removed during this procedure, it is best suited to those with minimal skin laxity in the forehead.
Why Choose Reflections Center for Brow Lift
At Reflections Center, our board-certified plastic surgeon has years of experience performing facial cosmetic surgeries such as the brow life. He utilizes a variety of techniques to ensure the best results and a smooth recovery. Brow lifts are performed under Comfort Calm™ local anesthesia, for a gentle, relaxed procedure with a shortened recovery. The latest techniques offered by our team of cosmetic surgeons in our New Jersey offices offer natural-looking results and a variety of technique options so that the treatment is tailored to the individual's needs.
Our goal is to create great results while maximizing your comfort during treatment. You can discuss the treatment options we offer in greater detail at your consultation with a Reflections physician.
Maximize the Results of your Brow Lift
Maintaining the results of your brow lift is easy. Most patients will want to make the most of their investment by maintaining their results and slowing any future aging processes using a combination of Botox, dermal fillers, and/or laser skin resurfacing. An individual maintenance plan will be created for you by our surgeons.
At Reflections Center, we have some of the top cosmetic physicians in all of New Jersey.
How To Find The Best Brow Lift Doctor Near You
Board certification as a facial plastic surgeon requires continuing education specifically in the field of facial plastic surgery, and regular testing by a board of physicians to ensure best practices. Other types of board certification do not require this same level of focus on the face, and browlifts are not something the average plastic surgeon typically focuses on.
Before and After Photos: Look for a solid collection of photos from patients of various types. In particular, ask to see photos of patients who look like you. This is the best way to ensure your surgeon can create the results you desire.
Reviews: Reviews are a great way to learn more about a doctor before you become their patient. Don't let these experiences overwhelm your own opinion of the doctor once you do meet, but reviews are a great first step in getting to know a doctor. Look for notes about how doctors handled patients who weren't happy, how attentive the doctor was to exactly what the patient wanted, and how happy the patients were with the final results (after the healing process was completed).
Botox Brow Lift

A Botox brow lift is performed by injecting Botox to relax the muscles that pull down around the brows (the muscles you use to squint), allowing the upward lifting muscles to create a natural lift throughout the brow. This is a very common request in our practices, and our skilled physician injectors are able to create this result for nearly any patient using this simple injectable procedure. Additionally, patients can opt for dermal fillers to restore lost volume behind the brow, which will create a nice lift in patients who have lost fat or muscle volume in their brow as they age. Watch this video to learn more about dermal fillers for lifting the brow.

Thermage Brow Lift + Ultherapy Brow Lift

Thermage is a skin tightening device that uses monopolar radiofrequency energy to target deep into the dermis and treat skin laxity. Similarly, Ultherapy using ultrasound frequencies to target the skin and help to reduce wrinkles and lines within the skin. Both of these methods are very beneficial for treating skin laxity that has created lines and wrinkles on the face. During your consultation, your surgical and non-surgical brow lift options will be discussed in detail to ensure you chose the best treatment for your needs.

Thread Lifts For Brow

The final non-surgical brow lift method is known as a thread lift. For this technique, a thread will be placed under the skin stretching from the eyebrows and up to the hairline which will create tension and raise the brows slightly. The threads will be absorbed into the skin on their own, posing no health risks to the patient. This treatment is best for someone who does not have a large amount of muscle laxity or fat volume loss throughout the forehead. This treatment is best for patients who are willing to explore other treatment options in the future because the result of thread lifts lasts only 1-2 years. It's become a favorite among mothers-of-the-bride who are short on time before the wedding, but want to appear youthful and refreshed for the big event.
Frequently Asked Questions About Brow Lift
How much does a brow lift cost?

The typical price range for a Brow Lift at our New Jersey offices is between $3,500 and $7,000. The cost of your brow lift procedure will vary depending on the techniques used and if additional treatments are being combined with it for more comprehensive results. Financing for your browlift procedure is available, click here for more information.

During the initial consultation, we will work with you to create a personalized treatment plan based on your exact needs. Through this, we will be able to provide an accurate brow lift procedure quote. In order to obtain your custom quote, we encourage all interested parties to contact our office and schedule their private consultation today!

How do we know that your results will look and move naturally?

Because we perform these surgeries under Comfort Calm™ Local Anesthesia, the surgeon is able to preview the results in real-time, – ensuring you not only look natural and refresh when laying down with a relaxed face but also when smiling and moving around, as you will in your real life.

General anesthesia is comprised of three components – a numbing agent, a paralyzing agent, and a "put-you-to-sleep" agent. The paralyzing agent means your muscles are so incredibly relaxed that often you look different than you would awake. This makes facial surgery, where the tiniest changes have a profound impact, incredibly difficult to do precisely. Under Comfort Calm™ Local Anesthesia, patients are able to move and talk, and that helps us to know we are creating the very best results possible.

Will a brow lift hurt?

During the procedure, you will feel no pain. We use a special proprietary blend of medication called Comfort Calm™ Local Anesthesia. We are very careful to make sure patients are entirely numb and comfortable throughout the procedure.

Patients generally tell us they are comfortable during recovery, although swollen. The area around the eyes is particularly prone to swelling, so this really can't be avoided. We do prescribe pain medication for the first few days after surgery, however, it is rare that a patient takes this for more than 1 or maybe 2 days. Often we hear patients say they are surprised with how quick and easy the recovery from a browlift is in terms of feeling ready to get back to work and life.

What kind of anesthesia or numbing is used?

Your brow lift is performed under Comfort Calm™ Local Anesthesia. To learn more about why we use this anesthesia exclusively, click here.

What's a brow lift recovery like?

Any treatments performed around the eyes tend to have a longer recovery timeline because the high concentration of blood vessels in this area leads to increased bruising and swelling. This can vary somewhat based on the technique used, but in general, browlift patients looking to keep their procedure completely private can expect to require 1-2 weeks off from work and social activities. Around day 5 we typically we patients "turn the corner" in terms of swelling and bruising. Patients should expect to "feel like themselves again" around day 4 or 5, allowing many to return to work remotely or by telecommute after a week. Your individual timeline for expected recovery will be discussed in detail during your consultation, and we will provide you with detailed instructions before and after the procedure on how to minimize your downtime and speed up your recovery.

We do find that our anesthesia technique helps reduce the recovery timeline of this procedure, in the following ways:

Less blood lost during the procedure (due to the constriction of blood vessels in the treatment area caused by the medicines we inject) means a healthier you, that is better able to focus on healing from the surgery (vs. making new blood).
General anesthesia introduces several toxins into the body and brain that must be removed by your body. This intense detoxification is why you feel nauseous and "hungover" after a major surgery. Local anesthesia allows your body to focus on healing, rather than detoxifying, after the surgery.
Less bruising occurs with our local anesthesia, due to a restriction of blood flow during the procedure. Less bruising means less downtime and less pain during recovery. It also means you'll look and feel like yourself much faster.

To learn more about Comfort Calm™ Local Anesthesia, the anesthesia we use, please visit our Local Anesthesia page.

How long will my results last?

The results of a brow lift are long-lasting but not permanent. A brow lift does not prevent the natural stages of aging, therefore, additional treatment may be required in the future if drooping skin begins to develop on the face again. This procedure does provide natural correction to lax muscles and excess fat, while also reducing lines and wrinkles on the upper third of the face by naturally lifting the skin to create a more youthful aesthetic.

To create a longer-lasting result, we often suggest pairing a CO2 laser treatment, as this does repair and restore collagen, giving skin a better starting point for future aging.

Typically patients do not have brow lifts redone in the future. They can, if say they want one again in another 20 or more years, but it's never happened for us.

Is a brow lift safe?

A brow lift procedure is very safe. At Reflection Center, our physicians use the latest, most advanced techniques and technology to ensure your safety and the best results possible. Our brow lifts are safe because our physicians have such an intimate knowledge of facial anatomy, including blood vessels and nerves.

Is a brow lift the same thing as a forehead lift?

Yes, different people use different terms to describe this procedure, including forehead lift, brow lift, eyebrow lift, and eyebrow surgery (although now that hair transplants have been shown to work for eyebrows, some people use the term eyebrow surgery to refer to eyebrow hair restoration surgery).

Does a brow lift raise your eyebrows?

Yes, a brow lift does raise your eyebrows to a higher, more youthful position. However, the entire brow is almost never lifted uniformly. Instead, our approach follows the pattern of aging unique to your face – lifting exactly where it's needed, within several layers of the face.

As the skin loses elasticity, it begins to sag and droop. A brow lift removes excess skin to reposition the brow line to a more aesthetically pleasing position. We carefully tighten loose muscles, returns fat to a higher, lifted position, and this naturally lifts the skin. He builds a solid foundation of more youthful fat and muscles, for a very long-lasting result – versus other techniques that often pull the skin tight in an effort to fight drooping muscles.

What do brow lift scars look like? How can I minimize them?

Scarring from a brow lift is very minimal and is typically hidden within the natural hairline or along the eyelid crease. We have numerous recovery photos that our surgeon can share with his patients so that they understand what to expect during the recovery period and after they have fully healed. His careful suturing technique makes it unlikely that your scars will be visible once they are healed.

We will go over detailed instructions on how to minimize your scars and will be there throughout the healing process, ready to intervene in case your scars need additional care to heal as discreetly as possible.

How do I get natural results from a brow lift surgery?

Getting a natural result from your procedure is all about choosing the right surgeon. A skilled surgeon will select the right techniques for your anatomy and aging pattern and will have the skill to give you the most discreet incisions. Most of our patients keep their procedures private, and thanks to the skill of our surgeons, even their coworkers, and close friends wouldn't guess they've had something "done" that's surgical. Usually, they do get asked about vacations or changes to their hairstyle, if anything.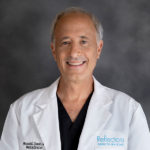 Dr. Mitchell Chasin built Reflections Center for skin & body as a place where physicians specializing in cosmetic medicine could focus on helping empower patients to feel their most beautiful. Dr. Chasin believes strongly that the best cosmetic physicians are those who are dedicated to mastering their craft through continuing education and collaboration with the industry's top doctors.