SlimLipo features a patented laser wavelength (924nm) that has been FDA-approved and expressly engineered to target fat cells. It also uses an additional wavelength (975nm) specifically for skin tightening. This results in a treatment that more efficiently liquefies fat and tightens skin in a procedure that is safer, faster, and more comfortable than previous technologies. This leads to a more efficient procedure with less risk and superior results.
SlimLipo Quick Facts
Far less expensive than traditional liposuction, with a more pleasing result
Performed under local anesthesia at our dedicated body contouring center
Very short downtime (1-2 days)
Exclusive fat-targeting laser wavelength that is seven times more effective at melting fat than older devices
How Does SlimLipo Laser Liposuction Work?
SlimLipo Laser Liposuction
Laser liposuction uses targeted laser energy to remove fat from problem areas of the body that diet and exercise can't get rid of, leaving you with more pleasing contours and newfound confidence in your appearance. Laser liposuction can be performed on many areas of the body, including:
Stomach
Love handles
Upper back and bra area
Upper arms, thighs
Waist and hips
Inner knees
Under the chin
Laser liposuction is very well tolerated and offers excellent results with minimal downtime. The procedure is performed under local anesthesia, removing the risks associated with the general anesthesia that is required for traditional liposuction2.
Recovery & Downtime: 2-3 days of downtime
Numbing: Local anesthetic
Cost: See pricing below
Candidacy: Stubborn fat and mild skin laxity
Duration: Permanent results
Why We Love It: Laser technology provides more efficient fat removal
SlimLipo Pricing Areas Treated with Approximate Price Ranges
| | |
| --- | --- |
| Area | Pricing |
| Arms (Upper) | $3,500 – 4,500 |
| Bra Fat / Upper Back | $3,500 – 5,000 |
| Full Back | $5,000 – 6,000 |
| Inner Thighs | $3,500 – 4,500 |
| Outer Thighs | $3,500 – 4,500 |
| Inner & Outer Thighs | $5,500 – 6,500 |
| Chin & Neck | $3,500 – 5,000 |
| Abdomen (Belly – Upper & Lower) | $5,000 – 6,000 |
| Abdomen, Love Handles, and Lower Back | $5,500 – 6,500 |
Patient Stories About SlimLipo
"After only my second treatment, I had already seen a major difference in my thighs and buttocks when I went to put my pants on."
View My Story
"My confidence level is soaring, with guys, with work, with life. I owe so much to Dr. Chasin and Reflections. They gave me the gift of happiness. They are my friends for life."
View My Story
"I feel so good about myself, and feel so healthy and renewed. Thank you so much. I am so grateful to you for all you have done for me."
View My Story
Why Choose Reflections Center
for SlimLipo
At Reflections, we try to offer non-surgical or less invasive procedures to complement most of our surgical options. We strive to provide treatment options suitable for each patient's treatment desires, goals, and lifestyle. Our physicians blend medicine with artistry to ensure you receive beautiful results that appear natural and enhance (rather than change) your natural body contours.
During a consultation, our cosmetic physicians can help you develop a customized treatment plan using our best body contouring options that fit within your comfort level. We'll never push treatments that you don't need, but we will be open and honest about what you can expect from your results and how to maintain them. At Reflections, our cosmetic physicians have decades of experience in body contouring and offer the widest selection of body contouring technologies in the New Jersey area.
Schedule Your Consultation
Your initial consultation is a safe space to ask questions and seek the advice of experts in the field. Reflections Center features numerous award winning cosmetic & laser physicians, as well as a board-certified plastic surgeon that can provide the right recommendations. Schedule your consultation today or if you're an existing patient, give our office a call.
Frequently Asked Questions About SlimLipo Treatment
Is SlimLipo right for me?

The best candidates for laser liposuction are people who are relatively fit but are still unable to achieve their desired body contour. The ideal candidate:

Is healthy and gets regular exercise
Is within 30 pounds of their ideal body weight
Has fat deposits that don't seem to respond to diet and exercise
Has realistic expectations about what results to expect from the procedure
Is motivated to maintain their results

Who shouldn't have SlimLipo?

Laser liposuction is not for everyone. Patients are not candidates for laser liposuction if they are pregnant or breastfeeding, have insulin-dependent diabetes, active or chronic liver disease or hepatitis, coronary artery disease, unstable hypertension, bleeding disorders, or are on Coumadin/Heparin. Those patients with immune-related disorders such as HIV or who are allergic to lidocaine are also not candidates. Individuals with significant amounts of loose and hanging skin on the abdomen may be better suited for a tummy tuck.

If I want to do multiple body parts, how long do I need to wait between treatments?

Most of the time, multiple areas can be treated during the same session, but if we recommend more than one session, we will space the treatments at least one month apart.

What should I do before my treatment?

If your treatment date is approaching, you should immediately stop taking any products that can thin the blood, including aspirin (or products containing aspirin), ibuprofen, oil, vitamin E, herbal supplements, and St. John's Wort. If you smoke, you should stop immediately. Also, avoid any crash dieting before the procedure.

How long should I wait to have laser liposuction after a pregnancy?

We recommend that you wait four months to six months after giving birth before having laser liposuction.

Is there downtime required?

One of the great benefits of SlimLipo is how well it fits into today's busy lifestyle. Patients usually set aside two days for treatment, one day for treatment, and one day for recovery. After two days, most patients are ready to get back to work and the other responsibilities in their lives.
Planning for Your SlimLipo Treatment
3 Days Before Treatment
The laser liposuction process starts with a complimentary consultation, where you will discuss your body contouring goals with a physician.
Determine Candidacy, Fitting For Garments
If it is decided that laser liposuction is right for you, we will schedule your treatment date. You'll also be fitted for a compression garment that you will wear once the procedure is completed.
Lab Work Prior To Procedure
In the weeks before the procedure, lab work will be performed to confirm that you have no underlying health issues, and that you are a good candidate for the procedure.
Contour Marking
Before you enter the treatment room, the doctor will mark the area to be treated with colored markers to use as a roadmap during the procedure. The doctor will also take a series of photographs. The area to be treated is marked while the patient is standing up to ensure the trouble spots are clearly defined. This is an important step, as the contour of the body shifts when the patient reclines for the procedure, masking the problem areas the patient sees in the mirror every morning.
Read More
Anesthesia Prior to Procedure
You will lie comfortably on a soft, warm treatment bed, and we will use a small needle to inject local anesthesia into the incision sites to be used during the procedure. You may feel a slight pinching sensation, but these injections are generally painless and are often the only discomfort felt during the procedure.
You will be given a mild sedative and can relax while the area to be treated is gently filled with a tumescent solution, which numbs it from the inside.
Read More
SlimLipo Treatment
The doctor will make a few tiny incisions once the area is fully desensitized, then the laser and suctioning commence. A laser fiber is inserted under the skin and is passed through the subcutaneous fat layer, liquefying the fat cells. The laser fiber also heats the innermost structures of the skin, providing a noticeable lifting and tightening of the skin in the treatment area. Very thin suction wands called cannulas are then used to remove the liquefied fat cells.
Post-Procedure
When the procedure is completed, you will be ready to be driven home. We recommend that you take it easy for the remainder of the day and get a good night's sleep. A friend or relative must be with you for the first overnight.
Day 1 Recovery
Initial post-treatment discomfort is mild, similar to the feeling after a hard workout, and is easily controlled with oral medication, usually Tylenol, but a narcotic can be used if needed. Be aware that there will be a moderate amount of pink or red drainage in the first 24 hours post-procedure. This is normal.
3 Week Recovery
You will wear a compression garment for a few weeks to aid in the recovery and body contouring process. We also like to schedule a follow-up visit shortly after the procedure to monitor your progress. Any bruising and swelling usually subside in a few weeks. The final result takes shape over several months, as the skin continues to tighten long after the procedure has been completed.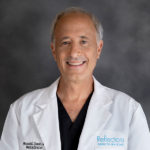 Dr. Mitchell Chasin founded Reflections Center for skin & body as a place where physicians specializing in cosmetic medicine could focus on helping empower patients to feel their most beautiful. Dr. Chasin believes strongly that the best cosmetic physicians are those who are dedicated to mastering their craft through continuing education and collaboration with the industry's top doctors.