The LightSheer Duet offers a break-through innovation in the way that lasers are administered for hair removal, allowing it to more efficiently target hair follicles. This makes the laser safe for darker skin types, including African, Middle Eastern, Indian and Asian skin types IV, V, and VI which have traditionally been difficult to treat with lasers for hair removal1,2,3. The LightSheer Duet also features a unique vacuum-assisted handpiece with a larger spot size treatment, reducing treatment times by 50-75%.
Lightsheer Duet Quick Facts
Little to no downtime
Safe for all skin types and tones
Long-term results
What Goes Into Lightsheer Duet's Comfort & Safety
Lightsheer Duet for Laser Hair Removal
The vacuum gently draws skin into the handpiece for treatment. This pulls hair closer to the laser and stretches out the skin, pulling melanocytes (melanin-carrying cells) further apart. Since laser hair removal works by heating darker objects faster than lighter ones, these changes in how the skin is presented to the laser for treatment create less heat build-up in the melanocytes and more heat build-up in the hair. This makes it easier and safer to provide more energy per treatment to darker skin types. View the video below for a visualization of this process.
The Lightsheer Duet can treat for hair removal from the following areas:
Face, including chin, sideburns, upper lip/mustache, and cheeks
Neck
Chest and abdomen/stomach including mid-line
Back
Underarms
Arms and hands
Legs, calves, thighs, and feet (toes)
Bikini and genitals, including up to full brazilian for both genders
Recovery & Downtime: Little to none
Numbing: Available on request
Cost: Laser hair removal starts at $150 per session; Everyone needs multiple sessions and for that reason we offer discounted packages.
Candidacy: Those who wish to eliminate unwanted body hair that is darker than the surrounding skin (does NOT work for white, grey, blonde, or strawberry blonde hair)
Duration: Long-Lasting
Why We Love It: Safe for skin types and tones that previously couldn't have safe and effective laser hair removal
Patient Stories About LightSheer Duet
"So great to be able to not worry about if I have stubble or not...Had underarm laser hair removal done here probably about 8 years ago. Best decision I've ever made! To this day even though they said you have to do yearly maintenance nothing grows back. I might pluck a stray once a year but other than that nothing! "
View My Story
"I could not be happier with the results. "
View My Story
"I have been to Reflections in Martinsville several times for laser hair removal treatment with Dr. Ellern. Dr. Ellern has always been very thorough and cautious during treatment. She is very kind and attentive, professional and easy to talk to. "
View My Story
Frequently Asked Questions On LightSheer Duet
Is laser hair removal with the Lightsheer Duet safe for my skin?

The LightSheer Duet system has been studied extensively and proven safe on all skin types, including those with more melanin, or darker tone. The reason the LightSheer Duet system is safe for these skin tones lies in its unique vacuum-assisted technology for larger spot sizes, which is explained in more detail below.

Who is an ideal candidate for Lightsheer Duet laser hair removal?

Anyone who is a candidate for Laser Hair Removal is a candidate for LightSheer Duet's treatments. However, at Reflections, we believe in matching you with the very best technology available for each treatment. In laser hair removal, this often means using different lasers at different stages of your treatment. Our physicians are constantly re-evaluating our laser hair removal patients to ensure we're giving them the most effective treatments possible. For this reason, we have invested in all of the best lasers, and keep an array of laser hair removal technologies at each of our offices in Martinsville and Livingston, New Jersey.

Excess or unwanted hair that is not white, gray, or platinum blonde (your hair must be relatively darker than the skin that surrounds it in order for laser hair removal to work)

Not currently sunburnt or tanned within the last 2 weeks – sun damaged skin can be burnt by lasers if it still in recovery from a sunburn or tan. 2 weeks is sufficient time for healing from sun exposure. You should protect your skin from the sun during and after treatment with lasers by using sunscreen or protective clothing.

Committed to completing a series of laser treatments to remove their hair – Laser Hair Removal must be performed as a series of treatments because the follicles of your hair grow in different cycles. When one set is visible, another has recently shed itself and is regrowing. Treatments are spaced at the intervals of hair growth for that region of the body. Regular and timely treatments are the only way to effectively treat all of the hair in a given area.

What does treatment feel like? Will it be painful or uncomfortable?

The LightSheer Duet features a unique suction-assisted handpiece which delivers a warming and cooling sensation, making the treatments very comfortable. In fact, treatment with the LightSheer is so comfortable that anesthetic (numbing) is not needed. Should a patient feel uncomfortable, however, we can provide a topical numbing cream that will numb the treatment area prior to the laser hair removal treatment.

What do I need to do to prepare for treatment with the Lightsheer Duet?

You should avoid tanning for at least 2 weeks prior to treatment and throughout the treatment process. High SPF sunblock is suggested. You should also shave the treatment area 24-48 hours prior to treatment, for the most comfortable treatments possible.
Sources:
Eliot F. Battle, Jr., MD and R. Rox Anderson, MD. Study of Very Long-Pulsed (100 ms) High-Powered Diode Laser for Hair Reduction on All Skin Types. Lumenis 2002
Atif Kazmi, MD. Laser Hair Removal with an 800nm Diode Laser-A Retrospective Study of 1000 Women with Skin Types II to VI. Lumenis 2002
Ganesh S. Pai, MD, Imran Majid, MD, Soni Nanda, MD, and Rahul Pillai, MD, Hair Removal Guidelines with LightSheer Technology over Skin of Color: Idian Study Case Report, 2009.
Click To Expand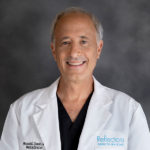 Dr. Mitchell Chasin founded Reflections Center for skin & body as a place where physicians specializing in cosmetic medicine could focus on helping empower patients to feel their most beautiful. Dr. Chasin believes strongly that the best cosmetic physicians are those who are dedicated to mastering their craft through continuing education and collaboration with the industry's top doctors.